Outlook Notifications Not Working On Windows 10 – Try These 6 Fixes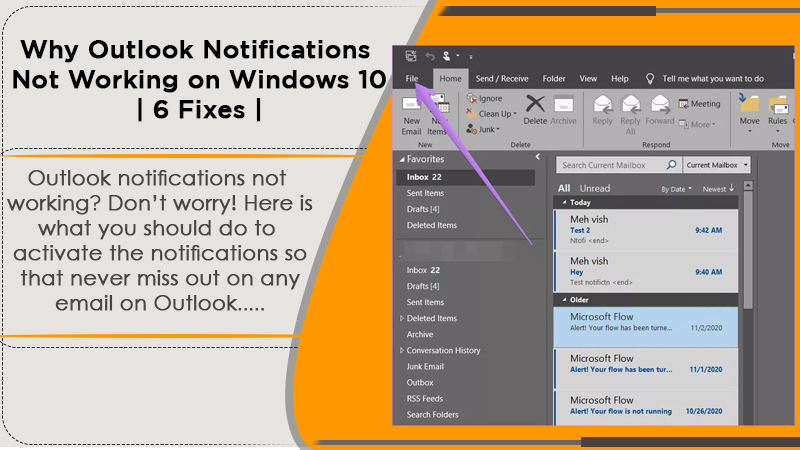 Is your Outlook receiving an email but not notifying you? Well, that could make you miss an important email. Hence fixing it becomes reasonably necessary. Outlook notifications not working problem occurs due to several reasons, such as disabled notifications in the Outlook app or might not activate the same in Windows 10 settings.
Moreover, sometimes incorrect rules and alert settings in the Outlook app also make Outlook not show up the notifications. Not only Windows 10, but many users also face Outlook not getting notifications on their Android and iPhone devices.
Well, we know you are fond of that email alert notification tone you used to hear while receiving a new email on Outlook. Luckily you have found this blog where you will learn the 6 best steps to fix Outlook notifications not working on Windows 10 PC. Let's get started.
How Do I Fix Outlook Notifications Not Working Problems?
Simply follow the 6 steps below to start getting new email alerts on Outlook.
Method 1: Activate Outlook notification alert in Windows 10 settings
The first step you should take is to check and activate the notification alerts for new emails in Windows 10 settings. Most of the time incorrect settings in the panel leads to disabled notifications.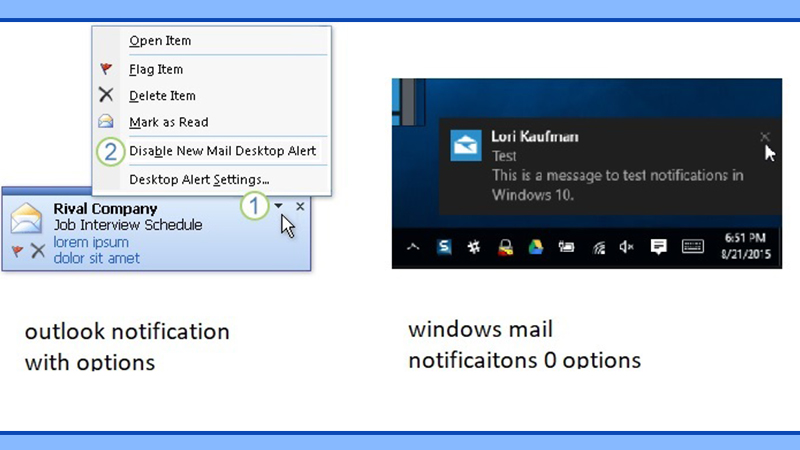 Click the Start icon, type Settings in the search bar, and hit Enter. Alternatively, press the Windows + I keys from your Windows 10 PC to directly open Settings.
Under Settings windows, click System.
Now on the left-hand side panel, select Notifications and Actions.
Turn on the toggle beneath "Get notifications from apps and other senders".
Scroll down, and choose Outlook from the list.
Get inside the Outlook section, and turn on these settings –
Notifications.
Show notifications banners.
Show notifications in the action center.
Play a sound when a notification arrives.
If windows settings couldn't rectify notification issues, then it might be due to incorrect Outlook settings. If you also get an Outlook preview not working error you can solve it using this guide.
Method 2: Configure Outlook to Display a Desktop Alert
MS Outlook has its own settings, if they are misconfigured or incorrect then also you might miss the email alerts. Here is what you need to do.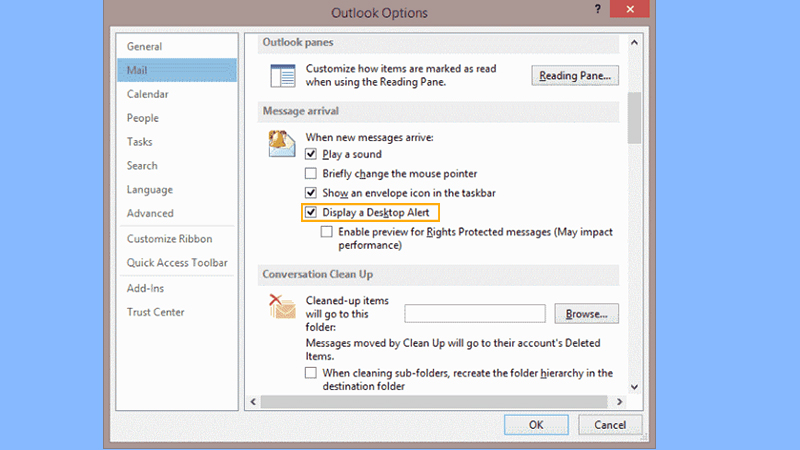 Launch Outlook on your Windows 10 PC.
Click the File tab, click Options.
You will land on a new window, click Mail on the left side panel.
Under the Message arrival section, enable these options.
Play a sound.
Display a Desktop Alert.
5. Click Ok to save the settings.
If rectifying Outlook and Windows settings couldn't fix the Outlook notifications not working problem, then a simple restarting might help you fix the problem. Restarting the PC also resolves minor technical hiccups or network errors.
Method 3: Verify that Rules and Alerts aren't interfering
A misconfigured Alert and Rules settings in Outlook can also cause trouble in notifying you of new emails. To fix it you must make sure that the Rules and Alerts in the Outlook app are rightly configured.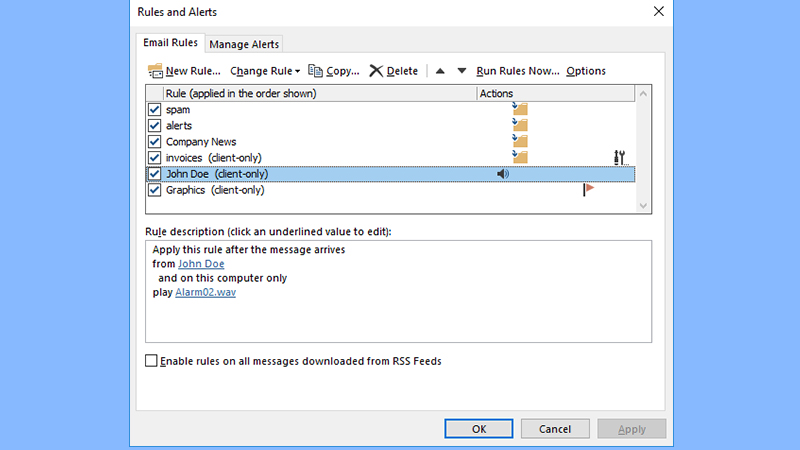 Open the Outlook on your Windows PC.
Click the File menu.
Go to Manage rules and alerts and click the Rules and Alerts option.
A new window will open, here you should verify that any other Rules and Alerts aren't interfering with the normal arrival of messages in your Outlook inbox.
Click Ok to save the settings.
Method 4: Turn off the Focus Assist
Focus assist comes built-in in Windows 10 system which if enabled won't allow new email notifications. In many cases, we found that Focus Assist was responsible for Outlook notifications not working problems.
You can directly check whether the Focus Assist option is enabled or not from the Action Centre on the taskbar.
Simply open the Action Centre and if you do not see the Focus Assist option that means it is already disabled. However, if you see the Alarms Only or Priority Only option that indicates the Focus Assist option is enabled.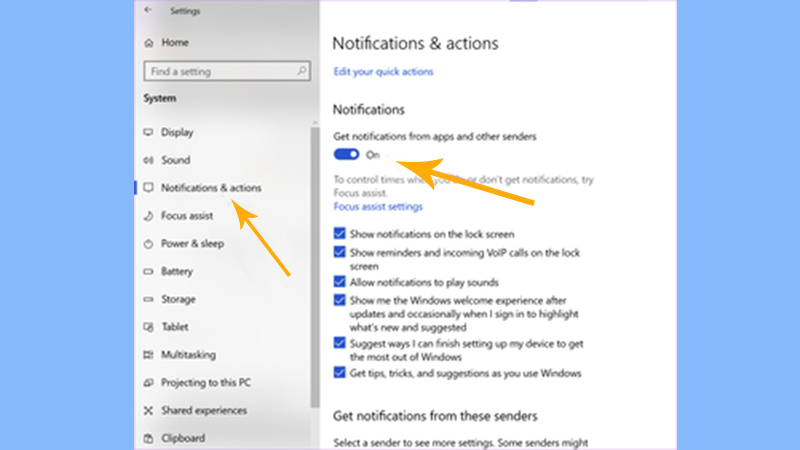 To fix it –
Open the Settings menu.
Click System, and go to Focus Assist on the left side panel.
Click Off and make sure Priority only and Alarms only aren't selected.
Also, see if any setting underneath Automatic Rules is wrong, disable it if needed.
Method 5: Turn off the Battery Saver
The role of the battery saver cannot be neglected in causing the Outlook desktop notifications not working problem in Outlook. It is a built-in feature of Windows just like Focus Assist which is meant to limit background activities. In case the Battery Saver mode is enabled, it may prevent your system from receiving new Outlook email notifications. Deactivating it will require you to take the following steps.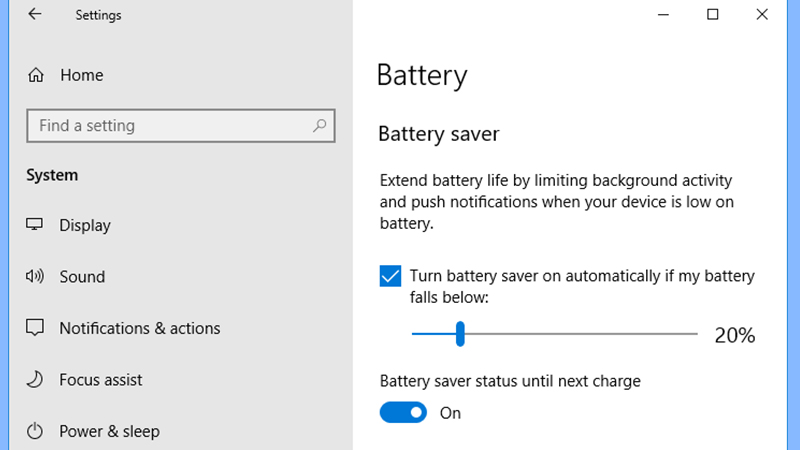 Open the Settings menu.
Go to System Settings.
Click Battery on the left side panel.
Now simply turn the toggle switch to off mode.
Also, set Turn battery saver on automatically at 20%.
Method 6: Update your MS Office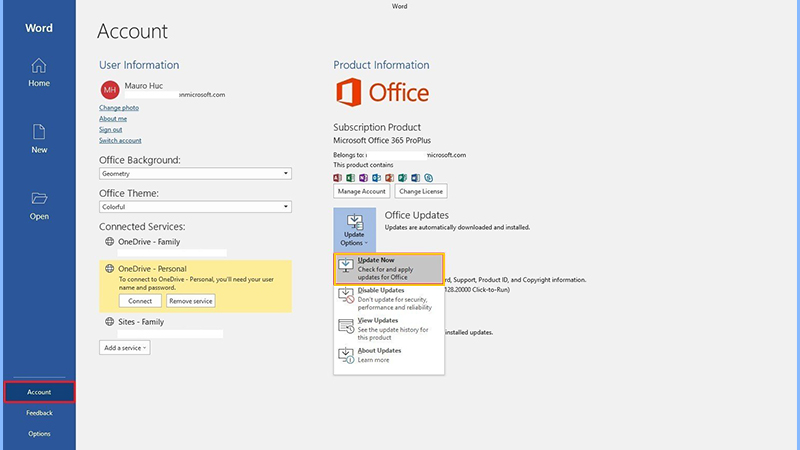 We cannot escape from the fact that an outdated MS office app may also cause Outlook desktop notifications, not working errors. In that case, you should make sure that the Microsoft office is set to update automatically or you can do it manually as well. Launch MS office on your Windows 10, click the File tab then go to Account Office or Office Account. Now you must choose Office updates. Follow the on-screen instructions to update the office to the latest version.
Couldn't receive Outlook email notifications still! Call Email Experts
Rectifying the Windows or Outlook settings generally resolves Outlook notifications not working errors. In some cases, you might need to turn off the Focus assist or Battery saver mode. Additionally, make sure to update Outlook to the latest version to prevent such incidents from occurring. Is your Outlook still not notifying you of new emails? Contact the outlook support experts, they will perform the required tweaks to turn on the notifications.