iPhone Mail Notifications Not Working? – Let's Fix It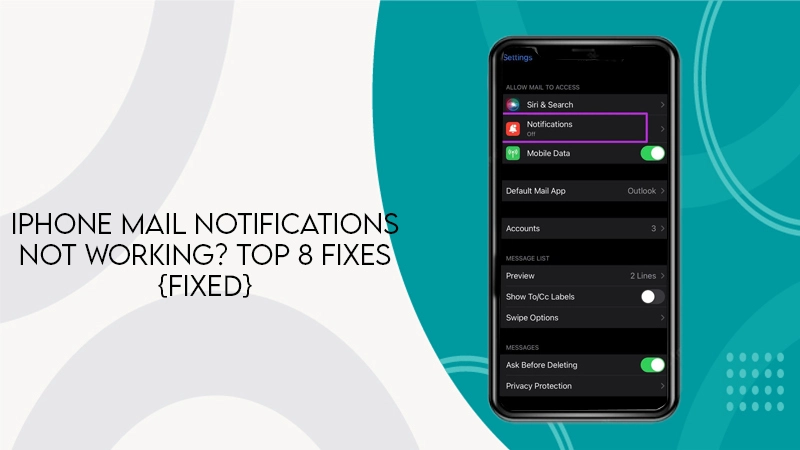 iPhone mail notifications allow users to stay updated about the recent messages in their inboxes. But if they don't work, people can miss out on important emails. In fact, iPhone mail notifications not working is a prominent issue that many users face. 
There can be many reasons behind this problem. First, you need to determine where the issue lies in your iOS device. After that, you can troubleshoot the problem. The good news is that there are various ways to fix it. In this article, you'll find some effective resolutions for this problem.
Also Check, Why:- iPhone Email Not Updating
Fixes for iPhone Mail Notifications Not Working
There are various fixes from choosing an alert sound for notifications to actually turning them on. Keep reading to know the different methods you can use to resolve this problem.
1. Select an Alert Sound for Notifications
When a new email gets sent to your iPhone, it does not make any notification sound. It is the default setting. Although it functions well to minimize distractions, sometimes people can miss alerts because of it. 
You can choose an alert sound for your email notifications by configuring iPhone settings, as shown below. 
Navigate to 'Settings' and from there, choose 'Sounds & Haptics.'
Turn up the volume of 'Ringer and Alerts.'
Click 'New Mail.'
From the list of options, select 'Ringtone' or 'Alert tone.'
Click 'Vibration' to select a pattern for notification vibrations. 
2. Enable Email Notifications for Your Email App
You should enable the right kind of notifications for your Mail app. You can customize the notifications for every one of the email accounts on the iPhone. Edit the mail notifications from the settings of your iPhone through these steps. 
Navigate to 'Settings' and from there, choose 'Notifications.'
Go down and click 'Mail.'

Click the email address you wish to get notifications for. 

Enable 'Allow Notifications' present on top of the screen. After that, enable the alerts you wish to receive. 
Click 'Sounds' and select a sound effect for your particular email account.
Turn on 'Badges' to display a badge with the emails you haven't read on your Mail app.

Return to the top-left corner and enable notifications for all other email accounts of yours. 
3. Unmute Email Thread Alerts
You have the ability to put the email threads on mute with iOS 13. However, this can also be the reason for your iPhone email notifications not working. Accidentally muting an email thread will prevent you from getting alerts. 
So, open the Mail app and find recent messages with a crossed-out bell icon beside them. You must unmute these conversations. Swipe right to left on that email and touch 'More.' Then choose 'Unmute.' That's it.
4. Enable VIP Mail Alerts
If the VIP Mail notifications are disabled, you'll naturally face this problem. Launch the 'Settings' app on your phone to enable the VIP Mail alerts. Then follow these points.
Go down to 'Notifications.'
Then go to the 'Mail' option.
Check the section of 'VIP Mail.' Then enable the notifications toggle. You must also inspect the 'Sounds and Badge' settings.
5. Enable Push Data for the Email Account
iPhone utilizes two protocols to get new messages: Fetch and Push. With the former, your phone finds new emails on the server periodically. With the latter, the server pushes new messages to your device when they come. On noticing Mail notifications iPhone not working, change your email account to Push.
Head over to 'Settings' followed by 'Passwords & Accounts.'
Switch on 'Push' present on the top of your screen.
Touch every email account and configure the schedule to 'Push.' 
If you select 'Fetch', choose a schedule at the end of your screen.
6. Enable Background App Refresh for Mail
When your iPhone has low power, the background app refresh settings get disabled. As a result, mail cannot find new messages till you open the app. But even when your phone isn't on low power mode, it's possible for you to disable the background app refresh settings. It may lead you to wonder why are iPhone mail notifications not working.
To resolve this issue, turn on the background app refresh for mail. 
Go to 'Settings' followed by 'General' and then 'Background App Refresh.'

Tap this option and turn it on. Do it for either Wi-Fi or Wi-Fi and cellular data. 
7. Remove and Add Your Email Account Again
Many iPhone users have resolved the issue they face with mail app notifications by removing their email account and re-adding it. But if you go this way, you can lose those messages that are waiting to be sent from your outbox. However, it can be an effective fix for this problem. 
Navigate to 'Settings' and from there, go to 'Passwords & Accounts.'
Click the email address you wish to remove. Then, click 'Delete Account.'
After that, confirm your choice. Now, click 'Add Account' from the screen of 'Passwords & Accounts.'

Select your account type and input the username and password for adding it.

After you sign in, choose to sync 'Mail, Contacts, Calendars.'
After that, click 'Save.'

You should repeat all these steps for every one of your email accounts. 
8. Disable Do Not Disturb on Your iPhone
Do Not Disturb blocks every type of disturbance. It includes notifications and incoming phone calls. So, it's best to use it only when you really need it. There are two ways to turn off this mode. 
Open the Control center by swiping down. From here, choose 'Turn odd Do Not Disturb' mode. 
The other way is to navigate to your iPhone settings. From here, choose 'Do Not Disturb.' Now, turn off the toggle of 'Do Not Disturb.'
Also Check, Why:- iCloud Email Not Working
Final Words 
It is easy to fix the iPhone mail notifications not working problem. The various fixes in this article do not require a lot of technical knowledge and are pretty effective.
But if you cannot resolve the issue using them, it's best to contact expert email support services. The technicians will troubleshoot the root cause so you can start receiving the mail alerts.