Way to fix Suddenlink Email Login Issue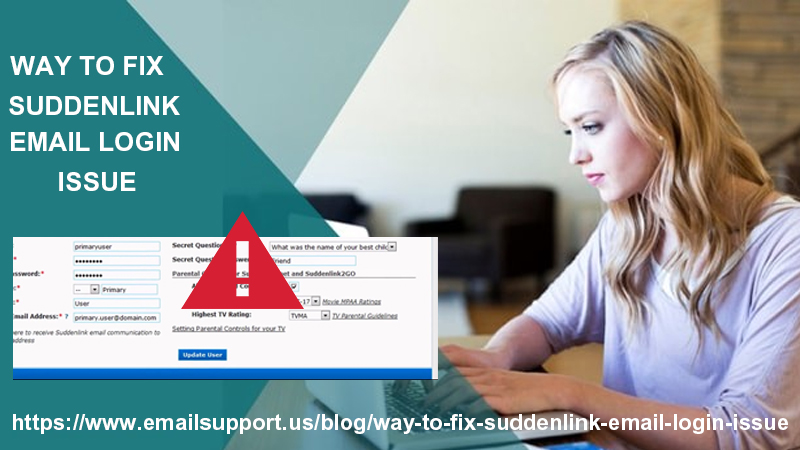 Suddenlink email login issue is very common to occur while using its services. Suddenlink Communications is a US-based cable broadband provider and well-known in the US countries. Its customers have access to free email and webmail services. Suddenlink email service is available for both business users as well as for home users. Business users can use @suddenlink.com while home users use @suddenlink.net addresses.
As we have said above that sometimes Suddenlink faces some login issues and users can be stuck in mid due to such problems. These login issues include, forgot password, incorrect email address, error while login, or maybe some browser and more issues.
Login to Suddenlink account
To login to the Suddenlink account, you need simple steps, as mentioned below.
Go to Suddenlink home page at http://home.suddenlink.net/

Now click on the Email icon at the right of the top navigation menu.

Then you will see the login form

You have to fill the form

Enter your Username

Type your password

And click the login option
If you are using your personal computer or another device to login you can select the 'Remember Me' option. This will allow you to access the account next when you come to log in, from next time onwards you won't need to enter the login credentials. But if you are using a computer in a public place, or office, we suggest you ignore this option.
While logging to the Suddenlink account sometimes users enter the wrong password, because they don't remember it anymore. Hence, in such a case, you can reset your password using essential steps. When you forgot the password, go to the login page and click on the Forgot Password link. Through this, you will land right on the password recovery page.
So let us proceed further to learn the essential steps to recover the Suddenlink password.
Reset Password To Solve Suddenlink Email Login Issue
If you have forgotten or lost your password just simply change it. Follow the steps below and access your email again.
Go to Suddenlink password reset page – https://account.suddenlink.net/my-account/forgotpassword.html

Type in your username

Now click on Get Security Question

On the page, you will see the security question that you have set at the time of registration

Type the answer and submit it.

Now tick the "I'm not a Robot" option to prove that you're a real person.

Click Next.
If you have provides the right answer to the security question, an email will be sent to your alternative email address which you have set while creating the account for the first time. Now open that Mail and locate the password reset message from Suddenlink. You need to follow the instructions that are mentioned in the email to recover the Suddenlink email password.
If you don't remember the answer to the security question that you have set, you can contact the customer care of the Suddenlink for help.
At the time, users also forget their email address, but you don't worry because just like the password you can recover your email address as well. Keep on reading the blog to know about the complete knowledge to fix different Suddenlink email login issues.
Recover Suddenlink email address
Follow the below-given steps to recover your username using Suddenlink Account Number and Access PIN. You can also find these details in your Suddenlink bill.
Open your browser and go to the Suddenlink username recovery page.

Now click on the 'Use Account Number' option.

Enter your Suddenlink Account Number.

Now type the 4 digit Access PIN

Next, you need to label the "How do I find my account number and access code?" option. If you are unable to locate the account number.

Tick "I am not a Robot " option to show that you are a real person.

Now click Next.
If all the details given by you are valid, your username will be displayed on the screen.
If you want to recover your username using your alternative method then try the below steps.
Recover Username With Alternative Method
First, go to Username Recovery page

Click the Use Email option

Now type your contact email address that you have set up during the registration.

Tick the "I am not a robot" option to verify that you are a real person.

Now click Next.
If you have provided a valid email address, your username will be sent on that email address by Suddenlink email. Open the email and gain your username from there, and use it to login again into your account.
In this way, you will get your account username to access it again.
Conclusion:
With the easy guide, you can easily recover your email password and username. However, if you face other issues such as browser not working, firewall denial, or third-party app issues. You can fix this updating your browser or opening the Suddenlink Mail in save mode, disable the firewalls temporarily as well as third-party add-ins. And this how you can solve such a Suddenlink email login issue as well.
However, you are unable to handle them or cannot solve such login problems, you can fearlessly contact the Suddenlink email support experts. The professionals are trained and have great experience in their field, and they can sort out the Suddenlink email issues you are facing in just a few minutes.