How to Sync Google Calendar with Thunderbird? – Know Here!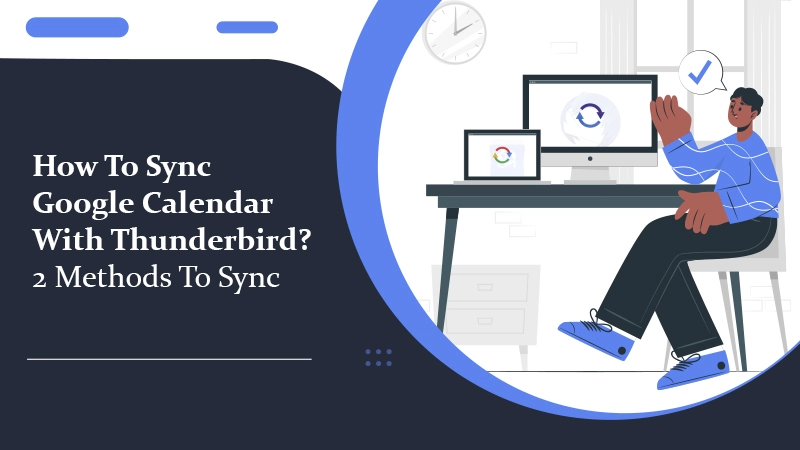 Thunderbird is a great email application. Users can easily set it up and customize it. The application is totally free and comes with some incredible functionalities. Thunderbird is quite secure and private, with built-in remote content blocking and Do Not Track features. It ensures your safety and privacy. The email application also has a Lightning Calendar add-on, which serves as a great alternative to Microsoft Outlook's calendar.
But Thunderbird does not have a calendar by default. So, users should know how to sync Google calendar with Thunderbird. Lightning is a free add-on that provides a task system and calendar. In this article, you'll learn how to seamlessly sync your Google calendar with Thunderbird. 
Also Check, Why:- Thunderbird Can't Connect to Gmail
How to Sync Google Calendar with Thunderbird
Syncing Thunderbird with Google Calendar is not at all a challenging process. You just need to follow a sequence of easy steps, and in a few moments, you'll be able to sync both of them. 
On your browser, open the Google Calendar. If you don't know how to open the calendar, just visit the web browser on your smartphone and navigate to www.calendar.google.com. After that, log in to your Google account. Upon signing in, you'll be able to view your Google Calendar events.
Launch the 'Settings' menu. For it, click the Gear icon. It is present on the top-right part of the screen.
Now tap the 'Calendars' tab. Next, tap the calendar you desire to use for the syncing purpose.
Scroll down the page of the calendar's settings. Then locate the exact calendar ID. For those who have the calendar as default, the calendar ID will be their Gmail address. 
Next, open up Thunderbird. Once it opens up, click 'File' followed by 'New' and then 'Calendar.'
Next, you'll find two options in the form of bullets in a popup window of 'Create New Calendar' on your screen. You should click 'On the Network' followed by 'Next.'
For the format, choose 'CalDAV.' After that, input the URL given below but replace your specific calendar ID for 'YOURCALENDARID.'                       http://www.google.com/calendar/dav/YOURCALENDARID/events
After you have typed the URL, hit 'Next.'
Input the name for your calendar and proceed to choose an icon color. You can also decide which email account you wish to use the calendar for. After doing all this, click 'Next.'
Input your Google credentials that are associated with the account that the Google Calendar belongs to. Note that if you use 2-step authentication, you'll have to input an authorized password that's specific to the app rather than the actual one.
Tap 'Finish.' You have completed the process to sync Google Calendar with Thunderbird.
How to Sync Google Calendar with Thunderbird Using the Lightning Add-on
You can add Google Calendar to Thunderbird and turn the Thunderbird email client into a PIM (Personal Information Manager). Follow the instructions here to know how to do it.
Download the Lightning add-on of Thunderbird. You can do it by navigating to      https://addons.mozilla.org/en-US/thunderbird/addon/2313 
Next, start downloading the Thunderbird Provider for the Google Calendar add-on. This extension permits Lightning and Sunbird to write and read events to the calendar from Google. Download it by going to the following URL.                                                                                                https://addons.mozilla.org/en-US/thunderbird/addon/4631
Now, install all the Thunderbird add-ons. For it, go to 'Thunderbird' and choose 'Tools' followed by 'Add-ons,' and tap 'Install.'
Start Thunderbird again. 
In the lower-left corner of Thunderbird, you'll find new icons that let you toggle among 'Calendar,' 'Mail,' and 'Tasks.'
Tap on the 'Calendar' icon to toggle to the calendar. Locate your Google Calendar private address in the form of iCal. 
Adding Google Calendar to Thunderbird client
Find the Calendar area in Thunderbird. It's on the left-hand sidebar. Now, you can add Google Calendar to Thunderbird by following these instructions.
Right-tap beneath the 'Calendar' heading.
Choose 'New Calendar,' followed by 'On the Network.'
Now, tap 'Next.'
Choose 'Google Calendar' and tap 'Next.'
In the next window, input your Gmail address and tap 'Next.'
If you are prompted, type in your Gmail address again and also input your account password. After that, click 'Next.'
When you are prompted, tap 'Allow' to provide Lightning with the relevant permissions for accessing your Google Calendar.
In the subsequent window, choose the calendars you wish to sync and tap 'Next.'
Lastly, click on 'Finish.' Your Google Calendar will start syncing with the Lightning add-on of Thunderbird. 
Final Words 
After reading this article, you won't feel the need to ask how to sync Google Calendar with Thunderbird. The process is quite straightforward. If you encounter any problems adhering to the instructions, you can connect with professional email support services. The experts will help you resolve all issues related to your email client effectively.