Complete Guide to Fix the Issue of Comcast Email Not Sending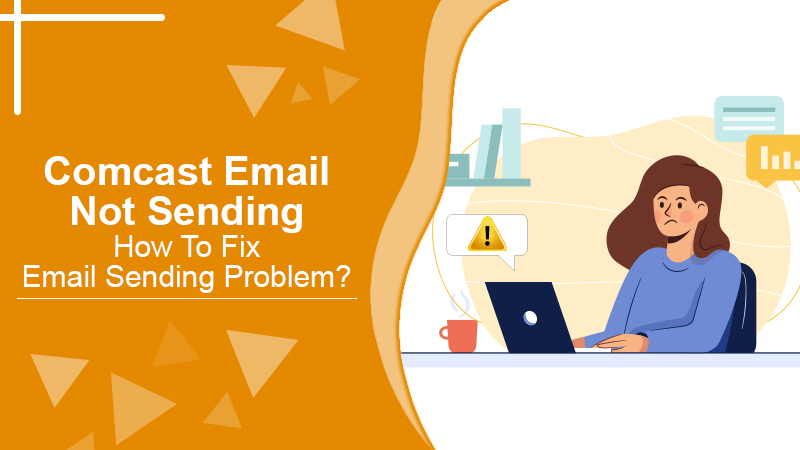 Emails are an integral part of the life of every adult. Comcast offers an impressive email service that is characterized by great functionalities. Features like speedy receiving and sending of emails, user-friendliness, and secure login have made it popular. However, as with every popular email service, it also gets various technical glitches. One of the most important issues that users report is related to Comcast email not sending. There can be more than just one cause for this problem. This post will present to you all the reasons and troubleshooting methods to deal with this problem. 
Read Also: Comcast Email Hacked | How To Recover It? [5 Solutions]
What Causes is Comcast Email Not Sending Problem?
Given below are some of the most probable causes of the Comcast not sending emails problem. As you gain an awareness of the reasons, you'll be able to fix the issue effectively.
Low internet speed

– If your internet speed is not up to the mark, it will become difficult for you to receive or send any Comcast email. 

Problems with the settings – If there is an error with Comcast's IMAP or POP settings, you'll not be able to use the mail service properly.
A problem with the recipient's address

– The receiver's address will hinder you from sending or receiving messages to that email address. Ensure that the spelling of the recipient's address is correct.

Browser issues

– Browser issues like an obsolete or incompatible browser will cause you to experience receiving and sending emails. 

Going over the daily sending limit

– You can only send a specific number of emails on a particular day. If you have exceeded that number, you'll experience this problem with your Comcast mail.

Hindrance caused by browser extensions and plugins

– Sometimes, the extensions or plugins added to the browser can interrupt the proper transmission of emails. 

An unresolved device issue

– There can also be a problem in your device that's unresolved. It will make you encounter the Comcast email not sending emails problem. 

Attachment issue

– Every attachment has a prescribed size according to its format. You can get a sending error if your attachment has exceeded the prescribed limit.

A problem with your mail app

– If you are using Comcast through a mail app, and it has an internal problem, you will experience problems sending and receiving the emails. 
Methods to Resolve the Comcast Email Not Sending Issue
Now that you have discovered an answer to why is my Comcast email not sending issue, you can implement the different troubleshooting methods. Please make use of them one by one and find which one fixes your problem.
1. Disable Spam Filter
The spam filter issue causes this problem in most cases. So, it would help if you disabled it to fix this problem. Follow these steps. 
Log in to your Comcast account.

Navigate to 'Users and preferences.'

Press the 'Edit button on the option of 'Spam' filter.

Select the 'Disable spam filter' option and click 'Save.'
2. Configure the Security Settings
Those using Comcast emails on Outlook should inspect their outgoing mail server settings. Your security settings should be configured to 'Auto.' If this option isn't there, choose the 'TLS' option. 
3. Find If You have Mistakenly Blocked a Contact
You may have blocked a contact unknowingly. It can result in Comcast not sending emails. In this case, check the contact blocked list. Apart from you, this also needs to be done by your recipient. If you are added to their blocked content, they should unblock you. For unblocking, navigate to the section of 'Settings' on your Comcast email platform.
4. Delete Caches and Cookies from Your Browser
Cookies and caches can be a source of many problems while you are sending your emails to Comcast. You can empty their folders and fix this problem. 
5. Delete Your Account
Quite often, the problem isn't with the email account but with Outlook or the mail client. If you feel that you are experiencing the same problem, deleting your account on Outlook will be wise. You can then add it back again. You can also choose the option of auto-configure after adding your login credentials. But ensure that before deleting your account, you have properly backed the local folders.
6. Check Your Internet Connection
Sometimes, the cause behind Comcast email not sending emails can be as simple as a poor internet connection. If you use a Wi-Fi connection, try to restart your router. On the other hand, if you use a cellular data connection, inspect your network settings.
Final Words
The varied reasons and troubleshooting ways for the Comcast email not sending problem must now seem clear to you. You have many fixes to implement. There's a lot you can do from disabling spam filters, configuring the security settings, and deleting caches and cookies. Don't forget that you can also seek the assistance of Comcast technical support if the issue persists.