Gmail Not Receiving Emails? Here's How To Fix It!
It will be safe to say that almost everyone has a Gmail account these days. We all rely completely on it for any communication purpose amongst other things. However, it could be really frustrating if we get stuck in Gmail not receiving emails situation.
There is nothing to worry about as we will be discussing this issue in detail. We will provide you with a number of solutions that you can try at your convenience.
Also Check: Receiving Duplicate Emails In Gmail | How To Stop It?
Reasons Behind Gmail Not Receiving Emails
There could be quite a few reasons behind Gmail not receiving emails. They are:
Server issue

Email filters

Low storage space

Security features

The message marked as spam

Connection problem
No matter what the reason is, there is nothing that can't be solved. We will be providing several methods to fix the Gmail not receiving emails issue. In this way, you won't have to go through quite a few blogs for the same and waste your time.
Top 10 Methods to Fix Gmail Not Receiving Emails Issue
There are a number of methods that you can try to fix Gmail not receiving email issue. You can start with configuring the Gmail account or open Gmail on a different browser. If this still doesn't solve the issue then you can check the storage and then try to remove the Gmail filters as it might be causing an issue. If you still face Gmail not receiving emails issue then you can proceed with the steps that we have shared below for your reference:
Method 1- Configure the Gmail Account 
You need to start by configuring your account

Set up the email Wizard after a few seconds

Click on 'Tools'

Choose the email account that is displayed in blue

Click on 'Add' from the mailing account box

If you can see your account in the list then you can click on it

Click to remove and then hit the 'add' option

Choose 'let me configure the settings of Gmail myself' in the next window

Click on 'next' and then on 'Gmail'

Sign in and then see if you can receive the emails or not
Method 2- Open Gmail on a Different Browser
If you face Gmail not receiving emails in the specific browser then chances are that there are some issues with the browser and not your Gmail account. In this case, you can try to switch the browser and then see if you can receive the emails or not.
Method 3- Check the Storage
If you are short on space then it is obvious that you are not going to receive emails. If you want to check the storage then you can open Google drive where you might have registered when you created your account.
Click on 'Upgrade storage' and it will open the page where you can check your existing storage status. The maximum storage that you get for free is 15 GB which includes Google Drive, Google Photos, and well as Gmail. You can free some space by following the below-mentioned steps:
Open your account in the browser

Select some emails that are of no use to you and then click to delete

Select 'More' from the left of Gmail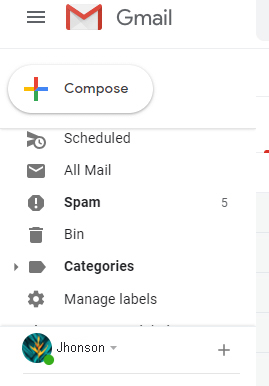 Choose 'Bin' and then click on the option that says 'Empty bin'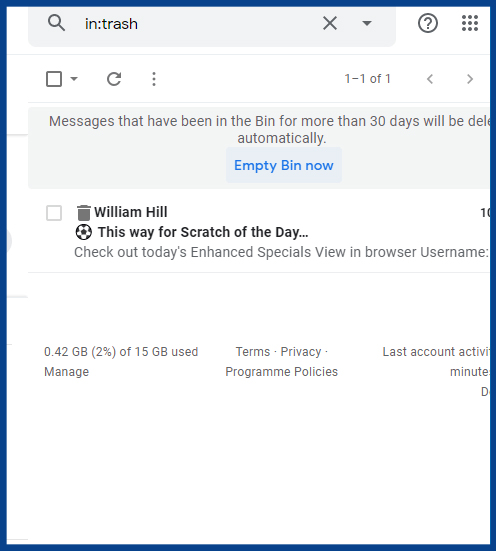 Method 4- Remove the Email Filters
We use the email filters to make our inbox more organized as per the criteria. This could be the reason why your emails are directed to some other folder and you end up thinking that it is Gmail not receiving emails problem.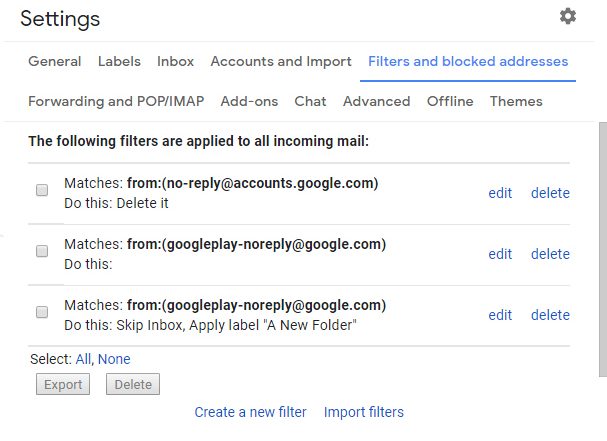 You can remove the filters by clicking on 'Settings' and then by going to 'Filters and blocked addresses'. Click on the filters that you see and then click to 'delete' to remove the filters.
Method 5- Switch Off Email Forwarding
If you have turned on Email forwarding then you are bound to find yourself in Gmail not receiving emails. You can switch it off by following these steps:
Click on Settings in the Gmail app or in the web browser
Navigate to the option that says 'Forwarding and POP/IMAP' to open that specific tab

Click to disable and save the changes once it is done
Method 6- Disable Firewall
At times, the firewall might block some emails in Gmail. To see if you are facing this error because of this, you can disable it and then see if you are getting emails or not.
Go to the Control panel and open the task manager

Click on 'Start up' and then choose 'antivirus'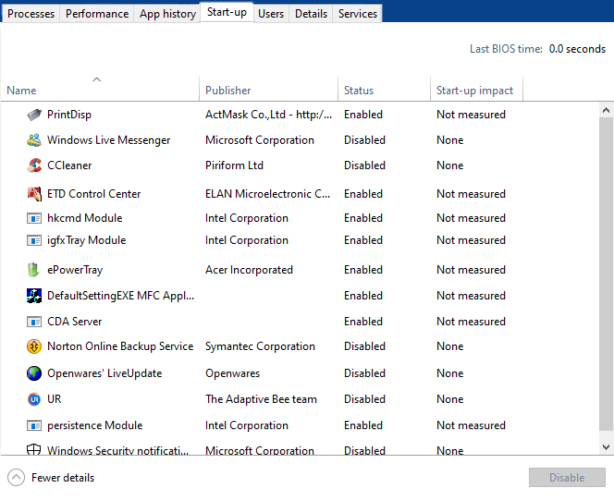 Click to disable it and check if Gmail not receiving emails problem has been fixed or not
Method 7- Check the Server Status
The Gmail server might be down and you'll end up thinking that the issue is from your end. To check the status of the server, search for it and see if this is the case. If it is an issue from the server's end then you can wait for some time.
Method 8- Gmail Not Receiving Emails in Android
If you are facing Gmail not receiving emails on your android device then there are a few things that you can check.
You should ensure that your android device has a proper internet connection because if you have a weak connection then you are bound to face issues

Install the latest version of the Gmail app if you have not done it already

Reboot your device as it can fix some common issues that you face

See if the sync option is switched on or not by going to the Gmail app settings. Open the Gmail app and then click on the top left corner in the menu. Scroll to see it and ensure that the box next to 'Sync Gmail' has been ticked

If your device is low on storage then the sync option won't function. You can uninstall the apps that you don't use and move the heavy files to your laptop to free up space and then check if Gmail not receiving emails has been resolved or not

You can clear the information on Gmail. For that, you should go to the device settings and then click on 'Apps and notification'. Click on 'app info' and then click on 'Gmail'. Touch the storage option, clear it and then reboot the device once it is done
Method 9- Gmail Not Receiving Emails in an iPhone
If you are unable to receive the emails on your iPhone then you can try out the following methods:
1. Ensure that your android device has a steady internet connection – This should be the primary step as it would save you from many steps in case you have a slow Internet connection.
2. Restart your iPhone – Sometimes all you need to do is restart your device to fix the problem.
3. Allow the background app refresh – If your background app refresh has been restricted for your iPhone for Gmail then you might not receive e-mails instantly.
4. Manual Sync – If you're not receiving e-mails then try to refresh your inbox yourself by swiping your screen from top to bottom until the loading icon shows up.
5. Verify your login credentials – Visit Gmail on a web browser and log-in with your credentials. If you're unable to log-in then that might be the reason why you are not receiving e-mails. To get rid of this, log-in with your accurate credentials on the site and then the app. If you can't log-in then reset your account password.
6. Clear the data from the Gmail app – You can solve the app syncing problem by cleaning out the Gmail app data and storage on your iPhone.
Method 10- Gmail Not Receiving Emails from a Specific Sender
If you are receiving emails from everyone but not from a single person then you are in luck as we are here to help you fix the same. Before going to the methods, you should check if you have blocked them by mistake or not. If not then you can try the below-mentioned solutions so that you can start receiving emails from them again.
Option A- Check the G Suite
You won't be able to look for the missing messages with the help of an Email log search. If a message was delivered to Google's server, the tool will guide you about the location for about 30 days. You can try out the steps mentioned below:
Sign in to your Google admin console with your administrator account

Go to the reports then click on Audit and then Email log search from the home page

Pick a date range from the list

Select the 'Search' button after filling in the information

In the Subject section- select click any of the subjects to check the message and its delivery status.
Option B- Get in Touch With the Sender
It is a possibility that the sender has sent a message but it has not reached Google's server. In this case, the sender will get a message regarding the delivery status. This might happen if the sender has entered your incorrect email ID. You can ask them to resend it and see if you receive it or not.
We hope that the above methods will help you to fix the Gmail not receiving emails issue. If there is anything else that you would like to know then get in touch with the Gmail support team and the experts will help you to the best of their knowledge.