Why Does Gmail Won't Load On Your Browser?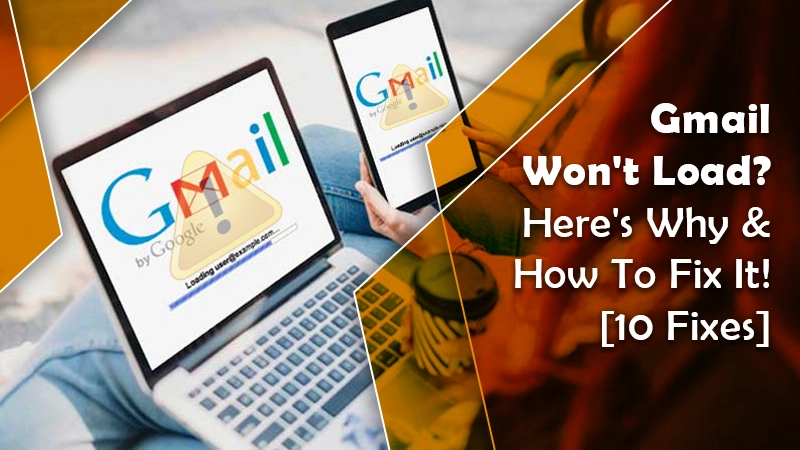 Don't you know how to deal with the issue of why Gmail won't load? We will help get through it and fox out with the methods explained in this blog. Are you ready? Let's get started!
Gmail as we all know is popular worldwide and has millions of users. It is the most trusted, functional, and professional way of communication. But, it can cause a lot of trouble if not loaded on time. Your business deal or a customer waiting for resolutions may find it disappointing.
You need to fix it right then and the best part is you can do it with the help of a simplified guide like ours.
Related Post: How to Encrypt Email in Gmail
Why Won't Gmail Load? – Causes
There are several causes of your Gmail not loading and creating an issue while loading on the browser. What are those, let's have a glance before moving to the solutions:
Your current browser is not compatible with Gmail.
Your browser extension is restricting Gmail to load correctly.
Junk files or caches interrupting Gmail.
An issue with internet connectivity.
Your Privacy concerns block Gmail considering suspicious activity.
Your Gmail account is hacked.
If your Gmail is hacked you should immediately change your password using another web browser or mobile application. However, if that's not the issue then follow the next section and try to fix why won't Gmail load errors.
Try These Methods to Fix Gmail Not Loading Issue
To make it easy we will start with the basic methods and then move to advanced solutions. You can follow chronologically or pick any method you think can help you fix the issue of Gmail won't load.
Solution 1: Reboot Your System
Always reboot your system when you encounter an error. Whether it is Gmail not loading or anything else, rebooting the system helps to rectify the error.
First, turn off your system and wait for a while before turning it on. Try opening Gmail in your browser.
Solution 2: Check Your Browser's Compatibility with Gmail
If your web browser is not compatible with the Gmail email server, you will encounter an issue in loading it. Popular browsers like Chrome, Safari, and Firefox work efficiently with Gmail but many other browsers don't.
If you are using any of these then enable the cookies and Javascript and try again.
Also Read: Backup Gmail to Hard Drive
Solution 3: Clear Browser Cache & Cookies
Usually, cache data helps find a site easily. But, if the cache files are corrupted they can cause an error and the email may stop working.
Thus, follow these steps and clear cache & cookies:
On your windows browser, tap on the three dots menu (right corner of the screen).
Head to the settings.
Then, tap on security & privacy located on the left-side column.
Tap Clear browsing data.
If you want to keep something, make sure you uncheck it.
In the time range section, select all time. And hit the clear data button.
Solution 4: Check Your Internet Connectivity
If you are using a wifi connection, make sure it is working properly. A poor internet connection doesn't provide enough strength to load heavy websites. Thus, keep the router close to the system or connect with your internet service provider if the internet signals are weak.
Solution 5: Try Opening Gmail on Another Browser
To understand if the issue is with your browser, try this solution. Open another browser and log in to your Gmail account. In case Gmail loads on another browser and is working fine, the issue is with your browser. Update it or reinstall it.
Solution 6: Disable Antivirus Temporarily
Antivirus programs that provide online protection usually block sites that are suspicious of threats. It so happens that the antivirus has assumed the Gmail website's threat and restricted it from loading.
Thus, to see if it is the culprit, disable the antivirus program for a while and try to reload Gmail.
Solution 7: See If Gmail Server is Down
Why don't you ask your peers if their Gmail is also not loading? That is a server issue that if it happens, is affecting other Gmail users too.
Many times google services go down. In that case, you can wait for some time or go to the Google Workspace status Dashboard. Here you can check the list of Google services that are not functional at the moment.
Solution 8: Disable Browser Extension
Extensions and plugin-ins are used for various purposes. But they can also cause an issue. Thus, try disabling all the extensions and see why won't gmail load on your browser.
Step 1. Open your browser.
Step 2. Select the three dots placed at the right-top corner of the window.
Step 3. Open settings.
Step 4. On the left side, tap on Extensions.
Step 5. Disable one or all extensions and try again.
Step 6. If you find the culprit extension or plug-in, remove it permanently.
Solution 9: Reset Your Browser Settings
Reset your browser. I will disable the window defender which may be blocking your Gmail from loading.
Open your browser.
Got the details button and tapped on settings.
Then select the Advanced button.
Under the reset section, tap on the reset button.
To confirm the action, tap on reset settings.
Solution 10: Ensure that Your Gmail Sync is Enabled
Lastly, check your Gmail settings to ensure that your Gmail sync is enabled.
Open your browser.
Select the three dots placed at the right-top corner of the window.
Open settings.
Tap on your Gmail account and scroll down to select the Data usage section.
Here, see if you have check-marked the Sync Gmail option, or enabled it.
Winding Up
Following Are the do-it-yourself method to fix the issue Gmail won't load. One of the methods should help you fix the issue. However, if you still face the error and are unable to access your Gmail account, connect with our Gmail technical experts and get your issue resolved.