Gmail Encryption | How to Encrypt Email in Gmail?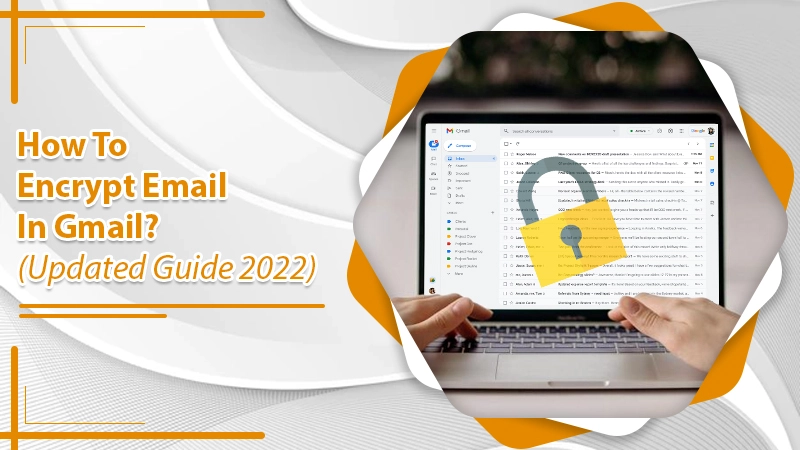 Gmail does not need any introduction as many users across the globe have used or are using it. As of the present time, Gmail ranks second in the world for email client usage. Millions of companies pay for Google Workspace. Among these companies are many regulated industries that require a secure email to be compliant.
However, if you have a business that uses a Google Workspace Gmail account, there are still ways to encrypt your messages. Well, to assist you, here are the steps to show you how to encrypt your email in Gmail.
Related Post: How to Forward Emails from Gmail
Methods on How to Encrypt Email in Gmail
1. Use Gmail in Confidential Mode
Google recently launched Gmail confidential mode to allow users to send and open personal emails. Users can enable confidential mode in the lower right corner of the authoring window. This gives senders a few options:
Set an expiration date so that the sent email can only be read for a certain period

Require an SMS password to read email

Disable copy, paste, download, print, and forward email
Following the above ways, you will be able to encrypt emails in Gmail.
2. Enable S/MIME for Google Workspace
S/MIME (Multipurpose/Secure Internet Mail Extensions) supports Gmail encryption in transit and helps encrypt your outgoing emails when possible. But there is a possibility: for S MIME encryption to work.
In this case, make sure that both the sender and the recipient must have it enabled. Once S/MIME is activated, both the sender and the recipient must exchange information, the so-called "keys," to uniquely identify themselves.
When you have everything in order, you can use S/MIME to send encrypted messages with the following easy steps:
Compose a message as usual.

Include a recipient.

There is a padlock symbol to the right of the recipient. The icon may vary on the level of encryption that is supported by the recipient.

In case you send a message to recipients, the symbol will indicate the lowest encryption capacity based on the encryption level.

Click on the padlock and then on "Show details" to change the S/MIME settings or get more information about the encryption level of your recipient.

To verify that a received message has been encrypted, there are a few more steps you must follow:

Open the email message.

Click the down arrow to the right of the recipient list.

Look at the colored padlock to determine the encryption level of the sent message.
S/MIME Encryption Levels
Gmail Encryptions level is represented by three colors: green, gray, and red.
Green means S / MIME Enhanced Encryption protects your information. The recipient can decrypt the email by simply using the private key.

Gray means that the email was only sent with TLS encryption. This means that the message was protected from one server to another; However, TLS (Transport Layer Security) only works if the sender and the receiver support TLS.

Red means there was no encryption at all. In this case, try not to send any personally identifiable information until you can securely encrypt your email.
3. Use Secure Gmail
Secure Gmail to effectively encrypt email in Gmail is a great way. After installing from the Chrome Web Store, refresh your Gmail page to enable the extension and hence you will get to know how to encrypt email in the Gmail app.
You can tell if the extension is working by seeing a lock button next to the create button.
To write an encrypted email in Gmail, click the lock button accordingly. However, keep in mind that you have to click on this little icon; otherwise, you will send confidential information via unencrypted email.
If you click on the padlock, you will see two different changes:
The word "Secured" is displayed in the header with a padlock symbol next to "New Message."
The "Send" button will then change to "Send encryption."
Then you do click. Now that you have connected "Send Encryption," your work is not yet completed. Further, a pop-up window appears asking you to enter a password that the recipient needs to decrypt the email. You must then provide your password to your recipient manually, as they will only receive the password information with the email.
Secure Gmail makes end-to-end encryption easy, but the recipient also needs the Secure Gmail extension to decrypt the email. You can use Secure Gmail with a Google Chrome browser. For recipients using a different browser on their laptop or smartphone, it is difficult or impossible to get access to the emails.
4. Encrypt Your Gmail Through Firefox
If you don't use Google Chrome as your primary internet browser for Gmail encryption, you can still encrypt your emails with Firefox. Add the Encrypted Communication Firefox extension and further proceed to restart your browser to activate it.
To encrypt your email in Gmail with this Firefox extension:
Compose an email

Right-click and select "Encrypt Communication."
Enter a password and select "OK."
Related Post: How to Reset Outlook Password
Steps to See If Your Email Will Be Encrypted
After encrypting your email, you can easily check if it will be encrypted. Follow these steps to check it.
Begin typing out your email as usual. Now, input the recipient's name in the 'To' field.

You'll see a lock icon present on the right side of the recipient's name. This icon shows the encryption level that the recipient has on their email provider.

By choosing this lock, you can modify your S/MIME settings and also gain more knowledge about the encryption level of your recipient.
The Process to Check Whether the Encrypted Email Was Received
To check whether the encrypted email was received, open the email that you got. Now, follow the steps below.
Android device users must select '

View details

.' Then, choose '

View security details

.'

iPhone users should click on '

View details

.'

A colored icon will appear, which enables you to know the encryption level that the email sender has used.
The icon with a plus sign is the S/MIME enhanced encryption. It's the maximum level of encryption. The message can be decrypted and viewed only by those with an appropriate private key.

 The grey-colored icon with a small hole in the center is the standard or TLS (Transport Layer Security) encryption. It's a standard when the email service isn't compatible with S/MIME.

The red icon with a slanting line at the middle indicates that the email is unencrypted. 
Final Words
Now that you have a clear idea about how to encrypt email in Gmail, follow each step precisely and easily encrypt emails in Gmail. If you are running out of time or notice the above process to be tedious, proceed to get quick assistance.
By browsing the web, you will get effective Email support to encrypt email in Gmail. The professionals at email support will assist you with the best possible solution without wasting your time.