Gmail Storage Full? Here's How To Free Up Space In Gmail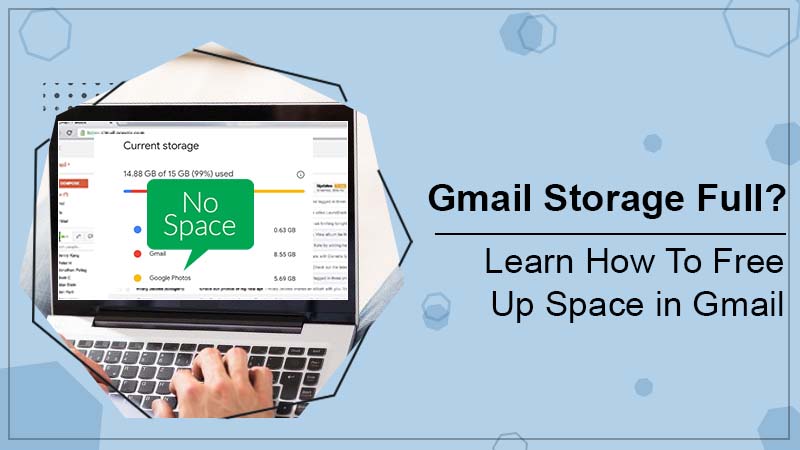 Many of us have experienced storage problems in our Gmail accounts. We receive a notification that the Gmail account storage was complete, and we look forward to knowing how to free up space in Gmail or deleting emails to acquire new ones. Google offers users a total of 15 GB of storage space at no charge, including storage for disk files, emails, and WhatsApp backups. For Android Phone users filling the 15GB is a breeze.
Related Post:- How to Stop Spam Emails in Outlook
Why do You Need to Free up Space in Gmail?
Google forums are full of questions like how to fix Gmail storage full issues, and various answers are repeated many times. The way to resolve the problem according to Forum is to buy additional cloud storage from Google for 130 rupees a month for 100 GB, and second, make room for new emails.
To purchase additional storage space, you must select the storage space and add your credit card information to make the purchase. After doing this once, Google will set up a recurring payment from your account, and you will be given additional storage until you decide to unsubscribe.
However, if you are willing to fix the issue without making the payment, and include new data or receive further emails without making an investment, you must clear the storage and bring the space your account uses to less than 15 GB. Other than this, you can also get a practical guide to know real-time ways and free up space in Gmail.
Related Post:- How to Refresh Outlook
How to Free Up Space in Gmail?
Google has a high storage limit (10GB and up), but it won't help you much. A few key steps are essential to know to free up space on your Gmail account.
Once you have reached the limit, the emails will be bounced instead of received. You will also see a message that says, "Your Gmail account is out of space." Hence, follow the steps to get rid of the issues:
1. Find & Delete Large Attachments
Attachments usually take up a lot of space, and deleting messages with large attachments can free up disk space much faster than deleting small text messages. To display only messages that contain attachments, make use of a search filter.
After searching emails with attachments, you can delete messages and free up space more efficiently.
2. Access Email from an IMAP Client
To fix Gmail storage full issues, you can access your Gmail from any email client that supports IMAP. When you access an account through IMAP, you manipulate messages directly on the server. Any changes you make to the email program are reflected in your Gmail account. This allows you to do things that you cannot do in Gmail, such as sorting messages by size and removing attachments from emails. Think of the IMAP client as a different interface to your Gmail account.
3. Thunderbird Configuration
Once you have configured Thunderbird with your email account follow the following steps to fix Gmail storage full issues:
Select the All-Emails option in the left pane and then use the small column button on the right side of the window to enable the Size column.

Click the Size column and quickly sort the messages by size. Once you do, you can easily spot and eliminate more giant space eaters.
There is an advanced trick you can utilize with an IMAP client: Set up two IMAP accounts in the program (for example, two Gmail accounts). You can then drag and drop messages and move them between accounts. For example, you can transfer entire old emails to a particular Gmail archive account and open that account when you need to check old emails.
Related Post:- How to Setup Gmail in Thunderbird
4. Scan Your Account to Fix Storage Issues
You do not need to enter your password. Further, you only grant the service temporary access to your account.

The scan may take some time, but the right assistance will get the best work done.

Find and create labels in your Gmail account to quickly search large messages without starting a desktop email client.
5. Delete Mass Mail
There is a possibility to get a large amount of mass mail (newsletters, notifications, mailing list messages, and other things), especially if your account is full of emails. This email is often relatively unimportant, especially the one above.
To quickly delete bulk emails and free up space in Gmail, find one of the messages, open it, click the More menu, and choose filter messages like this. You can easily use the branding menu to select and delete all messages to free up space.
6. Empty the Recycle Bin
When you delete a message, it is moved to the Recycle Bin, where it takes up space. To free up space in Gmail, don't forget to empty the Trash.
You can find the recycle bin under the More link under Your labels in the sidebar. Usually, Gmail automatically deletes messages from the Trash after 30 days, but you only need to do this if you're low on space.
Conclusion
Hopefully, the practical and applicable steps mentioned in this blog will help free up space in Gmail. If you find it tedious to get the issue resolved, there is a more straightforward and effective way. Simply approach the Gmail support team for the quickest assistance. The expert professionals will guide you through simple and easy ways to get assistance and resolve the hindrance.