How to Stop Spam Emails in Outlook! Know All the Methods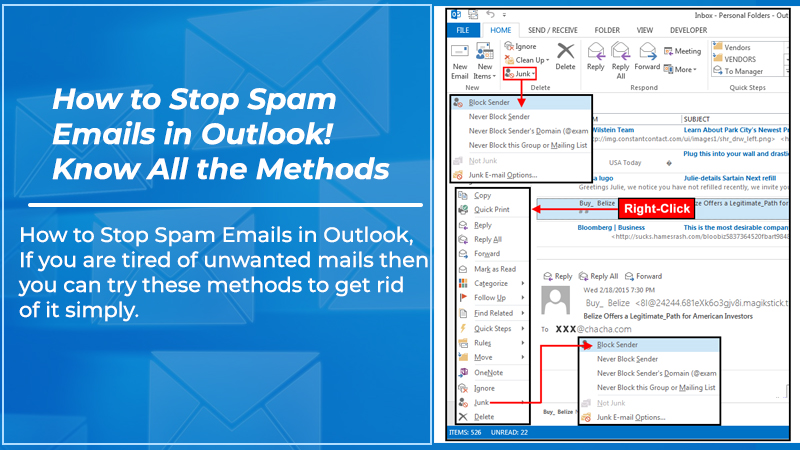 Email is one of the most common modes of professional communication. In the corporate world, people use emails to communicate both internally and externally. For most users, going through all received emails is a daily chore, but things get worse when the Junk or Spam email count starts increasing. So, let's explore how to stop spam emails in outlook using some simple methods.
How to Stop Spam Emails in Outlook
If you are puzzled by the unwanted emails in your inbox then you can try these methods of getting rid of them.
Block the Sender
If you want, you can block emails from any particular senders. For this, you can use a built-in Outlook feature and add multiple email sender names according to your need. Well, this complete process manual in this approach, it'll save you time.
Step for Block the Sender
You need to follow the below-given steps to block a sender in Microsoft Outlook 2019, 2016:
Open Outlook 2016.
Select the spam email sent by the sender by clicking on it.
Switch to the Home tab.
Select the Junk option and click Block Sender.
Click Ok
Email is the standard mode for professional communication. In the corporate world, email is the most common way to communicate both internally and externally. Going through all received emails is a daily chore for most users, but things worsen when Junk or Spam's email count increases.
Spam email messages in Outlook bother the person and consume storage space. It's also possible that they may contain malicious links or viruses, ready to spread or steal data when opened.
So, here we are sharing how to stop spam emails in Outlook, using some built-in features in Microsoft Outlook 2019 and 2016. Here are the ways that can help you to block spam emails in outlook.
Also Read: Outlook Spam Filter Not Working
Automatically Filter Junk Emails
Another method to stop junk emails in Outlook is by applying filters that automatically filter the spam or junk emails and won't show in the inbox. Compared with manually adding a junk or spam email sender's name to the list, this method is faster and only requires the initial setup.
Step for Automatically Filter Junk Emails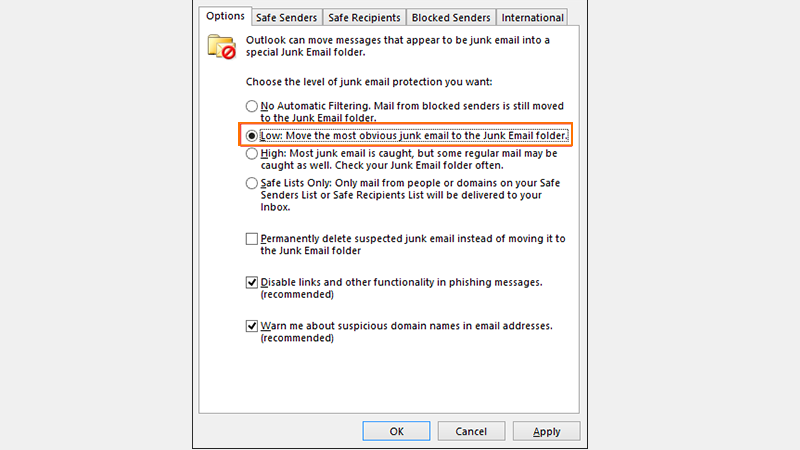 If you want to automatically filter junk or spam emails in Outlook 2019, 2016 and want to get rid of stop unwanted emails in outlook, go through the below steps:
Open Outlook 2016
Switch to the Home tab and click on the Junk option, and select Junk E-mail Options.
When the Junk E-mail Options wizard appears, as below. The Automatic Filter option can be selected from the options given below.
Also Read: Configure Outlook custom spam filter
We have selected Low: Move the most apparent junk email to the junk email folder option for this guide. But, first, make sure you choose the two below options:
This option moves the Junk emails and those emails that appear to be Junk or spam, which might stop a vital email from appearing in the inbox. Thus, to ensure that you are not missing any important email, follow the rest of the process.
Now, switch to the Safe Senders tab in the Junk E-mail Options wizard.
Click Add.
Add the email addresses of the sender you consider safe and click Ok.
Lastly, ensure that you tick on the checkboxes before the following options:
Also, trust emails from my Contacts.
Automatically add people's emails to the Safe Senders List.
The method mentioned above will let you step emails in outlook junk or spam email from different senders without discarding legit emails from people you trust or from your organization.
Also Read: How to Block Emails on Hotmail
Kernel PST Split
On receiving many emails daily, including spam email, the overall Outlook mailbox size would increase. It will have consequences such as slow Outlook loading, increased waiting time for mailbox item search, extended mailbox synchronization, and more extended mailbox synchronization. PST split software helps you to get rid of such issues. Furthermore, if the PST data files turn fatty, Kernel PST Split is at the rescue.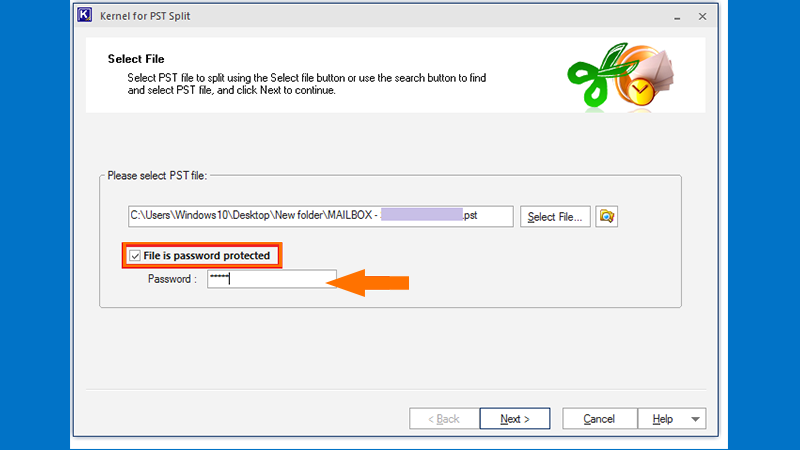 How to Use Kernel PST Split
Kernel PST Split is an intelligent software that enables users to break the large-sized Outlook PST data file into two. During the process, while the software starts the split, Be sure about the presence or accuracy of Outlook mailbox items – all the data after the break is complete and will remain available as before.
Additionally, even if the file is password-protected, you can still execute the split process. Thus, the software put no harm to the data structure and integrity.
Junk or Spam emails are not the only issue that Outlook users face every day. Microsoft Outlook can create some points and make stop working at any moment. In addition, there are various problems with Outlook data files, and it's hard to state why all these issues appear due to unclear reasons.
We have lots of errors and issues related to the outlook, file corruption or damage stands at the top, and you might lose access to your essential mailbox data.
Also Read: Repair Outlook PST Files
Kernel for Outlook PST Repair software is helpful in enabling Outlook users to fix PST file corruption or damage. The list is a long start with boosting the power to heal unhealthy & harmful PST data files and many more, the software also comes with features that offer complete control over Outlook mailbox recovery. Thus, you can choose what to save and what is not needed to save.
With PST Repair software, different issues like why I cannot open a PST file, recover deleted emails, recover removed attachments, etc.
Wrapping Up
Here we have discussed the various methods, how to stop spam emails in outlook with the various methods, you can try these methods and can get rid of unwanted mails. For any related information you can connect to our outlook support team and we are here to resolve your issues.