How to Create an Email Template in Outlook, Edit, and Use It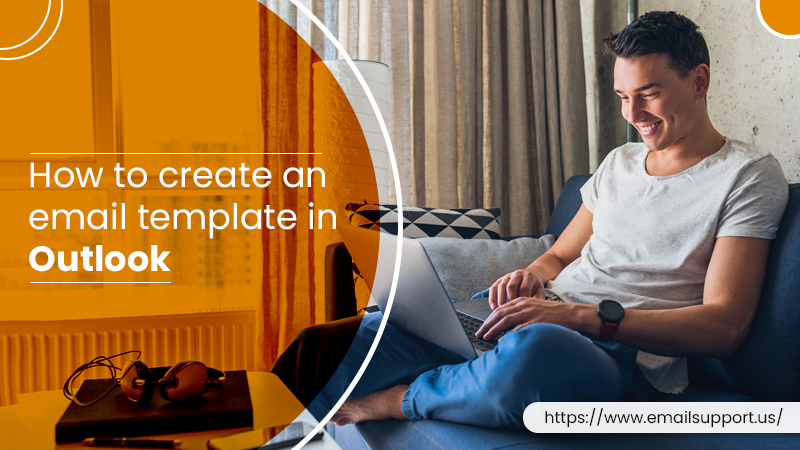 Nobody wants to type out responses to emails that are the same again and again. This is where you can take the help of an Outlook email template. These templates can be utilized to send messages with data that does not undergo any changes from message to message. To learn how to create an email template in Outlook, you just have to bring a new email, type out your message and save it as an Outlook template.  
All these templates get saved in a specific location in the C drive. Templates are easy to make on desktop and Outlook on the web. You can also use various features of this email client to respond to repetitive emails. 
What Is an Email Template in Outlook
Email templates in the Outlook email client are documents with particular details. For example, they may have a specific message body and formatting. This information does not require to be changed in other messages. These documents are present in all Outlook versions.  
Outlook email templates let you eliminate the hassle of creating the same kind of emails repeatedly. You can create emails through the templates with small adjustments. So, there's no need to compose new emails every single time. It is particularly good for businesses that are using email marketing as their marketing campaign. 
The templates, by default, have the OFT file extension. It means that when you save email template in Outlook on your device, it will be saved with this file extension. 
Create
Email Templates in Outlook
Desktop and Microsoft 365
You can create message templates in Outlook to dispatch emails that include data that isn't subject to much change. After creating a template, save it and use it whenever the need arises. 
The template is customizable. So, you can add new data before sending it as a message. 
Tap '

New Email

' on the Home menu.

Input the information you want in the body of the email. 

Now, tap '

File

' in the message window and choose the '

Save as

' option. 

The Save as box will appear. 

Tap '

Outlook template

' in the Save as Type list.

Now, in the box of '

File name

,' input your template's name.

Finally, tap '

Save

.'

Your template will get saved in this location:
c:\users\username\appdata\roaming\microsoft\templates
Also Read: Microsoft Office 365 Won't Open Issue
Helpful Tips to Create Email Template in Outlook
The Outlook Web App makes it very simple to create email templates. Use these pointers to make one.
Sign into Outlook. 

Now, from the top-left area of the window, choose the '

New Mail

' option.

At the lower part of the New Email editor box, you will see the '

Send

' and '

Discard

' buttons. 

Tap the three horizontal dots beside these buttons.

Now, from the menu, select the '

My templates

' option.

You will see a list of readymade templates. They will be on the window's right portion.

Tap the '

+ Template

' button.

Now, input the template's title and enter your message. 

Once finished, tap the '

Save

' option. 
Insert and Use Outlook
Email Templates in Outlook
on the Web and Desktop
On Outlook on the Web, finding and inserting templates is very simple. Just head to Outlook on the Web and make a new email. Tap the three horizontal dots and choose the 'My Templates' option. Tap any one template from the list that you desire to use. This template will show as a reply. At the end, just hit the 'Send' button.
In the Outlook desktop app, you can insert email templates and utilize them to send messages in the following way:
Open the desktop application of Outlook.

At the top-left, choose the '

New Items

' option.

Now, select '

More Items

.'

After that, select '

Choose form

.'

The Look In dropdown will show.

Select '

User templates in the file system

.

Choose a template and tap '

OK

.'

Edit the message and add the needed recipients.

In the end, tap '

Send

.'

Remember that templates in the Outlook desktop app can only be used when you are composing a new email, not while responding.
How Do You Edit
Email Templates in Outlook
?
On the Outlook website, you can edit your templates. Follow these pointers to do so.
Open an email.

Now, hit the '

…

' button. It will be present at the bottom.

After that, choose '

My Templates

' from the menu that appears.

Keep your cursor over the template. The two options will show on the right.

Hit the '

Edit

' symbol, which appears like a pencil.

That's it. You can now edit the template according to your needs.
Create a Shortcut for Your Template
You can utilize the Outlook Ribbon to add a shortcut for your templates in Outlook. Here are the steps to add a shortcut. 
Firstly, click '

File

' in Outlook.

Now, select '

Options

.'

After that, choose '

Customize Ribbon

.'

Now, tap the icon, '

New Group

.'

You may now select '

Rename

.'

Give a name to the template.

After typing it out, tap '

OK

.'

Select '

All Commands

.' It is present in the '

Choose commands from

' fields.

Now pick the '

Choose Form

' option.

Tap '

Add

.'

Save these modifications by clicking '

OK

.'

A '

Choose Forms

' window will show on the screen.

Tap the '

Down

' arrow.

Now, select the '

User Templates in File System

.'

Pick your template.
POINT TO NOTE : You can use the Quick Access toolbar for this purpose. This can also be customized through the steps above.
Other Outlook Features to Respond to Emails Quickly
There are various features in Outlook to help you respond to frequent and repetitive emails. You can use Quick Parts to quickly add to an email message, meeting request, or appointment. These are different from .oft or the templates described above because they are majorly small snippets of content you can reuse. 
1.
Quick Parts
Quick Parts is a substitution of AutoText that was a part of Outlook 2003 and versions earlier than that. But AutoText has not been fully discarded. It just resides in a different gallery. 
Follow these points to make a Quick Parts item.
In order to save a text you composed in Outlook as a Quick Parts item, select the text.

Now, tap '

Insert

' in the Outlook menu bar.

In the submenu that opens, tap the '

Text

' option.

This will be a new menu featuring a '

Quick Parts'

option.

Tap it followed by '

Save Selections to Quick Part Gallery

.'

Now, your text has been saved as a Quick Parts item.

Use it by typing out its file name and hitting '

F3

.

When you press F3, the file name will be substituted with the complete snippet content.
POINT TO NOTE : Apart from typing the file name and hitting F3, you can write a part of the content of the Quick Parts item. It will suggest the current thing, and you just have to hit Enter.
2.
Quick Steps
Quick Steps allow various actions using one command. One of these actions can be creating an email as per a template or replying through a template. You can also configure these shortcuts to automatically populate Cc, To, Bcc, and Subject fields. Use this procedure to create email templates with their steps. 
In the Quick Steps box, tap the '

Create new

' button.

Select either one of the '

Reply

,' '

New Message

,' '

Forward

,' or '

Reply all

.'

Input your template's text in the Edit window.

Set up other options that you want. 

Input a name for your template. 

You can also assign a predefined shortcut key if you want to the template.

When done, the Quick Step will appear in the gallery. Tap it to execute the actions. 
Frequently Asked Questions
1. How do I create email templates in Outlook?
Tap 'New Email' in Outlook 'Home' and fill out the message body. Save your email and choose its type as 'Outlook template.' Now in the 'File Name' box, input your template's name and tap 'Save.' 
2. How do I find email templates in Outlook?
You can find a template by choosing 'New items' in Outlook, followed by 'More items' and then 'Choose Form.' Now in the box, tap 'User Templates in File System.' The default templates folder will launch. If your template is in another folder, tap 'Browse' to choose it. After finding it, select it and tap 'Open.' 
3. Does Outlook 365 have templates?
The online version of Outlook 365 has templates. You can find them through an icon in the bottom-right portion of your message. It resembles a blank sheet containing a blue lightning bolt. Tap this icon to find the templates. 
4.  What is a dynamic email template?
A dynamic email template enables businesses to send custom communication to their target customers. These are template designs that enable marketers to send loads of emails that are automatically personalized in real time. 
Final Words 
Outlook email templates make your work easier, especially if you need to send similar emails periodically. Creating, editing, and using them is very simple. You can also use various features in Outlook, such as Quick Parts and Quick Steps, to reply speedily to people.