Fix Outlook Certificate Error – Causes and Solutions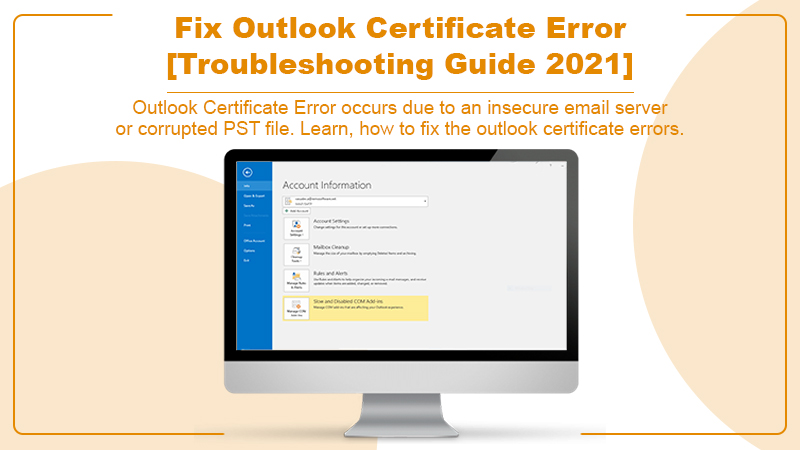 Outlook certificate error majorly occurs when you are connecting to an insecure email server or have network issues. It can also occur due to the wrong hostname, for instance, your name in place of your company hosting server name.
You must have come across a message that says 'The server you are connected to is using a security certificate that cannot be verified. This warning is called an outlook certificate error.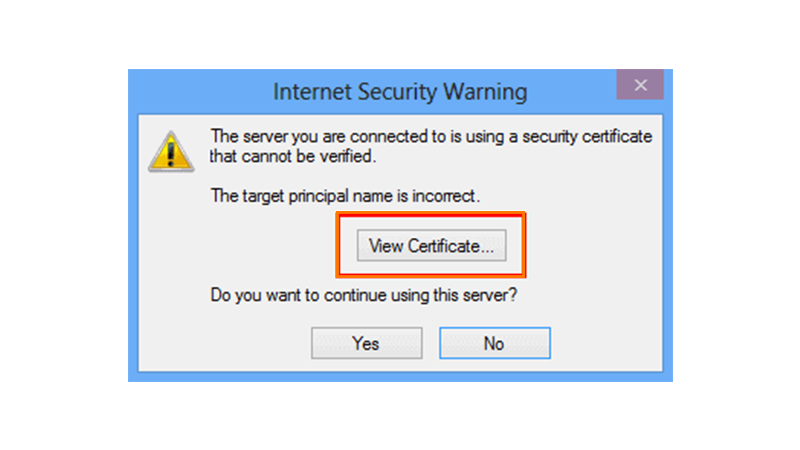 The purpose of the outlook certificate is to confirm to the recipient that the mail is legit and not tempted or altered by anyone.
Why Do You Encounter an Outlook Certificate Error?
For an outlook certificate error to occur there can be multiple reasons. Hence, you can deal with those reasons if you are aware of them.
1. Invalid Security Certificate: The prime reason is to have an invalid security certificate between the mail server and the client. If you want to connect to your client, make sure that the email server holds a valid security certificate.
2. Incorrect Date & Time: Incorrect date and time can cause an outlook certificate error. You may not be aware but each certificate has an expiry time. Hence, make sure your PC has the correct date and time to escape the error.
3. Change Domain Name: if an Internet Service provider (ISP) changed a server,  it may also have changed the domain name. In this case, it will redirect you to a new address that is not listed in their SSL list. Therefore changing the domain name causes an error.
4. Wrong Hostname: Always check the hostname you entered while making a new account for MS Outlook. If you mistakenly enter the wrong hostname, you will get the error. 
5. Ports Restricted: Usually, institutions like schools and colleges put restrictions on some SSL ports. Hence, if you try to connect to a client via such ports, an error will occur.
6. Incorrect Port Number: While creating a new port configuration on MS Outlook, an error will occur in Sever mail if you enter an incorrect port number.
Read Also: 10 Ways To Fix Outlook Data File Cannot Be Accessed
What are the Solutions to Fix Outlook Certificate Error?
You must be worried about how to fix the Outlook certificate error. Well, don't be. Because you need not be an expert in computers. If you have basic technical knowledge that would be enough.
Give a shot to the solutions mentioned below to fix the error. 
Solution 1: Certificate Name Verification
To establish a connection between the mail server and email client, verify the certification name. It is one of the common reasons, certificate error occurs. 
Always pay attention to the certificate name. Check if that matches the mail server you are trying to establish a connection with.
Follow the steps below.
Click on the security warning box to '

view certificate

'.

Click on "

Issued to name

" to see if the certification name matches or not.

In case the name does not match, change it.

Restart the application and see if it works.
Hopefully, it works for you. However, if you still encounter the issue, move to the next solution.
Note: In case the certificate has multiple names, the error may reappear. Hence, try using all the names. Nonetheless, if none of them works out, contact your Internet Service Provider. Confirm if the name has been changed already.
Solution 2: Use Domain Name of Your Hosting as Mail Server
Usually, web hosting companies have several mail servers. Over these servers, they operate several domains. For all domains to connect, they have a single address. And that's where the issue of error occurs. 
Web hosting companies do not spend on renewing SSL certificates for each domain. They maintain a single address that is their domain as SSL certified. 
Therefore, if you try to access via your domain name, you will receive an error. To escape the error use their domain name. 
Solution 3: Add Non-SSL port
As mentioned before, many schools and colleges/universities put restrictions on some mail servers. Along with that, they also restrict some ports, for instance, SSL POP port 995, IMAP 993, and SMTP 465. If you go through those ports, you will receive a certificate error. 
To deal with such situations, you can add non-SSL ports, for instance, POP 110, IMAP 143, and SMTP 587. Once you are done adding the SSL ports, you can fix the error.
Solution 4:  Change the Outgoing SMTP Port
If you are using SMTP 25, you may receive an error. Because many internet service providers block SMTP 25 for many reasons like spamming.
Hence, to escape the error you need to change the outgoing SMTP port to any other port. To change the outgoing SMTP port, follow the steps below.
Head to

File

.

Click on the Info tab and move to Account settings.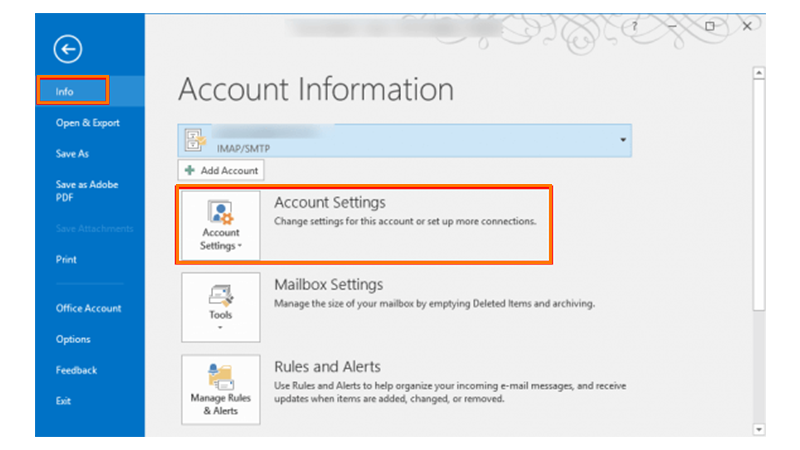 Through the drop-down list, select your email account and click on Change.

Further, click on more settings and select

Advance

.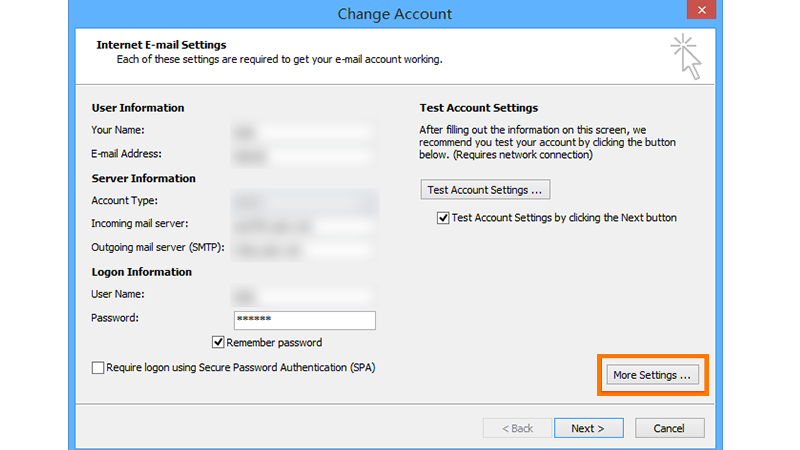 Here, you can change the Outgoing SMTP port to any port for example 26.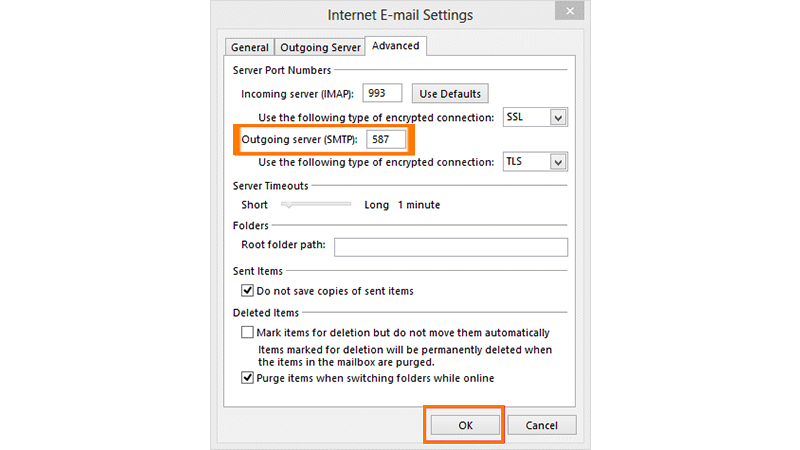 Outlook Certificate Error Due to Corrupted PST Files
Not all errors occur due to the above-mentioned reasons. It can also be a corrupted PST file. However, its solution is temporary and unreliable. Hence, to fix the certificate error you need a robust solution. 
The only robust solution is the Outlook PST Repair tool. It is one reliable software that can repair both damaged and corrupted PST files effectively.
When Should You Install or Not Install a Certificate?
Not all certificates need to be installed. There are several mail servers that do not require you to install a certificate. Such servers:
Either has a custom certificate.

Or a certificate generated for a particular mail server. 
However, if you wish to install a certificate, install 'Self-signed Certificate'. Self-signed certificates are for those who have no certificate generated by a Certificate Authority and show a certificate error.
Nonetheless, such an error may occur for any reason. Therefore we have provided how to fix an outlook certificate error. The above-mentioned solutions are easy nuts to crack. Hence, you can troubleshoot the error on your own. We at our end also offer full-time services. If you are looking for the same, connect with our Outlook support team.