Troubleshoot Outlook Profile Corrupt Problem with Expert Fixes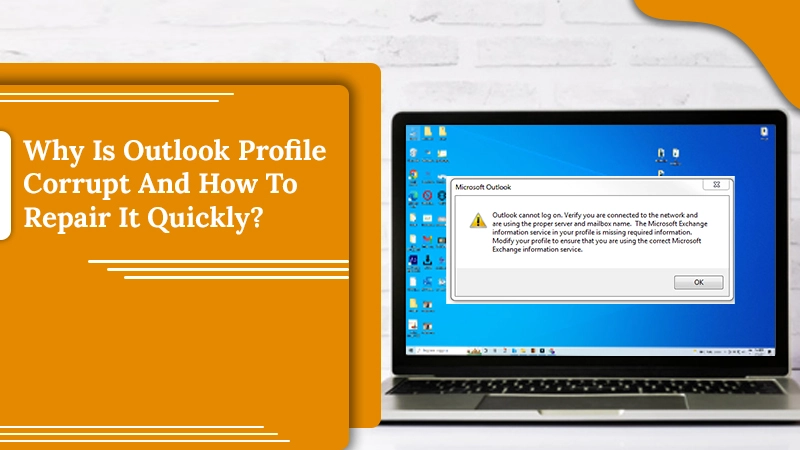 Your Outlook profile has the configuration, email account, and essential user data. Needless to say, it is highly significant for users using an MS Outlook account. If you find your Outlook profile corrupt, you won't be able to access your data. All your notes, reminders, and events will become inaccessible to you. The problem can happen due to many causes, but irrespective of the source, it can become a troubling situation for anyone. If you use Outlook for work and face this issue, you'll be glad to know that it is possible to fix your profile in this application. Keep reading this article to discover some efficient yet easy-to-use fixes. 
Related Post:- Why Outlook Inbox Not Updating
Reasons for Corrupt Outlook Profile
When your profile gets corrupt, you face many errors. They include (Filename).pst cannot be accessed and Data Error. You may also encounter the 0x80040116 or unknown error. Given below are the most probable causes for this to happen.
A sudden shutdown of your computer terminates Outlook and makes your profile corrupt. 

Invalid Outlook account logins by the user. 

The wrong installation of the application is another cause of a corrupt profile. 

If your profile is not set properly, it will get corrupted. 

A disturbance during Outlook data transfer. 

A damaged PST file is a significant cause of Outlook profile corrupt issues. If the PST file has become very large, it will get damaged. 
Signs of a Corrupt Outlook Profile You Must Know
This problem doesn't strike without any evident signs. You must be aware of the following symptoms that indicate a corrupt profile.
The 0x80004005 error arises in Outlook 2003, 2010, 2007, and 2013 versions. You will encounter it whenever you attempt to access any email. 

The error message 'Cannot start Microsoft Outlook. Cannot open the Outlook Window' is also a prominent indicator of a damaged account profile in Outlook.

You will notice your Outlook application behaving sluggish. It will hang often, and you won't be able to work smoothly with it. 
Related Post:- Why Outlook email not working
How to Repair Corrupt Outlook Profile?
After familiarizing yourself with the causes, you can begin troubleshooting the issue. Follow the measures as per your Outlook version. 
Manually Repair Outlook 2007
Outlook 2007 users don't need to panic after finding their profile corrupt. It is possible for you to fix the profile by manually repairing it via these points.
In Outlook, choose the '

Tools

' button. 

Next, opt for the '

Account Settings

' option. 

Tap the '

Email

' tab in the window. 

Choose your profile and simply tap the button '

Repair

.'

You will come across many easy instructions. Follow them, and you will easily fix the corrupt profile. 
Manually Repair Outlook 2010, 2013, 2016, and 2019
Users of these Outlook versions can also fix corrupt Outlook profiles manually. There is no difference in the steps to repair the profile in these versions. 
After you open Outlook, opt for the '

File

' tab. 

Look for the drop-down button after clicking '

Account Settings

.'

Click this button. Now from the options, you see, choose '

Account Settings

.'

Head to the '

Email

' button.

Opt for your account profile and click the option of '

Repair

.'

You'll be made to input your login information. Fill them in and hit the '

Next

' button. 

The Outlook repair process will commence. Let it complete.

After the repair procedure comes to an end, tap the 'Finish' button. 

That's it. Your profile has been repaired. 
Related Post:- How to repair Office 365
Rebuild Your Profile
Rebuilding your profile also allows you to resolve corruption problems. Here are the pointers to rebuild your Outlook profile. 
Tap '

Mail

' in the Control Panel. 

Tap '

Show Profiles

.'

In the subsequent window, you will be able to see all Outlook profiles.

Pick the profile to rebuild. 

Click '

Remove

.'

Hit '

Yes

' to proceed.

Close the window and reopen it. 

Select '

Add

.'

Input your profile name. 

Enter the needed information in the dialog box and hit '

Next

.'

Tap '

Finish

.'
Employ the Scanpst.Exe Tool to Repair Corrupt Profiles
As mentioned above, if your .PST file is damaged, you will find your profile corrupt. So, if you are wondering how to repair a damaged profile in Outlook and have used the methods above, you need to fix the .PST file. You can do that easily through the in-built scanpst.exe or inbox repair tool of Microsoft. 
Here is the location of this repair utility as per your Outlook version. 
In Outlook 2019, you will find the tool in C:\Program Files\Microsoft Office\root\Office16\

Outlook 2006 users should navigate to this location: C:\Program Files\Microsoft Office\Office16.

In Outlook 2013, the scanpst.exe tool is present in this place: C:\Program Files\Microsoft Office\Office15.

Outlook 2010 users will find the inbox repair utility here: C:\Program Files\Microsoft Office\Office14.

If you use Outlook 2007, find the utility here: C:\Program Files (x86)\Microsoft Office\Office12. You can also find this utility by heading over to the 'Start' section and typing 'scanpst.exe' in the search bar. Now, follow these simple pointers. 
Open the tool. 

Hit the button '

Browse

.' 

Choose the affected Outlook profile. 

Noe hit the '

Start

' button. 

It's important for you to back up the file that has been scanned by the tool. 

Lastly, hit the option of '

Repair

.'

When the PST file repairing procedure completes, you can open your Outlook account and access the things that were unavailable to you earlier.
Use Microsoft Support and Recovery Assistant Utility
If you still find your Outlook profile corrupt, it indicates a deeper problem with your Outlook application. The Microsoft Support and Recovery Assistant runs multiple tests to determine the cause of the issue. It then provides the best resolutions for the issues it detects. This advanced diagnostic tool can fix Microsoft Office, Office 365, MS Outlook, and other problems that arise in Windows.
 Follow these easy points to use the tool. 
Firstly, download the tool's .zip file. Click this link to do so. 

Next, unzip the file into your preferred folder location. 

After that, double-tap SaraSetup.exe to commence the installation of the tool.
Final Words
Use the measures and tips in this article whenever you notice the Outlook profile corrupt problem. The fixes will allow you to repair the damaged profile quickly. Use the advanced diagnostics tool if nothing else works. You can also consult an Outlook support expert if you need more guidance with troubleshooting.