Why Outlook Email not Working? – Here is the Solution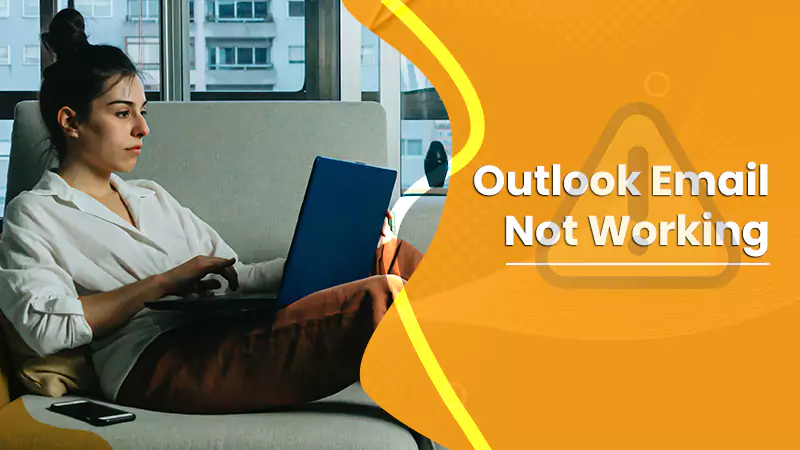 Is your Outlook email not working or responding at all? Have you tried restarting the app? Well, if not then do it now and if the problem persists, you should go through this article to find the best possible solutions for fixing your Outlook.
Outlook can stop working due to various reasons for example if you are not connected to the internet, or if you have the work offline feature enabled, etc.
Before you start with the troubleshooting steps, first read out the possible causes that can cause your Outlook to not work.
Also Check, Why:- Outlook Inbox not Updating
Possible Causes Behind Outlook Email not Working Issue
If you are trying to send a message from your Microsoft Outlook app which is leading to Outlook app freezing or an error message, it can occur due to the following reasons:
Your Outlook app is not up to date.

Another program is using Outlook.

External information, such as photos in an email message, is being loaded by Outlook.

Some add-in is blocking Outlook access

If, Your Outlook mailbox is too large.

Or your Office programs need to be repaired.

Your system firewall or antivirus is either outdated or interfering with Outlook.

And, Your Outlook user profile is corrupted.
Third-party software is conflicting with your Outlook app.
Depending on the cause of your Outlook email not working, you need to work on the solutions. If the issue is not too complicated, you might be able to fix it on your own.
Below in this blog, we have mentioned some basic solutions to get rid of your Outlook email problems and see if it helps. 
Also Check:- How to Refresh Outlook
Solutions for Outlook Email Not Working Issue
Before you start with the below solutions, make sure your computer meets the system requirements according to the Outlook version you have installed. Once, you are sure that your PC meets the system requirements, you can start with the troubleshooting solutions mentioned below:
1. Update Windows and Outlook
You can face Outlook email issues if your Microsoft Office is not updated. So, in order to get your Outlook back in its working state, you should install the latest updates immediately.
The Windows updates are usually set to automatic, but if it is off, then you can check for updates manually and install the available updates. Just search for Check for Updates on your Windows search bar, and click on the same option. The updates will start installing after which you can restart your device and try using Outlook again.
Also, make sure that you are using the latest version of Outlook.
Continue with the next solution if the Outlook email not working issue persists.
2. Check If Outlook is in Use By Another Process
You might face certain Outlook email problems if the Outlook app is in use by another process. It can cause performance issues and as a result, your Outlook will not respond. You can check the same on the bottom of your screen.
First, let the current task finish before trying another action. Wait for a while and if Outlook still does not respond, force stops Outlook and restart it again. Also, try restarting your computer and then check if your Outlook email not responding issue is resolved or not.
3. Change the External Content Settings
First of all, you need to check if Outlook is downloading any external content and make changes to the settings accordingly. 
To prevent Outlook from downloading external content automatically, first of all, open your Outlook Mail.

Now go to the File menu and select Options. 

Select Trust Center and then click on Automatic Download.

And, now you need to select either option. 
Don't download pics or other content automatically in HTML.

Warn me before downloading content while editing, forwarding, or replying to an email.
We suggest you avoid sending emails with any such external source.
Also Check:- Why Outlook not downloading emails
4. Check Issues Caused By Add-in
Sometimes, the Add-in you install to get the best of your application might instead cause your Outlook to not work. If you are also facing an Outlook not working issue, then you must check if there's any add-in interfering with your Outlook and remove it.
Try Starting Outlook Without Add-Ins
Follow the step according to your Windows version:

On Windows 8, open Search and enter Run in the given box. Now open Run from the search results.

On Windows 10, Windows 7, or Vista, just click on Start.

And on Windows XP, click on Start and then open Run.

Enter Outlook.exe/safe in the given space and hit Enter.

Check if your Outlook email not working issue is resolved or not. If your Outlook email issue is resolved, then open the File menu on Outlook.

Click on Add-Ins.

Now choose COM Add-ins and then click Go.

You need to clear the checks from all the boxes and then click on OK.

At last, restart your Outlook.
If you are not experiencing any issue after restarting your Outlook, it means one of your add-ins was interfering with the Mail app.
To resolve this issue permanently, you need to restore one add-in at a time and find out which one is causing the issue.
5. Fix Mailbox is too Large Issue
If your mailbox is too large it can cause performance issues i.e. your Outlook might take too much time to respond every time you try to use it. In this case, you should try moving the items from the larger mailbox to a separate folder.
Also, delete junk and spam emails and emails that are not important. You can create a new folder on Outlook and then move items to it by following the steps below:
Go to the Folder tab and under New Group, select the New Folder option.

Enter the name of your folder in the Name folder.

Choose a location where you want to place the new folder.

At last, select OK.
Once your new folder is created, just transfer some items from your previous folder to the new one.
Conclusion
We hope after following the above-mentioned solutions, your Outlook email not working issue is resolved. However, if the problem persists, you should contact Outlook email Support experts for more solutions or direct assistance.