How To Setup Gmail In Thunderbird Using IMAP?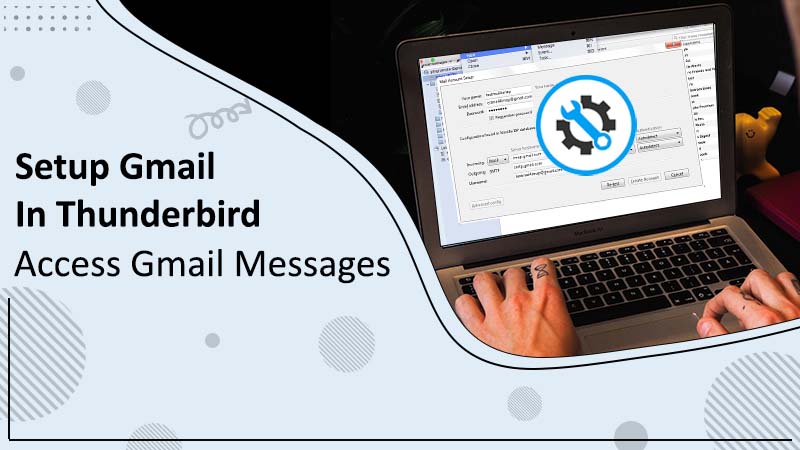 Gmail and Thunderbird are absolutely fine with each other. Both the email services are popular among users and have been used for several years. Many users only use Thunderbird, other users have accounts on both Gmail and Thunderbird. Thunderbird is an open-source, cross-platform email service application that allows you to setup Gmail in Thunderbird. 
So if you have been looking for a way to sync your Gmail messages with your local version of Thunderbird, here is the guide for you. Read it step-by-step and you will be able to Setup Thunderbird with Gmail. 
Steps to Configure Gmail Account
Gmail provides free webmail services to users all over the world. It can be synced with other email clients like Thunderbird, Outlook, etc. 
To begin How to setup Gmail in Thunderbird, first, you need to enable IMAP on your Gmail account and fill in the details asked by the server. 
Visit Gmail's official website and sign in to your Gmail account. 

From the top-right corner, select the settings/gear icon.

Click on Select all settings.

Click on the Forwarding and POP/IMAP tab.

From the IMAP section, choose Enable IMAP.

Save Changes.
IMAP Account Settings for Your Email Client
Once you have enabled the IMAP settings in Gmail, check if you require to set up IMAP settings on your email client side also. If yes, here are the IMAP settings for you:
Incoming Mail (IMAP) Server
IMAP Server: imap.gmail.com

Port: 993

Require SSL: Yes

Username: Your Gmail email id/address

Password: Your Gmail email password
Outgoing Mail (SMTP) Server
SMTP Server: smtp.gmail.com

Port for SSL: 465

Port for TLS/STARTTLS: 587

Require SSL: Yes

Requires TLS: Yes (if available)

Require authentication: Yes

Username: Your Gmail email address

Password: Your Gmail email password
Steps to Access Gmail With Thunderbird
Now that you have set up a Gmail account, proceed further to configure its settings in thunderbird. It is essential so you can access Gmail with Thunderbird. 
Launch the application Thunderbird on your system.

Go to File or press the Alt key.

Select New and then click on Existing Mail Account.

In the Set Up an Existing Email Account dialog box
Enter your Gmail username

Enter your Gmail account address

And, enter your Gmail account password
Thunderbird will automatically configure the Gmail connection. 

Select Continue and the program will fetch the correct server details. 

Select Done.

A prompt asking you to log in to your Gmail account will appear.

Log in with your Gmail credentials. 
Wait until thunderbird downloads your Gmail messages. After it's done, you can access your Gmail messages on thunderbird easily. 
Organize Gmail Folder in Your Thunderbird Account
As an effect of IMAP implementation, your Gmail labels become thunderbird's folders. Every time you create a label in your Gmail account, a folder for the same label will also be created and saved in thunderbird. 
But, you can set up a Gmail folder that will display in the thunderbird account. 
Launch your thunderbird application.

Head to File menu and select subscribe.

Uncheck boxes of the folder you don't want to display in your thunderbird account. 

Click OK.
All uncheck folders will be invisible from your Thunderbird account. 
Note: Earlier Mozilla used to manage the thunderbird. However, both have been operating separately now except for some of the thunderbird resources that Mozilla hosts even now. 
Wrapping Up
We hope that with the steps mentioned above, you should have setup Gmail in thunderbird. It's easier than outlook and other email clients. Further, if you encounter any issue or need technical help, you can connect with our Gmail support technician, who have expertise in resolving all complex issues.