How Can I Setup IMAP Settings In My Gmail Account?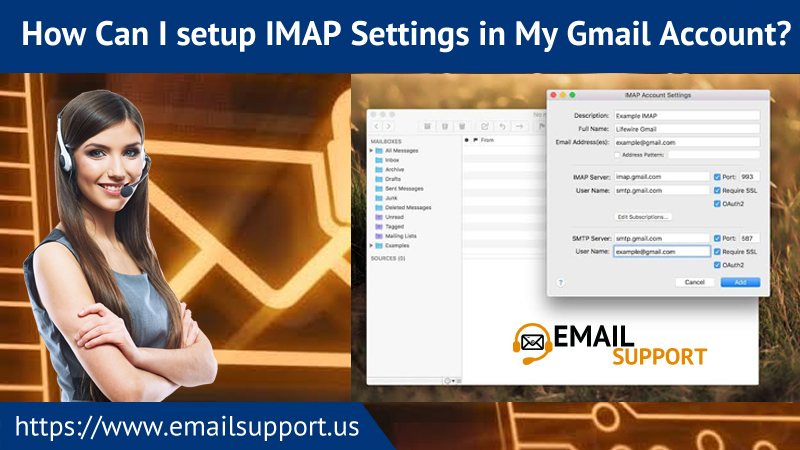 IMAP is famous to provide internet protocol that allows access to communicate with various email services, Gmail, Outlook, etc. With the launch of IMAP server, the old protocols like POP3 and SMTP were suspected to be in less demand. But why? This is because; IMAP allows giving the status of mails, access various mail inboxes on a single server. This article is all about Gmail IMAP settings. Thus, if you require a guide, you can go through this blog and understand the process.
How to Activate IMAP in Gmail?
Here activation steps of IMAP in Gmail have been mentioned. Follow it:
Go to a web browser and open Gmail
Navigate to Settings option located at top right
Choose Forwarding and POP/IMAP option
Next in IMAP access column, click Enable IMAP
Keep other settings on default
Lastly, click 'Save Changes'
Gmail IMAP Settings for Incoming Mail
If you want to retrieve all incoming emails in one place, you need to setup IMAP.
To follow up your Gmail messages on other devices, apply the given details:
Gmail IMAP server address: imap.gmail.com
Gmail IMAP username: Gmail address
Gmail IMAP password: Gmail password
Gmail IMAP port: 993
Gmail IMAP TLS/SSL required: Yes

Gmail SMTP Settings for Outgoing Mail
If the clients are setting the incoming server, they may need an outgoing server to send the Gmail messages. To do so, here are SMTP settings:
Gmail SMTP server address: smtp.gmail.com
Gmail SMTP username: Gmail address
Gmail SMTP password: Gmail password
Gmail SMTP port (TLS): 587
Gmail SMTP port (SSL): 465
Gmail SMTP TLS/SSL required: Yes
Troubleshooting Tips
Any user facing any trouble with Gmail settings then you may consider these reasons:
The username or password space has the wrong credentials. If you have mentioned the wrong password. Click on 'Forgot Password' and create a new one.
If server details incorrect, then cross-check from the above details given.
When Two-factor authentication is enabled, you need to generate an app-specific password
However, if IMAP is not enabled in the Gmail Settings. Go to Setting and tick on Enable IMAP server settings
At times, the email client does not support the Google standards and is meant unsafe. Therefore, you need to update to the latest version
Technical Support Team
In case if you are unaware of the Gmail IMAP settings, then connect to the technical team. Hence, Our email support experts are professional and can explain to you all the processes in a non-technical way to make you easy to understand. Along with that, you can also get the latest updates for Gmail and IMAP servers. Once you convey your issue to them, they will discuss with you all the points that may be the reason that resonates with setting up the particular protocol. Therefore, they will revert you instantly with a workable solution. Further, there is no time restriction, you can get in touch anytime as they are available all round the clock, 24*7.