How to Configure 1&1 Email Settings for IMAP and SMTP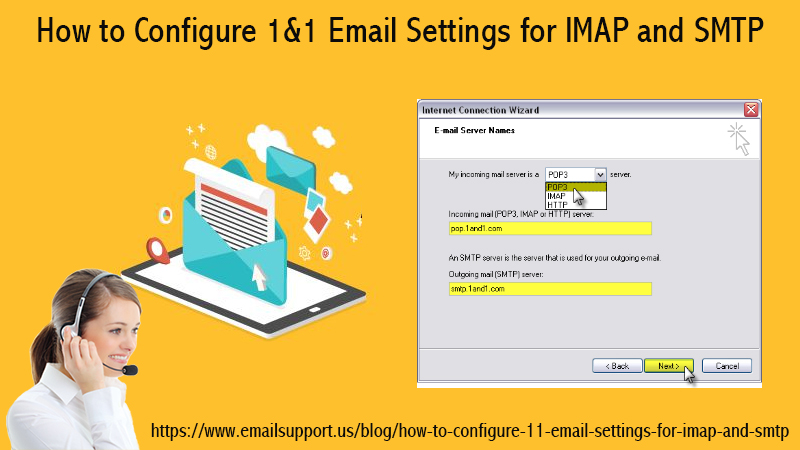 We understand that you are new to 1&1 email and confused about how to use it for sending and receiving emails. After spending all those years using the Gmail app, technical terms like IMAP and POP can seem daunting. However, it is not as complicated as it seems and once you'll learn how to set up, access, and use 1&1 you can easily manage your account without any further help. So, through this article, we are going to help you out with the same i.e. to configure 1&1 email settings to use it on your Android, iOS, or Outlook Mail.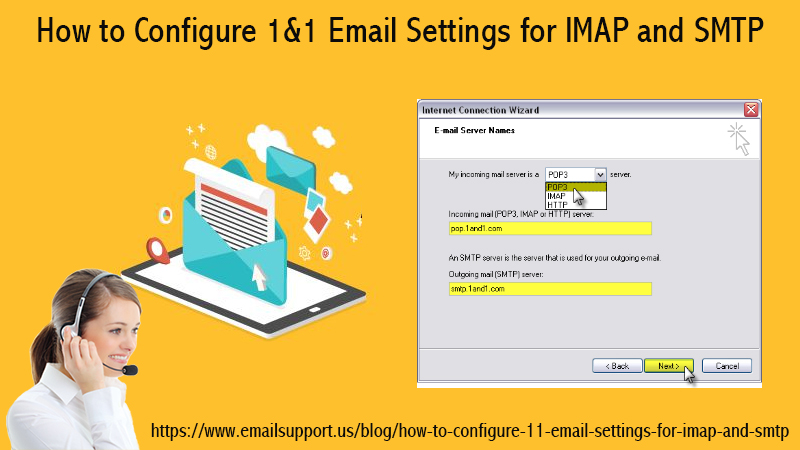 Configure 1&1 Imap Settings For Android
Let's start with the procedure to set up a 1&1 email on Android using IMAP settings. Before you carry on with the steps mentioned below, make sure you have an existing 1 and 1 account. If not you should first visit ionos.com and get yourself a new 1&1 account. Note that only those using IONOS services can get a 1&1 email account. Now, use the steps below to configure 1&1 mail settings on your Android device. Before you start, note that the below steps are according to the Android 10 version and you can follow it according to your version of android.
First of all, open your android mobile and go to settings.

Now, look for the Accounts section and tap on it.

Select the Add account option below on the list.

If you want to configure 1&1 IMAP settings, click on tab Personal (IMAP).

It's time to enter your account credentials, including email address and password in the given field.

Enter your email and click Next and then enter your password.

On the next page, you need to enter the 1&1 email settings. Enter imap.ionos.com in the Server field and select next.

On the Outgoing server settings page, enter the 1&1 SMTP settings i.e. smtp.ionos.com.

Proceed further by clicking on Next and then enable your desired settings from the given options.

Lastly, you will be given the option to change your account name and the name shown to your receivers. Change it or leave it unchanged and then tap on Next.
You are ready to use your 1&1 email account on your Android device. In case you are facing any issue with the above-mentioned procedure or need further help, feel free to pinch us for the same. We are available to serve you with any issue regarding the 1&1 email and won't let you leave disappointed.
Configuration of 1&1 Mail Settings For iOS
The method to set up a 1&1 email on iOS is somewhat similar to setting it up on Android. However, you must be aware of how iOS works and how to add an account. If you've added let's say even Gmail accounts on your Apple smartphone, you can do this too simply. For help, take the reference of steps mentioned below and set up a 1&1 email on your device.
Open the Settings application on your iOS device

Now look for the Password and Accounts option and tap on it.

Select Add Account and then tap on "other" below on the list.

On the next page, select Add Mail Account.

Enter your account credentials including 1&1 email address, account name, and password.

Select whether you want to use IMAP or POP protocol and then enter their settings.

If you select IMAP, enter imap.ionos.com in incoming mail server mail settings. Provide your username i.e. your email address and then account password.

In the outgoing mail server section, enter smtp.ionos.com as Hostname and then username as password as mentioned above.

Select your desired options and Save your settings.
That's all, you are now ready to access 1&1 email on your Android and iOS devices.
Setup 1&1 Email Settings On Outlook Mail
Do you know you can also access your 1&1 email from Outlook Mail? Yes, it's true, all you need is to set up your 1 and 1 email account on Outlook Mail once, and then you can access, send, or receive emails right away. Let's get started with the procedure without wasting any time.
Open Outlook Mail and open the File tab.

Select Account Setting and click on New under the Email section.

Enable server settings and then select Next.

Now, you need to get into Internet Email Addresses and then provide your 1&1 account details.

Enter your name and email address and proceed further. 

Choose IMAP and fill up the server settings in the given fields.

Write down imap.1and1.com in incoming email and 993 in incoming port.

Now enter smtp.1and1.com in the outgoing email field and 587 in outgoing port.

Login to your account once again by entering your email address and password.

Select Test Account Settings to know if everything is working fine and then hit finish.
We hope you've configured 1&1 email settings on your devices successfully. However, if you are stuck at some point or need help, we are always here to assist.
When To Use 1&1 Imap And Pop Settings?
If you'd be given cooked food, would you still choose to make your own food going to all the hassle without any need? No, Right! The same is the case for IMAP and POP settings. Technology has advanced in a way that everyone can enjoy everything without making any effort. Mostly, when you add a new email to your device, you don't need to enter all these settings manually.

Email programs configure all these settings automatically unless you want to make some changes to it or facing issues. Always try to add an email account automatically first and if that doesn't work then only proceed to manual setup. However, if you are not able to set up a 1&1 email anyway, contact our email support team for help.