How to Filter Emails in Gmail and Organize your Mailbox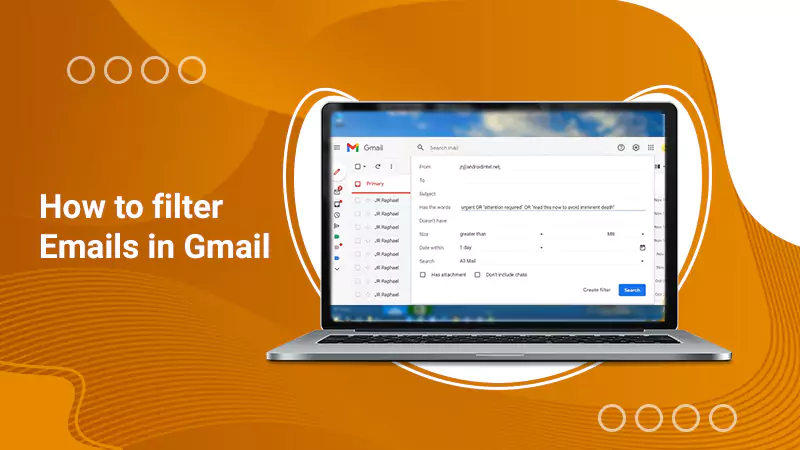 In Gmail, the free email service by the search engine Google, users get 15 GB of storage free of cost. However, often the number of emails you get is overwhelming, which can make it difficult to find important messages. This is when learning how to filter emails in Gmail becomes important. 
It helps you manage your emails effectively, respond to crucial emails promptly, and not miss important events. 
Gmail has various filter options to send emails to a label, archive, edit, or automatically forward a message. Create a filter from nothing, use a filter criteria option by choosing the right-hand icon on the search section or filter some similar messages. 
If you follow the instructions described below carefully, you can easily set up Gmail filters and bring about much productivity into your day.
How to Create a Filter in Gmail
Here are the steps to create a filter in Gmail on the web. 
Access your Gmail mailbox.

Now on the search bar's right side, tap the sliders of 'Show search options.'

Here, you need to define your criteria or filters. 
From – The From filter lets you filter emails by the recipient. You can type numerous email IDs, separating each with a comma. 

To – The To field filters specific messages. This is for those who have set up various Gmail accounts. 

Subject – Emails can be filtered according to the subject line. For instance, create a filter in Gmail for emails having the term 'discount' in the subject line to another folder. 

Has the words – This is to filter emails on the basis of the words they have. 

Doesn't have – Make filters based on the terms not included in them. 

Size – You can create filter rules for emails according to their size. If the Gmail storage gets full, delete large emails.

Date within – Choose a date and time and filter emails that reach you on that day to fall into that filter.

Search – Define the folders that your filter will be applicable to.

Has attachment – This is the filter option for emails with attachments.
Don't include chats – Use this filter if you don't wish chats to be a part of the email.
After specifying the criteria, tap the 'Create filter' button. 
Filter emails in Gmail automatically 
Once you have created the filters, specify to Gmail what should be done with emails that correspond to the filters. Here's how to automatically filter emails in Gmail. 
Skip the Inbox (Archive it) – You can archive the emails so it doesn't show in your inbox. 

Mark as Read – Allow the message in your inbox to appear as an already-read item.

Star it – This lets you star the email.

App the Label – Put a particular label on a message.

Delete It – Send the messages to the 'Trash' folder.

Never Send It to Spam – Do not permit Gmail to put the message in the spam category. 

Always Mark It As Important – This lets you label the messages as important ones. 

Never Mark It As Important – This lets Gmail not label the email message as important.

Categorize as – Use this option to let Gmail add the message to an already present category. 

Also Apply Filter to # Matching Conversations – Apply the chosen filter conditions to archive new and deleted emails in your account that align with the chosen filter criteria. Gmail updates the emails that align with the filter criteria automatically. 
After all these steps, tap 'Create filter.'
How to Create a Filter in Gmail Directly from an Email
It is easy to create filters in Gmail directly from an email or a specific message. Here are the steps to follow.
Launch Gmail and tick the checkbox beside the email you want to filter.

Now, tap 'More.'

Tap 'Filter messages like these.'

After entering a filter criterion, tap 'Create filter.'
How to Create, Edit, and Delete Filters in Gmail Settings
You can use the Gmail settings to create a filter or edit and remove them. This also helps you manage filters and use those that are really needed. 
Launch Gmail.

Hit the 'Settings' symbol at the top-right.

Now, select 'See all settings.'

Choose 'Filters and Blocked Addresses.'

If there are filters already present, go to the bottom of their list and tap 'Create a new filter.'

To change a filter, go to that filter and click 'Edit.' Alternatively, click 'Delete.'

If you edit a filter, tap 'Continue' after making the changes.

After that, click 'Update filter' followed by 'OK.'
How to Auto Filter Emails in Gmail in Android and iOS
Do you use Gmail on your Android phone or iPhone? It is easy to filter emails in the Gmail app as well. Just follow these pointers.
On your mobile phone, launch a browser.

Now, navigate to https://mail.google.com/mail/h/On this page, go to the bottom, and change to the desktop version.

Now, choose 'Create a filter.' It will be beside the search bar.

Now, define criteria to use for a message when it enters the inbox.

You have the option of testing this filter. If not, choose the action that will happen on messages corresponding with your search criteria.

Tap the 'Create filter' option.
Crucial Gmail Filters for Organizing Your Email Account 
Gmail developers have included filters that prevent users from manually removing unnecessary emails and archiving important ones. You can use any of the following Gmail filters according to your needs.
1. Gmail filter to automatically remove marketing emails
You don't need to unsubscribe from marketing newsletters manually. Use the following Gmail filter.
In the search bar of Gmail, tap the icon for 'Show search options.'

Input 'Unsubscribe' beside 'Has the words.'

Now, tap 'Create filter.'

Place a check on 'Deleted' and hit 'Create filter.'
POINT TO NOTE: Use the 'Or' operator to the filter you've created to include other keywords that are a common part of marketing emails. You may paste search terms like 'unsubscribe OR view in browser.'
2. Gmail filter to archive marketing emails automatically
If you think an important marketing email can get deleted, use a filter to archive that email. 
On the Gmail search bar, tap the icon for 'Show search options.'

Input 'Unsubscribe' beside 'Has the words.'

Tap 'Create filter.'

Place a check on 'Skip the inbox' and hit 'Create filter.'
3. Gmail filter to move marketing emails to a particular folder
You can keep all the newsletters of marketing emails in a particular folder so they don't get mixed with other emails. This happens by creating a new label. Here's how to filter emails in Gmail to folder.
Tap 'More' in the Gmail menu.

Now, tap 'Create new label.'

Enter a name and hit 'Create.'

Now, make a Gmail filter to automatically move newsletters to a folder.

Like before, hit the icon for 'Show search options.'

Input 'Unsubscribe' beside 'Has the words.'

Tap 'Create filter.'

Now, place a check on 'Skip the inbox.'

Now, check 'Apply the label.'

Pick your desired label, such as newsletters, and hit 'Create filter.'
4. Gmail filter to manage many accounts
Many people have a work and personal Gmail account. There's a Gmail filter to organize your messages into individual inboxes within one single account. 
Tap the icon for 'Show search options.'

Input an email ID for the first account. It should be in the 'To' field.

Tap 'Create filter.'

Keep a check on 'Skip the inbox' followed by 'Apply the label.'

Choose a label and tap 'Create filter.'

Use these steps again for every account.
Also Read: Outlook Spam Filter Not Working
Summing up 
Gmail filters allow you to manage your inbox and stop getting bogged down by thousands of messages. You can create a filter and remove, edit, archive, or move emails into specific places. Just refer to this guide whenever you need to assign filters and manage emails effectively. Consult an email technical expert to understand more about using Gmail. 
Frequently Asked Questions 
1. Why should I use Gmail filters?
Often, we forget to delete old emails only to find them eating into our storage. When you aren't left with any storage, Gmail asks you to pay for buying additional space. However, you don't need to go this route if you have Gmail filters. 
2. How to filter unread emails in Gmail?
A very easy way to filter unread emails is to sign into your Gmail account. Once there, tap the search bar. Here, input 'is:unread' and hit Enter.
3. How to filter emails in Gmail by date?
Tap the filter symbol to launch the search panel. Tap the field beside' Date within.' Select the day to sort your emails for. Now tap the drop-down menu saying '1 Day.' Pick your time around the date.