How To Download Or Export Gmail Emails In Multiple Formats
It would be a wise thought to export Gmail emails. No matter how excellent the services are, how professionals the programmers are, hackers do find their way to peep into your privacy.
Earlier, in 2017, a group of hackers successfully attempted a phishing attack on thousands of Gmail accounts. Luckily it was an attempt to send spam mails while the hackers had all access to those accounts.
Considering that and other hacking activists, you should not compromise your privacy, security, and digital assets. If you are a professional you understand how precious these emails are. 
Data loss can be one of the most horrible things that happen to anyone. That is why it is always safe to learn and export the data like Gmail emails from a Gmail account. 
Further, Gmail has it all and so you need not use any third-party software or tool to download the emails. Indeed, downloading it from Gmail itself is the safest method. You may not know if the tool you are using is already hacked or has the possibility to be hacked easily.
See Also: How to Forward Emails from Gmail Directly?

Things To Remember While Export Gmail Emails
There are a few things or key points that you should remember while exporting Gmail emails. These key points are to help you escape any further confusion and trouble. 
While you are exporting the emails, on the other tab maintain a spreadsheet. Although it is a bit complex, it will help you keep a record of stuff you have moved and prevented duplication.

Move your contact numbers, google notes, and data other than email also because it won't be downloaded with emails.

Note all your passwords somewhere confidential so that in the future if something happens you will be able to access other accounts(bank, social, or anything).
How To Download All Gmail Emails In Pdf Format?
PDF files are easy to access and send across the platforms. You can store the file anywhere and if you ever need can take a printout of the data as well. 
To download the Gmail emails as pdf, follow the steps below:
Sign in to your Gmail account.

Select and click the email which you want to save in pdf format.

Now click on the printer icon placed on the top right corner.

A print window will pop up.

From its left change "destination to save as pdf".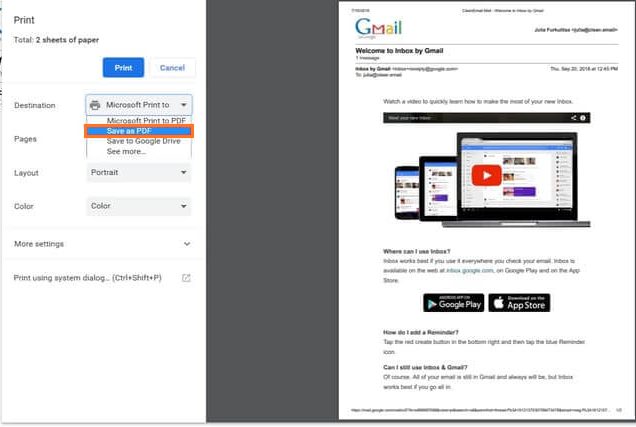 6. Click on the Save button and select the location to save the pdf.
    7. You can change the pdf title or keep it the same. Click save to continue.
However, this method is only helpful when you have to export selected Gmail emails. In case you have a bunch of emails or more you can proceed to other methods.
How To Export Emails From Gmail As Mbox Files?
With this method, you can send the file to your mail account and later can download it from there.
Following the steps below you will learn how to export emails from gmails as Mbox files.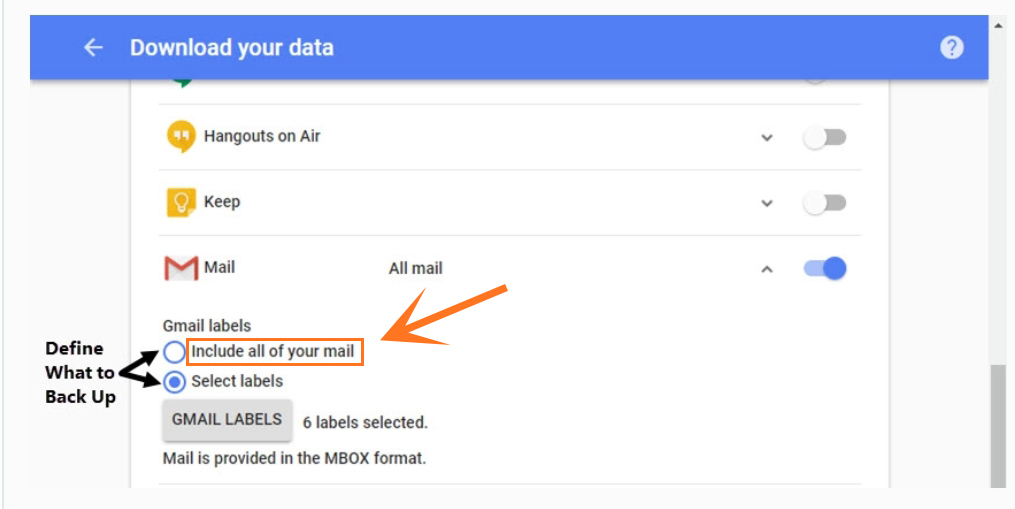 Checkmark the labels you want to export based on your requirement. Or pick "all mails" for a complete Gmail mailbox. 

From "include all your mail" select the Gmail email folders you want to create Mbox for.

Click done to proceed.

Now select a file type and click create the archive.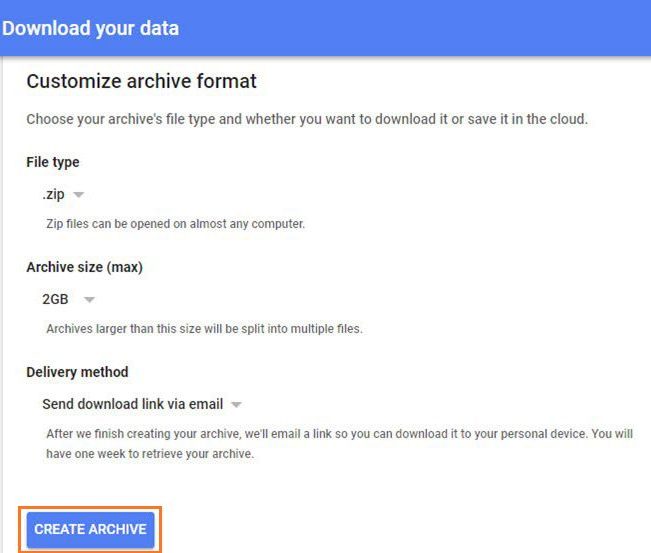 Once created you can choose the delivery method that will be sent to your email address.
How To Export All Emails From Gmail As Archive?
If you are concerned about How to export all emails from Gmail, then worry not! 
Another fantastic feature of Google mail is that lets you download all your data in bulk associated with your Gmail account as a single archive.
To download the data in a single archive, follow the steps below. 
Sign in to your Gmail account.

Now, click on your profile picture or profile icon.

Select Google account.

Now select data & personalization from the list.
Look for the option by scrolling down "download, delete or make a plan for your data."

From here select "download your data."

Make sure that all your mail including updates is selected.

Scroll down again and select Next.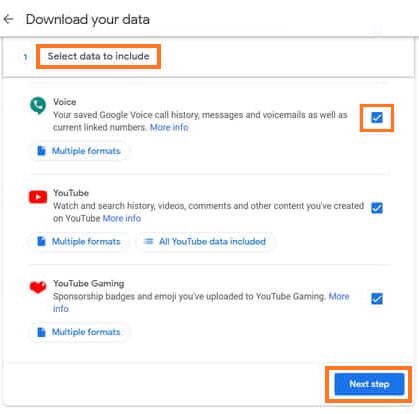 Now, you have to select the archive's file type and choose whether to download it or save it in the cloud.

Once you have selected, you can click "Create archive".
Wait until the archive is done creating and downloading on your PC. 
Further to access this file which is in a .zip format, needs a file archiver like 7-zip or other compatible with your operating system.
See Also: How to Archive Emails in Gmail?

Bonus Tips To Secure Your Gmail Account On Regular Basis
These bonus tips are the trick that will keep you safe and your data secure from unwanted activities.
Keep changing your Gmail account password once a month.

Create a strong password by including special characters, a combination of capital, small and numerical.

Do not create a password related to your contact number or special dates like birthdays, marriage anniversaries, etc.

Once in a week (easiest way) check your Gmail account's activity, see if you sense an unusual activity, or have wired emails in sent or trash box.

Do not click on unknown links or links that offer unexpected offers.
Wrapping up: we hope that the above-mentioned methods to export Gmail emails have helped you. You can either download or export selected emails or in bulk. Nonetheless, you can take leverage of our Gmail services and technical experts. Our experts are 24/7 available and offer worldwide services.