iCloud Email Hacked? Take These Steps Immediately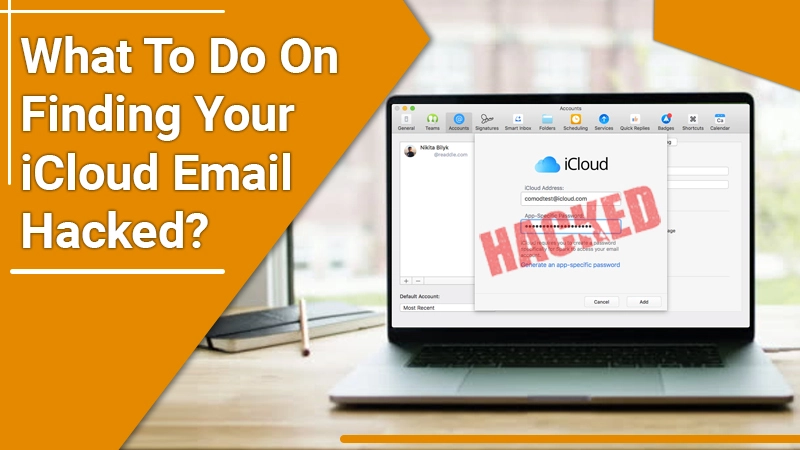 Contrary to the usual assumption, you don't have to be a high-profile person to get your iCloud email hacked. Average users are equally prone to hacking. It's essential for you to remember that today hackers have with them advanced technology through they can steal all your data and use it for their own purposes. iCloud is a popular storage service that is widely employed to back up all your files. Although iCloud has robust security, it does not mean that no hacker can ever penetrate it. If you think that your iCloud email has been hacked or are unsure of whether your account is truly safe or not, this article is for you. Here, we'll tell you all the signs of a hacked account as well as measures to take to protect it.
Related Post:- How To Make An iCloud Email Account
Wondering If Your iCloud Email Got Hacked? Watch out for These Signs
There is truly nothing more frightening than getting unsure whether your account is fully safe or not. The first step toward treating this problem is identifying and becoming aware of the signs of hacking. Here are the most prominent indicators of your account being used by someone else.
You get an email saying, "

Your Apple ID was used to sign in to iCloud via a web browser

." If your Apple ID is used in a place that you don't recognize, someone is using your account details to log in.

You can no longer log in with your existing account credentials. They have been changed without your notice.

You are not able to log in with your password anymore.

There are purchases made with your account on the App Store. But you haven't made any purchases through your account by yourself.

You find that your Apple device is in Lost Mode. Alternatively, it can also be locked.
Related Post:- Why iCloud Email Not Working
Steps to Take When You Find Your iCloud Email Hacked
Did you find that your iCloud account is actually hacked? Well, it's time to take immediate action. Here are some measures to implement to gain control of this situation.
1. Reset Your iCloud Password
This is for those who cannot sign in with their password. You can reset your iCloud password via the Apple ID account page.
Navigate to applied.apple.com password reset and tap '

Forgot Apple ID

.'

A new page will open. Here input the Apple email address that you think has been hacked.

Click '

Continue

.'

Now, tap '

I need to reset my password

.'

You can now select the manner in which you wish to reset the password. You can choose it by answering security questions or through email.

Using the prompts, enable Apple to send instructions to a rescue email that you can create for this purpose.

If you choose the security questions, you need to confirm your birthday and some other questions before you can generate a new password. Always ensure to create a strong password that no one can guess.
2. Remove the Credit Card Linked to Your iCloud Account
Have you got a credit card linked to your iCloud? In such a case, the first thing you should do when iCloud email gets hacked is to block your credit card connected to your iCloud account. If you don't do that, the hackers will start using it to make purchases. Surely, you do not want that. So, it's essential for you to take this step as soon as possible. If you have filed a police report of the hack, your bank can take this step.
3. Configure Two-Factor Authentication on Your Apple Device
Two-factor authentication is a crucial security measure. It makes sure that only you can access your account even if someone else has its password. Thus it gives your account an added layer of security. Here is how you can configure two-factor authentication on iPhone and Mac.
iPhone
Head over to your phone's '

Settings

' followed by [Your Name].

Then choose '

Passwords & Security

.'

Click on '

Turn on Two-Factor Authentication

.'

After that, click '

Continue

.'

Input the phone number where you wish to get the verification codes on signing in. You can receive the codes either through a phone call or an SMS.

After that, tap '

Next

.'

Input the verification code that you received to activate the two-step verification.
Mac
Go to the Apple menu.

From here, navigate to '

System Preferences

 and then tap your Apple ID.

Now, tap '

Password & Security

.' It is present under your name.

Click '

Turn on

 beside the Two-Factor Authentication.
4. Examine All the Linked Accounts
Another thing to do if you are desperately looking for an iCloud email hacked what to do is to check all the accounts that are associated with it. Even if you have been successful in changing the password of the hacked account, you cannot assume that all your data inside it is safe. Every one of the accounts linked to the hacked account runs the risk of being hacked too. The hacker can easily access the accounts associated with the hacked email.
If you use a single password for all your accounts, change the password for every account. Do not just do it for the hacked account. This will minimize the risk of data theft from all the other emails.
5. Disable Infected Apps
Often, an app present on your phone or another device that is infected with malware is responsible for the hack. In such a case, you should waste no time disabling or de-authorizing the app. When you remove them from the device, they will no longer be able to access your email account. Thus, it will minimize the chances of the hacker stealing your personal information from your iCloud account. It'll also reduce your chances of becoming a victim of hacking in the future.
Wrapping Up
Today, we have many advanced security measures at our disposal to protect our emails. However, there's been a growth in the technology that hackers use too. It has made it easier for them to penetrate into anyone's account. If you find your iCloud email hacked, you should immediately take the actions described above instead of panicking. You can also go ahead and contact an email support service for more assistance on the same.