How To Find If iPhone Mail App Missing?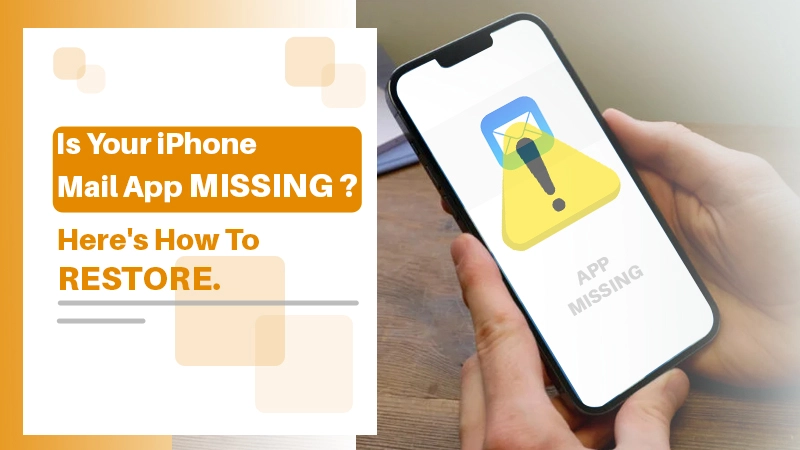 Using email on a smartphone is pretty convenient for everyone. It allows you to stay up-to-date on your duties. So when one sees the iPhone mail app missing, it is bound to cause panic.
In this blog, we cover various aspects related to the mail app missing From iPhone. We cover the reasons crisply and the fixes with details. By the end, you will be listening to the email notification sound again.
Related Post:- Why Apple Mail Not Syncing with Gmail
Reasons behind Missing Mail App on iPhone
So you are looking for your mail application everywhere. You have explored the home screen, and the menu, and even searched for the app, yet you are unable to find it. It leads you to conclude that the mail app disappeared from your iPhone. Here are what can be the possible reasons:
There might have been an

update failure

of the system.

 It can also be possible that there has been a

system crash

leading to the mail app missing from iPhone.

There can be an issue with the

security

of your phone.

Another possibility is that you have

removed the application

from your phone manually. That is deleting it by mistake.
Related Post:- Why Apple Mail Search Not Working
How to Fix iPhone Mail App Missing Issue?
Now that you are aware of the reason behind the issue, we can proceed to the main part. Firstly, there is no need to panic since the fixes are quite easy. Also, we have provided multiple fixes which you can choose from as per convenience.
Reinstall the Application
This is the easiest thing to do. Especially if you removed the app accidentally. This step also helps you ensure whether the application is present on your phone or not. To proceed with this:
Launch the

App Store

on your iPhone.

After that, enter the

name

of the mail application which you use.

Next up, click on the

Search button

. This will now look for the mail application on your phone.

There will be a

list of options

. From there, you can opt for the mail app which

you use. Please beware of counterfeit applications though.

Once you find the correct application you can hit on the

Get

button. Now the application will

download

and then

install

the application.

Finally, when the process is

complete

, you can look for it. It should be present as an icon on the home screen, or on the menu.
Setting up Your Account
After you reinstall the application, you are done with the basic step. This does not mean that you will start getting all emails readily. You now need to set up your account on the application.
First, you have to navigate to the

Mail

application that you just downloaded. You can use the

Settings

option for this.

After that, you have to select

Accounts

. Now you will have to add your account that was previously there. Please ensure that you use the right credentials for it.

Finally, you need to turn on the

switch

that is present next to your Mail.

Now your iPhone mail app missing issue stands resolved.
Note: Check whether the inbox is available. If the inbox is still not visible then restart your phone. After that, you need to check again. If the issue persists, then re-add the email account by following the previous steps.
Emails not Showing Up after Adding the Account
This is the last complication that might arise. It is pretty simple to understand what we are referring to here. So it might happen that you are able to open your inbox, yet you do not see the new emails. This might have to do with the Settings of your phone. All you need to do is set up your phone in such a way that you receive a notification of a new email as soon as it arrives. This should be done instead of scheduling notifications. Here are the steps on how to proceed with this:
First, you need to go to

Settings

.

After that, navigate to the option that reads

Passwords & Accounts

.

Next, go to the option of

Fetch your Data

.

Here you will have to go to new, then turn on the toggle for

Push

. When you enable this option, it will automatically download all your emails. That is, as soon as they arrive on your account.
Bonus Option: There is also an option to set different settings for different accounts. To do this, all you need to do is
Go to the

Fetch New Data

option. After that, you need to opt for

Fetch

or

Manual

. This will be present under the Select

Schedule

section.

Now, your iPhone will check for the email in

the timeframe you prefer. Here you can set it to Manual.

Now you can change the settings for the

Account

of your preference.
Related Post:- Why iPhone Email not Updating
Fix If Mail Icon Missing from iPhone
Sometimes, it happens that you delete an app on the home screen. It is more likely that you removed the icon. This is the case of a lost mail icon on an iPhone. However, we were dealing with a much more serious issue here. Alas, if you are facing the mail icon missing from the iPhone issue, then it is much simpler. 
All you need to do is look for it on the

menu

. After that, you can

place

the icon on the

home screen

again.

You can also reset the home screen layout of the system. This will give a jog to the present configuration and bring back the essentials. To do this:
First, you need to check the app's folders.

Here you need to check if it is hidden.

After that, you need to go to

Settings

. After that, click on

General

.

Next up, you have to click on

Reset

, and then Reset

home screen layout

.
Worst Case Scenario: Resetting your iPhone
If the above two do not work then you are up for some more trouble. This step should only be taken in the worst case. It will reset your iPhone. To do this:
Go to

Settings

on your phone.

After that, you will find the option of

General

. Here you can look for the option of

Reset All Settings

.

Finally, click on this option and confirm it. This shall resolve the iPhone mail app missing issue.
Related Post:- Why Emails Disappeared from iPhone
Conclusion
The issue of the iPhone mail app missing can be quite serious. It can lead you to miss out on important emails which can hamper your work or business. Hence, you must address it as soon as possible. As you can see, the fixes are not that tough. So, go through the blog and fix the issue that has the potential to get serious.