In the United States Bellsouth email service is quite famous. As States has a large number of customers of Bellsouth, therefore they also get into so many troubles related to it. Hence Bellsouth email settings require a bit of expert advice if you are not aware of it. When you decide to you this email service provider you have to do setup first.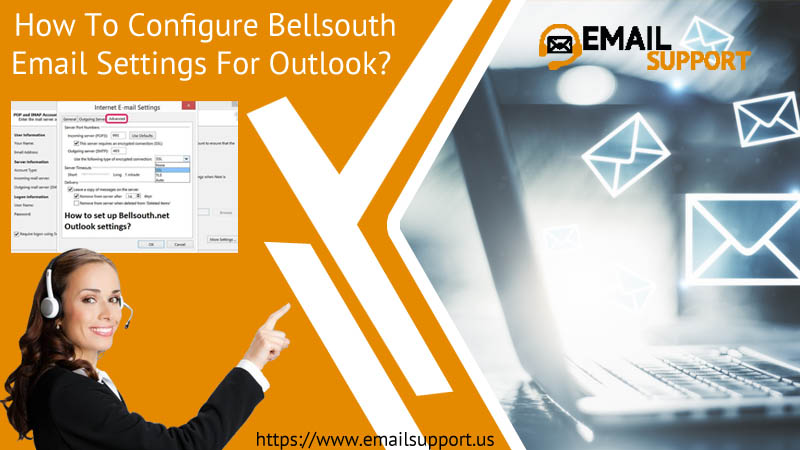 Are you unaware of the Bellsouth email setup process? Don't you know how to proceed with is you face any technical issues in it? Well, don't worry here in this blog you will get all the solutions. The issues generally users face are either related to sing-up or send/receive an error. So, if you are facing any one of errors or some other issues then take the complete tour of the blog to get complete knowledge about it.
As so many users also use Outlook as their go-to email client, hence there you will also find the email settings about how to configure Bellsouth.net account on Outlook.
Bellsouth Email Settings For Outlook
Setting up the Hotmail account in Outlook.com is as simple as it sounds. While doing this you don't need to do any manual configuration of incoming and outgoing servers. Just enter the credentials and sink emails and you are done.
But it is not the same case with third-party email clients. As some of them need manually approach when configuring POP3 SMPT servers. If you have knowledge about the procedure then obviously it will e easy for you. However, if not then don't worry you can easily set up the Bellsouth email by following our guide. Below is the guide to setup Bellsouth email in Outlook on Windows 10.
Open the Outlook client
Select File and click on Add Account
Now select "Manual configuration server setting or additional server types"
Click Next >> Yes on the new window
Next, you need to enter the Bellsouth email address and name
Select IMAP and POP and click on Next
In Incoming Mail Server: 'imap.mail.att.net'In Outgoing Mail Server: 'smtp.mail.att.net'
When prompted enter your email address and password
Click on More Settings and check both "My outgoing server (SMTP) requires authentication" and "Use same settings as my incoming mail server" boxes.
Now click on Advanced tab and make sure that incoming Server port number for POP3 is 995
And ensure that Outgoing Server Port has- 465
Now, under SSL disable- Use the following type of encrypted connection.
Click Finish, the email setup process is completed now
Now you can enjoy your Bellsouth and Outlook mail in one place. If Outlook is your go-to email service provider don't worry you won't miss your Bellsouth email mails, because now you can access them on Outlook as well.
Troubleshoot Issues:
While setting Bellsouth email, configuring with Outlook, or signing up if you face any error, you can consult with Bellsouth email expert for instant solutions. If you are facing the send and receive an error, you should look for all kinds of configurations that you have done recently. And still, find yourself unable in solving the issue, consult the Bellsouth skilled technicians to get the best solutions of the error.
By performing the above Bellsouth email settings you will be able to send and receive emails without facing any issue. Outlook will allow you all kinds of configuration options and settings, therefore ensure that you customize it according to your needs.