Get instant ways to fix Outlook Sync Issues
Outlook synchronization is an in-built process in Microsoft Outlook that usually been utilized at the time of updating the OST and PST files. When making changes on the OST file, Synchronization with the server is very important to be executed as doing this will allow you to access your data and also will also let you save the data securely. When Outlook sends and receives the emails or another folder is going to be updated, at such a particular time it also updates the Exchange server about these changes. For example, when you edit, delete, send, and receive an email in MS Outlook, the changes are also updated on the MS Exchange Server. This needs a strong internet connection otherwise there are high chances of facing Outlook Sync Issues. If in case, you confront the syncing issue in Outlook and don't know how to fix it, read the blog. Here, you will learn in detail.
Depending on the email account settings, the amount of Outlook data, and many more other reasons could result the Outlook Sync Issues. However, the synchronization may stop being processed due to the large OST file. In such cases, Outlook won't let you send/post and receive emails or allow you to transfer your data. This is the reason why it is now necessary to immediately eliminate that issue to avoid any further damage. In this guide, we will walk you through the entire possible fixing guide. So, keep reading the post full of concentration.
Ways To Check Whether Outlook Is Syncing or Not?
Before attempting to fix Outlook Sync Issues, you need to check whether Outlook is syncing or not. Here is what you have to perform for the same:
Open Outlook first on your Windows PC and then place a right-click on any of the folders available in your Inbox, Sent Items, Drafts, etc.

Select the "Properties" option in the next step and then place a single tap on the "Synchronization" tab and look for Statistics for this folder.

Now, check the status of the Last Synchronized data.
Once you are confirmed that Outlook is syncing properly, you can start moving to the solving methods. Let's begin!
Quick Solving Methods To Fix Outlook Sync Issues
Check-out the number of possible fixing methods noted underneath in a way to quickly resolve Outlook Sync Issues. You don't need to apply the entire provided troubleshooting guidelines as once you get your solution stop moving to the next. Let's go through the following effective solving methods:
Method 1: Change Profile Settings To Sync Outlook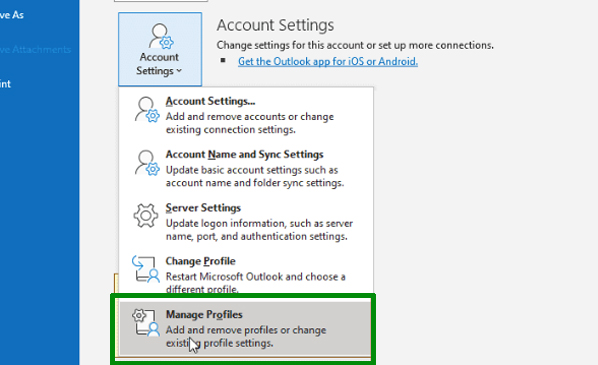 If the sufficient amount of items stored in the Server folder carries a section along with that of the Offline folder, then your Outlook will be properly synced. If there are differences in the number of items in both the sections, then it is required to verify the profile settings. To verify the profile settings, go through the following directives one-by-one:
First launch Outlook.

Now, go to "File" tab and choose "Account Settings" option.

In "Account Settings" section, simply click "Data Files".

Now check the Mailbox account name for it is set to "default" or not. If it's not, then make it as default first. Afterward, give a single click on the Email tab -> Mailbox – account name, and click "Change" button.

Now, make sure the check-box just next to the option "Use Cached Exchange Mode" is ticked. And once you are confirmed that the option is selected, press "OK" button.

Now, to save all the changes, click "Close" and exit from the Account Settings window

Close and reopen Outlook to run without any disruption.
If the Outlook Sync Issue is yet persisting, continue following the next fixing method.
Method 2: Re-Synchronize Outlook Folders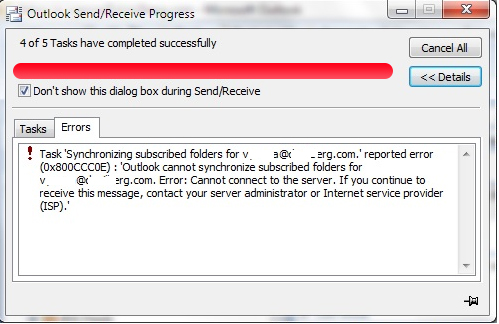 Re-synchronizing your Outlook folders can be an instant fixing ways of any common problems related to Outlook. So, do the same by following the beneath noted steps:
Open Outlook

Click on "Tools" tab and select "Options".

In the Options dialog box, tap "Mail Setup".

Check the "Send immediately when connected" box in the Send / Receive section.

Click Send/ Receive tab and select Perform an automatic Send / Receive when existing.

Click Close button to exit the window and then press "OK" button.
This method will probably get rid of the Outlook Email Sync Issue. If it is yet not, go to the next solution.
Method 3: Empty The "Sync Issues/Local Failures" Folder
If you won't be able to synchronize any of the Outlook folders, then try to empty the Sync Issues \ Local Failures folder first in your Outlook. You might not be able to see this folder unless you set it as visible mode. To make this folder visible, follow the given steps accordingly:
Click on the "Folder List" icon that is actually placed at the bottom left-hand corner of your Outlook homepage.

Now, go to the "All Outlook Items" section and look for the Sync Issues folder.

Click the "+" button and extract it to view the three sub-folders namely Conflicts, Local Failures, and Server Failures.

Empty the Sync Issues folder by selecting all the messages and removing them apparently.

Now, once complete exit Outlook.
Contact 24/7 Online Support Tech-Geeks For Handy Solution
Really, not satisfied with the given information? Don't feel bad! There is experienced and well-educated technical engineer for you better support. Make immediate contact with him via placing a call at Outlook Support Number. The tech-geek will surely lend you a satisfying hand to resolve Outlook Sync Issues. With their guidance, you can fix this issue in just the blink of an eye.