Frontier Email Settings For Android, iPhone & Outlook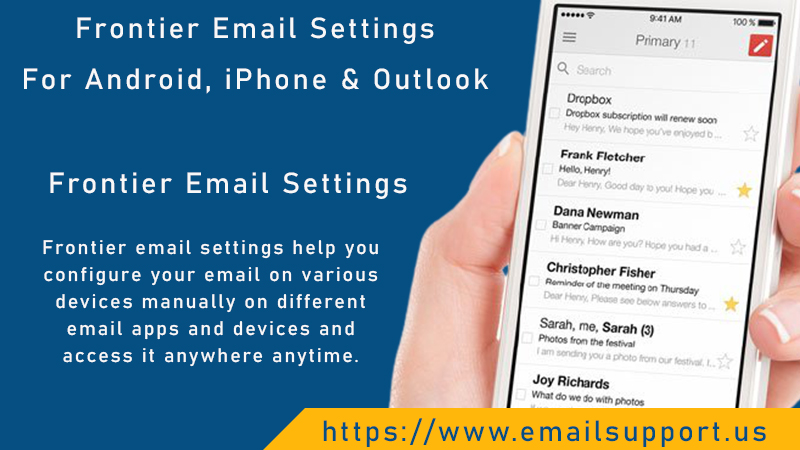 How to Configure Frontier Email Settings On Your Devices?
Are you a Frontier email user and wondering how you can configure Frontier email settings on various email clients or applications? Luckily, you've arrived at the right place. Today, in our blog, we will help you set up your Frontier account on your devices by configuring its email settings manually. Email manual setup can seem daunting but it doesn't have to be especially when you have all the settings and settings procedure in front of you.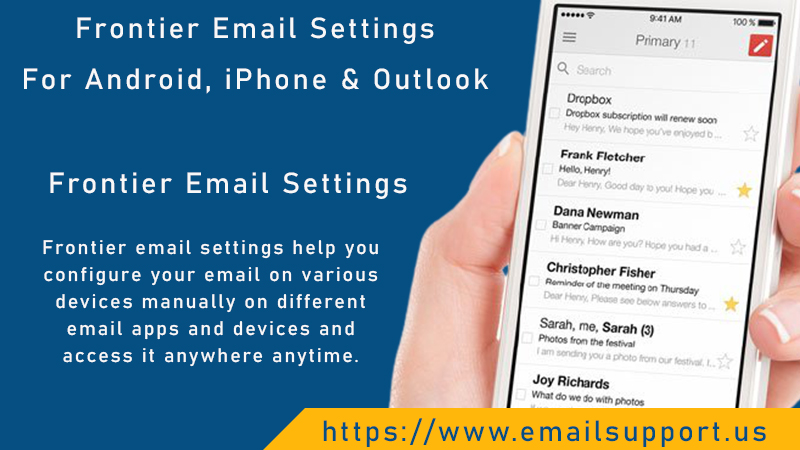 Now stop worrying and go through this blog to know how to configure Frontier email settings on your devices and email apps.
Frontier Email Settings For POP3 And SMTP
If you do not already know, there are two types of email accounts, known as IMAP (Internet Mail Access Protocol) and POP (Post Office Protocol). The process to set up both of the accounts is the same except the email settings differ. If you know nothing about email protocols and all, then we suggest you go with the IMAP account without giving it any thought. However, we have included both the email settings for the Frontier IMAP account and the POP3 account in our blog so that you don't have to go anywhere else in case you prefer the POP3 account.
Frontier IMAP/POP Settings (Incoming Mail Server)
[table id=1 /]
You need to apply these settings to the third party email application when setting up your Frontier account on it. After you are done configuring incoming mail settings, the next step is to configure the Outgoing email server settings (SMTP) to enable outgoing services in your email.
Outgoing Mail Server (SMTP) Settings For Frontier Email
[table id=2 /]
How To Configure Frontier Email Settings On iPhone
First of all, open the Settings application on your iPhone and go to the Mail, Contact, and Calendars option.

Select Add Account and click on Other.

Select the Add Mail Account option and then enter your Frontier email credentials as required. First, you need to enter your full name and then the email address and account password.

Enter the description for your Frontier email account. You can write here anything that will help you distinguish this account from others or simply enter Frontier.

Now select your account type in the incoming mail server. Choose whether you want to use IMAP or POP3 email accounts.

In Outgoing Mail server SMTP settings, enter the hostname SMTP.frontier.com.

Enter your Frontier email address and password in the next fields.

Next, hit the Save button to apply all the settings and successfully add your Frontier email to your iPhone.
In case the setup fails or you get an error, contact Frontier email support for further assistance.
How To Configure Frontier Email Settings On Android Device
You can configure your Frontier mail settings and setup your account on any Android device by following these simple steps mentioned below:
First of all, launch the email application on your device.

Click on the Add a new Account option and select Others.

Now enter your Frontier email address in the space and click on the Manual Setup option at the bottom of the screen.

 Select the type of account you want to set up as either POP3 or IMAP on the next screen.

After choosing the account type, you will need to enter your account password in the field.

Next, you need to enter the incoming server settings for your Frontier account in the given fields. You can refer to the above-mentioned email settings as per the type of account you have chosen. Once done, click on Next.

On the next screen, you need to apply the Outgoing email server settings for the Frontier account. The SMTP settings for Frontier email are also mentioned above in the blog.

Again hit Next and click on Finish to get done with the Frontier email setup on Android.
We hope you have successfully added your email account on the Android device without any trouble. However, if you need any sort of help, you can reach us for a resolution right away.
How To Configure Frontier Email Settings On Outlook 2016
Launch the MS Outlook program on your device and go to the File menu.

Select Account and then go to the Advanced tab.

Click on the "Manually set up an account" option.

Follow the instructions on your screen to finish the setup. You need your frontier email address, password, and accurate incoming and outgoing settings. Refer to the above mentioned Frontier mail settings for help.

After applying all the settings, click on Save and then Test to see if the setup was successful or not.
How To Configure Frontier Email Settings On Outlook 2010?
Go to Outlook and click on the File tab on the button left corner of the screen.

Select Info and then choose Add Account.

Select the "Manually configure server settings" option and hit Next.

Now choose the "Internet Email" and click the Next button again.

Select the Internet Email option and click on Next. 

Enter the email credentials including your full name, Frontier email address, and account password.

Next, you need to select your account type in the Server Information section. Select whether you want an IMAP account or a POP3 account. 

Enter the Incoming mail server and Outgoing mail server settings as mentioned above carefully. 

Now again in the Login information, you need to enter the email address of your Frontier account and account password in the given spaces accordingly. 

Select the More Settings option and go to the General tab. 

In the Mail Account option, enter a name for your Frontier email. You can simply write Frontier email, POP mail, Or anything else that you'd like. 

Now go to the Outgoing Server tab and check the "My SMTP server requires authentication" option. 

Also, enable "Use the same settings as my incoming mail server"

In the Advanced tab, verify the port settings for Income as well as Outgoing mail server settings for Frontier email.

At last select OK, Next, and then Finish. 
So, we hope you've successfully configured Frontier mail settings and set up the account on your email client. In case you are experiencing any trouble with the above setup, you can contact Frontier email support for help anytime.