Solutions to Use When Gmail Blocked Emails for Your Contacts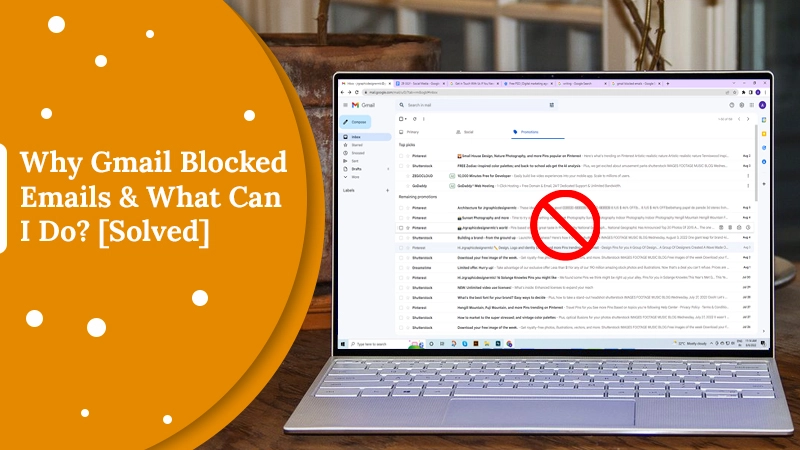 If you spend time crafting an email, you will definitely want your recipients to open, read, and respond to it. No one would want their contacts not to open and read their emails. But that is the exact problem that many Gmail users have been facing recently. They find that their Gmail blocked emails and their recipients no longer receive their carefully crafted messages. 
The situation can certainly feel annoying. But you shouldn't think that there's nothing to do about it. In this article, you'll learn about why it can happen and some ways to resolve this scenario. 
Related Post:- How To Export Gmail Contacts
Why Gmail Blocked Emails?
If your emails are heading into the spam folder of your contacts, it's likely that you have been adhering to not-so-good email practices. The following are the major factors for emails blocked by Gmail. 
Your content appears spammy

– If your email subject lines are in capital letters, in big font, or in bold, Gmail will consider it spam. Apart from that, if there are links to any product or landing page in your message, it will also give it a spammy appearance. 

Your email volume has dramatically increased

– Gmail is quick to detect how often you are giving messages to your contacts. If the emails you send have increased considerably, you will become a spammer in the eyes of Gmail. 

Your email sender score is too low

– The sender score is a result of centralized email statistics, spam complaints, and industry blacklists. If this score is low, your emails will not land in the inboxes of their rightful receivers. You must ensure to enhance your reputation by sending a limited number of messages daily so that your account is not marked as spam by your recipients. 

You are sending emails from a publicly blacklisted IP address

– Many people utilize a shared IP address or one whose credibility is very low. You'll notice a significant increase in spam complaints if you use a blacklisted IP address. 

Your emails are bouncing back

– You will find that Gmail blocked emails if the mail servers of many of your subscribers returned your message. As little as a 2 percent bounce rate of emails makes Gmail return your emails. When people don't find your message, they won't read it as well. 
Related Post:- How To Block An Email Address In Gmail
Measures to Fix Gmail Blocked Emails Issue
Don't worry if your emails aren't making it to the inboxes of your subscribers. Use these fixes to tackle the issue well. 
1. Minimize Email Volume and Sending Frequency
Your sender score will become low if there are repeated spam complaints. So, try to minimize your email sending frequency. Monitor your email volume and check that it does not go beyond 2000 emails per day. Otherwise, Google will add your account to the IP suspended list. Additionally, make it a point to send personalized and highly relevant messages to your readers. 
2. Clean Your Email List
To know how to unblock emails on Gmail, you must try to clean your email list. There might be innumerable emails on your list with misspelled words or unused emails. It's time to remove all of them. Email service providers like Gmail sometimes recycle these messages. They are used as spam traps. 
As a result, they are deemed unsolicited emails. Use double opt-in when readers sign up for your newsletter. It will ensure that your recipient's email ID and domain are not misspelled. In the presence of a typo, they will not be added to your email list.
 Sometimes, from the mistake, we block the wrong person. So, you can read this post on how to unblock email in Gmail.
3. Check for Unsolicited Messages Coming from Your Domain
DMARC implies that Domain-based Message Authentication, Reporting, and Conformance is a technical standards. It aids in protecting email senders as well as recipients from phishing and spam. After you configure DMARC, you will get reports on your email address whenever you send an email campaign. 
If you are concerned about your emails being blocked by Gmail, you must analyze the reports from DMARC. You will be able to determine emails from your domain that pass DMARC and those whose IP addresses fail this standard. You will also learn about the action a mail server takes when encountering an unsolicited email from your domain. 
4. Configure Sender Policy Framework (SPF)
SPF is an email authentication framework that hinders email spoofing. You must set it up when you find Gmail blocked email. To find out more about this process, click this link. It is a crucial authentication setting that should come in your DNS zone configuration. After setting up an SPF record, you can easily find out about the email IDs that can rightfully send messages on behalf of your domain. You must also update this record time for new senders. 
5. Follow Gmail's Bulk Sender Guidelines
The increase in email marketing has resulted in a problem of spam emails. Many people find their inboxes filled with unwanted promotional emails, which makes it difficult for them to carry out their work with ease. It's why Google came up with its Bulk Sender Guidelines for email marketers. If you think that your messages aren't being opened by their readers, it's likely that you are not following these guidelines. So take a moment and review them. Only after reviewing them thoroughly should you go for a removal request. Otherwise, your account will get blacklisted by Gmail. 
6. Ask your Readers to Include You in Their Safe Senders Contacts
Gmail uses a smart filter to detect spammy content. Different recipients can have varying filters. It may result in your email going into the inbox of one of your subscribers and in the spam folder of another reader. Furthermore, the IT department of an organization can set spam filters or rules. You should ask your readers to add your email address or domain to their safe sender contacts. It will prevent your messages from landing in their spam folder. 
Final Thoughts
Gmail follows stringent security measures. You will notice Gmail blocked emails if you are not following the best practices that it has laid down. These measures will help you make your messages visible to your contacts so they can respond to them. For additional help, contact an expert Gmail support service.