How To Find Archived Emails In Gmail? Let's Find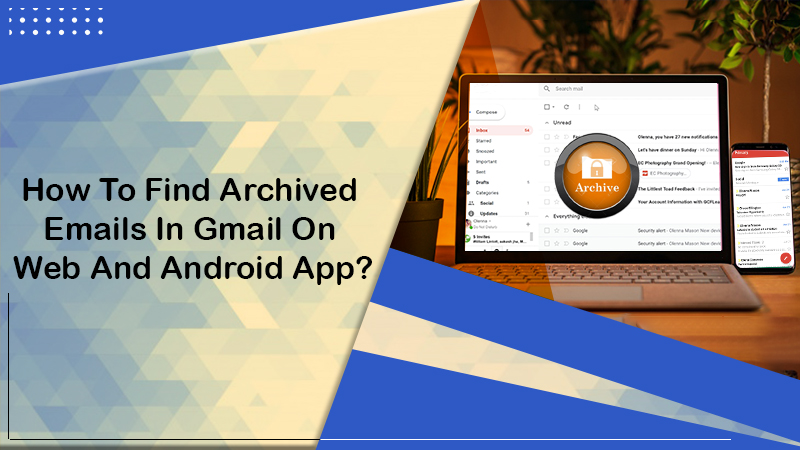 Gmail is one of the most feature-rich email services that use a flexible labeling system. Archiving Gmail messages helps you keep all crucial emails related to business without them landing in your inbox. However, if you archive an email in Gmail, you don't know exactly where the message has shifted. It can pose a problem when the time arrives for finding an archived message. This article will teach you how to find archived emails in Gmail. When you know the right way of finding an archived email, you can easily find and retrieve them at a later point in time.
How to Find Archived Emails in Gmail?
Email software like MS Outlook keeps messages in folders. But the shortcoming with this method is that a single message belongs to only a single folder. With this kind of folder-based email organization method, users can keep a message in a specific folder. But cannot organize them according to the way they like them to be.
Such limitations of a folder-based organization system are not present in the label-based system of the Gmail email service. You can attach several labels to the messages as per your preferences. You can also ask Gmail to showcase all emails with a specific label or labels. Thus, the task of inbox management becomes quite easy.
You can find archived emails in Gmail using the 'All Mail' label and using the search bar. Both these methods are described below.
1. Use the 'All Mail' Label to Finding Archived Emails
Archived emails vanish from the usual Gmail view. So, in order to know how to see archived emails in Gmail, you should switch to the 'All Mail' folder view. It will list down the Gmail emails in a single list, which will include important emails and those that are automatically categorized. You can find this list when you click the label 'All Mail.' It is present in the left Gmail menu.
This method of finding archived emails is suitable if you don't have a ton of emails in your inbox. This is its downside. Users who have a large number of emails in their inboxes will have to go through a lot of emails. For such users, the method given below will prove to be perfect.
2. Use the Search Bar to Finding Archived Emails
You can find no 'Archive' label when you use the Gmail search bar, which is present at the top part of the application or website. Therefore, you cannot use such a label to search for your archived emails.
So, you have to know the subject, sender, or topic of the archived email to effectively search for it in a manual way. However, you can make use of some advanced search filters in Gmail for searching those emails that you cannot find in the usual folders. Gmail offers you the functionality to create filters from a search you conduct. The filters perform actions automatically on incoming emails.
You can use the search bar method by following the steps mentioned here.
Navigate to the search bar.
Input 'has:nouserlabels -in:Sent -in:Chat -in:Draft -in:Inbox'.
There is another way to find archived emails in Gmail through the search bar. Go through the steps below to know how to use this method.
Navigate to the search bar.
Input a few words that you are sure appears in the email you want. Press Enter.
Note that the more words you input, the lesser results the search bar will show. So, it's always a good idea, to begin with only one or two words and then increase them to filter the results.
You will see Gmail showing you every single email that has the words you typed.
Read Also: How To Create Folders In Gmail On Desktop and Mobile App?
How to See Archived Emails in Gmail on Android App?
If you use the Gmail app on your Android phone, you can see the archived emails in two ways.
Method 1
Touch the search bar and input the email address of the sender. Now you can scroll through the results and find the archived emails. Note that the app on Android will list down emails according to date. The freshest emails will get displayed first. They will be followed by the earlier ones. If you want to look for an archived email from long ago, you have to scroll deep down to locate it.
Method 2
Touch the hamburger menu on the app and choose the 'All Mail' label. Now scroll through the messages with this label and find the archived emails.
How to Find Archived Emails in Gmail on Web?
Many Gmail users are unaware of where to discover archived emails. It's because they don't know how the email service arranges messages. People are also confused about the right way of accessing and retrieving archived emails. Now you know the right way of accessing archived emails in this email service. The next part is to know how to retrieve archived emails in Gmail. The instructions mentioned below will help you in this process.
Navigate to https://mail.google.com/ and sign in to your Gmail account.
Locate the archived message. You have the option of searching for the archived email by looking at it in the 'All Mail' label or utilizing the search bar method.
See the box that's beside the message. If you use the Gmail app, touch and hold the email. Now tap the option of 'Move to Inbox.' You can find it at the top.
This action will take away the 'Archive' label, and you can locate the email within your inbox folder.
Final Words
After reading this article, there will be no doubt about how to find archived emails in Gmail in your mind. You can use any of the techniques outlined according to the number of emails in your inbox. If you want to know more about Gmail or have any doubts regarding any aspect of it, connect with the Gmail customer service team. They will help you resolve any issues you might face while using this service.