Troubled Over Outlook Mailbox Full Problem? Fix It Easily!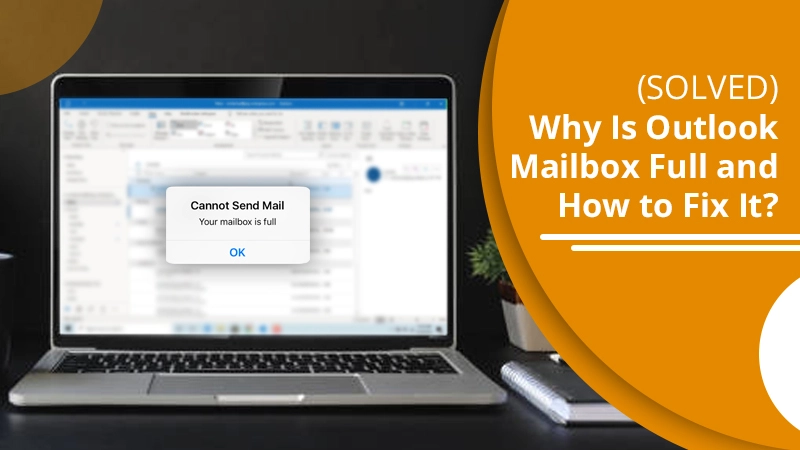 Outlook mailbox is a feature-rich service that people extensively use on a daily basis. But to always receive and send messages, the mailbox should have adequate storage capacity. Sometimes, Outlook users find the message 'Your mailbox is full, you can't send messages.' Users remove data from their mailbox in a bid to free some storage space. Still, Outlook mailbox full message greets them on the screen. 
This problem occurs either because you are removing files that don't consume much storage in the first place. If you have been searching for an effective solution to this mailbox full problem, this article is for you. Keep reading to find out some proven ways to deal with it. 
Why Is Outlook Mail Full After Deleting Data?
To troubleshoot this issue accurately, you must know the factors that cause it. Here are some probable causes that lead to this issue. 
Your Outlook account has very low storage space. If you are constantly encountering this problem, it means that your Outlook account is running low on storage space. Note that Microsoft offers 15 GB of space to a specific Outlook account. If you are not mindful of it, it's easy to deplete the space.

There is a lot of junk in your account. Low storage error is also a result of excessive junk in your account. You might not think of it as a reason for a crowded inbox, but it is. Temporary data and junk can easily exhaust the storage space in Outlook.

Third-party add-ons are creating issues with your account. It's common for people to install a huge number of third-party add-ons. These add-ons, although convenient, hinder the proper working of your Outlook account. So, take a look at the plugins and find which ones you can get rid of.

Your Outlook application is corrupt. Sometimes your Outlook application is itself corrupt. Apart from that, if you are using it in an unsupported environment, you will notice many issues. 
Related Post:- How to Stop Spam Emails in Outlook
Troubleshoot Outlook Mailbox Full Even after Deleting Data Issue
You can fix this issue by emptying the Deleted Items folder or cleaning up your mailbox. All these methods are explained below. 
Empty the Contents of the Trash
If you've deleted data but still find Outlook saying that your mailbox is full, you can resolve this issue by emptying your trash folder. Also known as the Deleted Items folder, it contains the deleted data. You can manage the size of your mailbox by deleting the messages from your mailbox permanently. Here are the steps to set Outlook with the deleted items folder.
Open Outlook. Now right-click on the folder of deleted items.

After that, hit '

Empty Folder

.'

When you see a prompt for confirmation, click '

Yes

.'

Next, go to '

File

' and pick the '

Options

' button.

Next, click the '

Advanced

' button on your left.

You will see the '

Outlook Start and Exit

' field. Here, place a tick on the checkbox of '

Empty Deleted Items folders when exiting Outlook

.'

Now, head over to the '

Advanced

' area. Then pick the folder of '

Prompt for confirmation before permanently deleting items

.'
Create a Larger Than Folder
If you still notice the mailbox full Outlook error, you can try to create a Larger Than folder below 'Search Folders.' Here are the instructions you must follow carefully.
Open Outlook. Then tap the '

Search Folder

' button.

Follow it by clicking '

New Search Folder

.'

Below the '

Organizing Mail

' field, you will find the '

Large Mail

' option.

Choose this option. After that, tap '

Choose

' present below '

Customize search folders

.'

Define the size of the files in the box of '

Show Mail Greater Than

.'

Click '

OK'

after that.

A '

Larger Than

' folder will be formed. It will be below '

Search Folders

.'

Just choose this folder you have formed, and you will not find this error message troubling you again.

You can then delete or remove emails that you don't think are important.
Reduce the Mailbox Size
Reducing your mailbox size is an effective trick to use when you find that your Outlook mailbox is full. Follow the pointers below to minimize the size of your mailbox by archiving older items. 
In Outlook, head over to '

File

.'

From there, choose '

Info

' followed by '

Cleanup Tools

.' The option of Cleanup Tools can differ based on your Outlook version. In some other versions, it can be '

Cleanup Old Items

.'

Click the option of '

Archive this folder and all subfolders

.'

Now choose the Outlook folder to be archived. 

Input a date below the option of '

Archive items older than

.'

Place a tick on the box of '

Include items with do not auto archive

' to archive specific folders. 

Now, tap '

OK

.'
Related Post:- How To Archive Emails In Outlook
Archive Unrequired PST File Items
You can also minimize the size of your mailbox when you find your Outlook mailbox full after deleting by archiving older PST items. You can utilize the AutoArchive functionality to archive the items into another PST file on your computer hard drive. 
Open the Outlook application and go to '

Files

.'

After that, pick '

Options

' followed by '

Advanced

.'

Next, head over to the '

AutoArchive

' area. Once there, tap the '

AutoArchive Settings

' option below it.

Next, pick the checkbox that is for running AutoArchive every day. Input a specific number of days for automatic archiving to take place regularly.

After that, you can give options to remove old items. 

Lastly, hit the '

AutoArchive

' button.
Save Your Attachments in a Personal Folder Outside the Mailbox
Another easy hack to prevent this error message is to save attachments outside the mailbox. You can keep it on a hard drive or in a Documents folder. The process of storing attachments in this manner is very simple. Just tap the attachment to save it in Outlook. After that, opt for the 'Save as' option and select the destination on the hard disk. That's it; when you store the heavy attachments outside the mailbox it will save a lot of space and, in turn, prevent you from encountering this problem.
Final Thoughts
These measures will help you fix the Outlook mailbox full error pretty easily. They will troubleshoot different application-related or logical problems that are triggering this error. However, if none of these workarounds prove helpful, it indicates a deeper issue. In that case, you are better off seeking the help of an Outlook support service.