Expertly Fix the 'You Cannot Delete This Outlook Data File' Error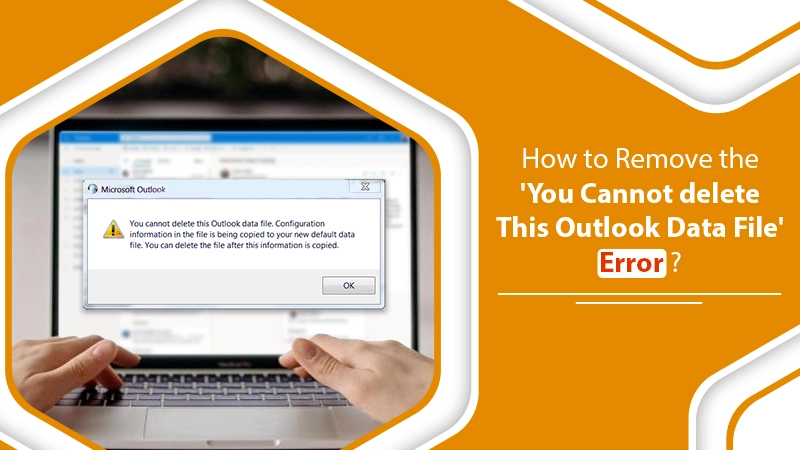 Outlook is undoubtedly an efficient email management client. But encountering technical glitches while working with it is also common. If you've been using it for a while, you will come across the error message, 'You cannot delete this Outlook data file.' It will arise when you attempt to remove a damaged Outlook data file or an Exchange account from the application. Users of different Outlook versions like Outlook 2003, 2010, and 2016 have reported dealing with this error. But the great news is that you can understand the causes and then try fixing them on your own. In this article, you'll find the precise information you need to eliminate this error.
Related Post:- Error 0x8004010F – Outlook Data File Cannot Be Accessed
Reasons for 'You Cannot Delete This Outlook Data File' Error
A close examination of this problem allows us to find various causes behind it. Below are the most common scenarios that trigger this message. 
Outlook is using the data file –

In this situation, many users forget to delete the Outlook data file as Outlook is opened and they are currently using it. If you find yourself in this scenario, you only need to close the Outlook email client. Alternatively, you can also close the OST/PST file from Outlook. 

Damaged Outlook profile –

If there's a damaged Outlook profile or the OST/PST file has bad data, you'll not be able to delete it in the usual manner. So, you should delete the data file manually. 
Related Post:- How to Repair Outlook PST Files
Troubleshoot the 'You Cannot Delete This Outlook Data File' Error
Now that you know the reasons for cannot delete Outlook data file errors to occur, it's time to fix it. In the following sections, you'll find different approaches to resolving this error message.
Exit Outlook
Do you find this error when deleting the data file? If so, immediately find out if Outlook is presently running on your system. It is also possible that another email client is utilizing the same data file. Note that you will consistently see the 'You cannot delete this Outlook data file' error message on your screen if Outlook or an email client is proactively using the data file. So, to end the file in use, you must close Outlook or the email application.
Launch your task manager and navigate to the '

Processes

' tab.

Find if there's an Outlook process currently running.

If there is, right-tap it and select '

End Task

.'
Close PST/OST File from Your Outlook
This method to troubleshoot the 'You cannot delete Outlook data file' error is for Outlook 2013 users and those using versions older than that. If you come across this error message while importing an Outlook file, it's best to close the OST/PST file from the application. The error will resolve after you right-tap the file from the main screen and then tap the 'Close' option. This method will likely resolve this error message.
Remove the Outlook Profile
Some users successfully resolved the issue by removing the Outlook profile where they had configured the account. Note that removing the Outlook profile may seem like a more intruding fix. But if you are not able to fix the issue by following the methods above, try this out. 
The process stays the same regardless of the Windows version you are using. However, remember that you'll lose the data you have presently stored on your Outlook profile. Follow these steps below to remove your Outlook profile. 
Exit MS Outlook along with other related services entirely. 

Hit the

Windows key + R

so that the Run dialog box opens. 

Here, input '

control.exe

' and hit Enter. You will now see the Control Panel interface. 

When you are in the Control Panel, employ the search feature present in the top-right corner to locate '

Mail

.' When you find it, tap it. 

Upon seeing the '

Mail Setup

' window, tap the '

Show Profile

' button, which is in the '

Profiles

' section.

Now, in the '

Mail

' window, choose the Outlook profile linked to the data file that's causing you problems. Then, tap '

Remove

.'

When the confirmation prompt to remove the profile appears, tap '

Yes

.'

Now, start your device again and check if you can delete the Outlook data file without receiving the error message.

 
Delete OST/PST File Conventionally
Don't worry if you cannot get rid of the 'You cannot delete this Outlook data file' error yet. You can use the conventional or the manual method to delete the PST/OST file and get rid of this problem. Remember that to execute the technique successfully, you must check that Outlook is not the data file.
Launch the '

File Explorer

 and head over to this location.

C:\ Users \ *YourUser* \ AppData \ Local \ Microsoft \ Outlook

Right-tap and choose '

Delete

' to remove the PST file.

You will find yourself being able to do it without encountering this error code.
Use the Registry Editor to Remove All Email Accounts
Have you still not found a workaround to this issue? Don't worry, there's still a troubleshooting technique waiting for you to explore. One of the effective ways to tackle this problem is to delete all mail accounts from your computer. In turn, it ensures that there isn't any email account that actively uses the data file. Thus, you can then delete the file without facing the 'You cannot delete this Outlook data file' error. This approach will eliminate locally stored data relevant to your email accounts. So, after implementing it, be ready to set up your account again.
Open the Run dialog box and input '

Regedit

.'

Hit '

Enter

' so '

Registry Editor

' opens. Tap '

Yes

' to grant it administrative privileges.

Now inside the Registry Editor, go to the following location

HKEY_CURRENT_USER\SOFTWARE\Microsoft\Windows NT\CurrentVersion\Windows

Right-tap on '

Windows Messaging Subsystem

' and opt for '

Delete

.'

After the subsystem key is removed, the mail account data will also be eliminated.

Now restart your system. You won't face this particular error when removing the data file.
Final Thoughts
Follow these effective fixes to get rid of the 'You cannot delete this Outlook data file' error quickly. Each fix is relevant to the specific scenario. So, it will work to fix your specific situation. If none of the workarounds yields results, it's best to consult professional Outlook support services.