Can't Attach Files in Outlook? Use These Techniques Right Now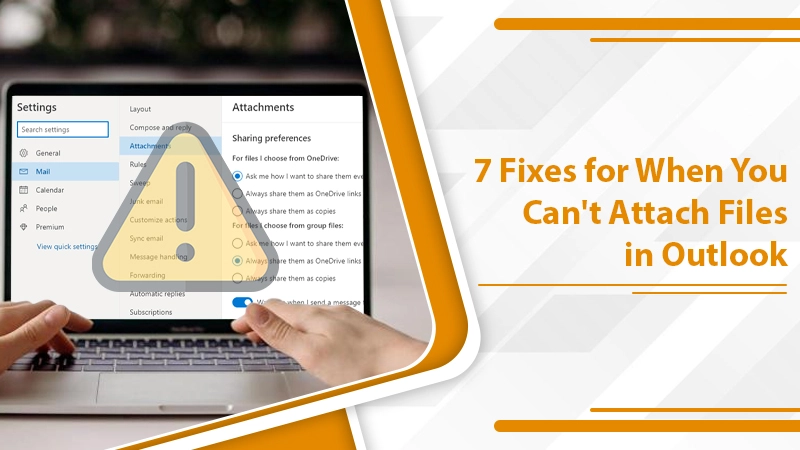 Microsoft Outlook is one of the most feature-rich and efficient software. It works seamlessly in almost every operating system, whether Windows, Android, or Mac. However, technical glitches are not uncommon in the software. Often, you may find that you can't attach files in Outlook. People wonder why the application prevents them from attaching files from their system and what they can do to fix it. This problem can arise due to many factors. But don't worry. There are a couple of methods to troubleshoot it. In this article, you'll find how to overcome this issue and attach files in Outlook again. 
Related Post:- Why is outlook working offline
Why You Can't Attach Files in Outlook?
It is essential to know why you face issues attaching the file in Outlook. When you know the reasons, you can take steps to address them. 
The attachment size is beyond the allowable limit. 

The attachment files have suspicious extensions.

A large file is not compressed before it is attached.

Minor error with Microsoft Outlook

An obsolete browser
Related Post:- How to refresh outlook
Measure for When You Can't Attach Files in Outlook?
There are numerous ways to resolve this problem. Follow the stepwise instruction for every technique given below when you find yourself unable to attach files in Outlook.
1. Confirm the File Size
Outlook has an attachment size limit, and if your file size goes beyond it, you cannot attach it. So, it's good to first verify the attachment size before you add it. If you find the size exceeding the allowable limit, which is 20 MB, you'll need to modify the default attachment size. You can do it as follows:
Open the Run dialog box. After it opens, input '

regedit

' in it and hit '

Enter

.'

When the Registry Editor opens, go to the following location.

HKEY_CURRENT_USER\Software\Microsoft\Office\16.0\Outlook\Preferences

In its right pane, right-click in the space and choose '

New-> DWORD Value

.'

Name the recently created DWORD as '

MaximumAttachementSize

.' Now, you can double-tap the '

REG_DWORD

' to change its value data. 

Keep the value data as 0 so that the attachment size becomes '

Unlimited

.'

Tap '

OK

.'

Reboot your machine.
2. Make a Zip File that Contains the Original File
If you cannot attach files in Outlook, another solution is to compress the attachment in the zip file. Go through these steps to do so.
Head over to the place where the file you wish to attach is present. 

Now, right-tap on that file and select '

Send to compressed (zipped folder)

' from the contextual menu that's present to compress the earlier file and modify its extension to .zip format. 

Now, return to Outlook and attach the compressed zip file and send it to your recipient via Outlook. 
If you cannot zip or get a notification from Outlook that the file type is large, you must first upload the file to the Cloud. After that, you can share the file link. 
3. Modify Rich Text File Format to Plaintext or HTML
Did you compress the file in zip format but still can't attach a file in Outlook? In such a case, you must see if you are employing the Rich Text format for your message. If you are, you should change it back to Plaintext or HTML. Follow these steps to do so.
Launch Outlook and go to the '

File

' tab.

Now, select '

Options

.'

Next, tap the '

Mail

' button. 

Search for '

Compose Messages

' under the '

Compose Messages

' format option. 

Next, select the '

HTML or Plaintext

' option to substitute the file in Rich Text format. 
4. Alter the Sharing Preferences
Another effective resolution to this problem in Outlook is changing the sharing preferences. Employ it if you are not able to find a suitable solution after following the techniques described above. Moreover, this technique will work if you cannot attach files to Microsoft Outlook 365. Follow these points to change the sharing preferences.
Navigate to the '

Settings

' panel.

Hit the '

Mail

' option.

Now choose '

Attachment

' and change the sharing preference. 

It is set to '

Ask me how I want to share them every time by default

.' You must set it to either '

Always share them as copies

' or '

Always share them as OneDrive links

.' 

Now just hit the '

Save

' button.
5. Use Outlook in Non-compatibility Mode
At times, Outlook cannot be used in the current operating system because of non-compatibility. But suppose you can't attach files in Outlook despite the application working in compatibility mode. In that case, you'll have to run it in a non-compatibility or normal mode. Follow these steps to run it in this mode.
Right-tap the application icon on the desktop.

Now choose '

Properties

' in the contextual menu.

Next, navigate to the '

Compatibility

' tab and search for the option '

Run this program in compatibility mode

.' Uncheck this option.

After that, click '

Apply

.'

Restart Outlook and attach the file. You will not find any issues in attaching it.
6. Update Outlook to the Latest Version
Microsoft provides updates to Outlook. These updates enhance its functioning and also remove various technical glitches. If you are unable to attach files in Outlook, you must try updating it to its current version. It's very simple to update Outlook. Just follow the steps below. 
Firstly, head over to the '

File

' menu in Outlook. 

From here, select the '

Office account

' option. 

Now, hit the '

Update

' option and tap the '

Update now

' option to update Outlook. 

After you update it, restart Outlook. 
Related Post:- How to update Office 365
7. Check the Internet Connection and Update the Browser
Often, when you can't attach files in Outlook' it is because of an unstable internet connection. So, see whether you have an active internet connection or that the signal strength is not low. Apart from that, you must also update your browser. Outdated browser versions restrict various functionalities. So, see if any updates are pending. If there are, install them. 
Final Words
It certainly feels annoying when you can't attach files in Outlook. But these few effective remedies will enable the application to work optimally. It would help if you first found the cause of the problem and then use a suitable resolution. Alternatively, you can also seek the help of Outlook support services for the same.