Fix Hotmail Not Receiving Emails But Can Send Issue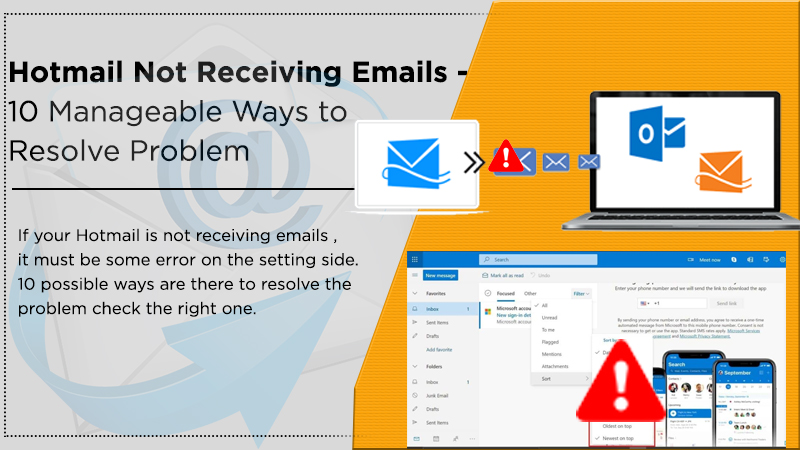 Are you a Hotmail user? If yes, you must be facing one of the most common issues related to it: Hotmail not receiving emails in their accounts. Various reasons can cause such a problem, So let's explore how that can cause this problem and that solution.
If you face such problems and look for a solution, you are at the right place. We will share some information that can help you identify the problem and give you the right solution.
Also Check: How to troubleshoot Hotmail not syncing problem?
Why am I Not Receiving My Hotmail Emails
You are probably not receiving recent emails from your Hotmail account due to incorrect settings. Review the settings for Blocked Addresses, Forwarding, and other features by going to the Settings page. Moreover, Hotmail users might be unable to access the IP address because your Internet service provider has blocked it. To resolve this issue, you must ask your IP address provider to unblock Hotmail's IP address. You can check the Hotmail servers' Service Status on the Status page if you experience any problems with them.
11 Problems Behind Hotmail not Receiving Emails & Their Solutions
Here is a list of some common problems that can occur if Hotmail does not receive emails. Check what the cause of your problem is:
1. Check the Service Status if Hotmail Account Not Receiving Emails
If your Hotmail is unable to receive an email in your Hotmail account, first check the service status that the problem is not at Hotmail's end. For this, you will need to check the service status of Hotmail. If you don't see the Green signal next to Outlook.com, you will need to wait until it gets green.
2. You can Search The Mail and People
If anyone has sent you mail to your Hotmail account but cannot find it, you can try the search option for locating the mail.
For the same, go to the Search box of your mail account and enter the keyword such as personal mail or the mail subject-related, and press Enter key on your keyboard.
You can refine your search by clicking on the filter icon (down icon) located on the right in the search bar.
If your search gets completed, click on the black arrow in the Search box. Or else, you can click on any folder in the navigation window located on the left to exit the search.
3. Check your Junk Email Folder
One option to search for an email is the Junk Email folder in your Hotmail account and look for the missing email. If you find the missing email, right-click on the email and select Mark as not junk, and that email will be moved to your inbox.
4. Clean out your Inbox if Hotmail not receiving emails
When your inbox is full and doesn't have the required storage space, this may also cause some problems to receive new emails in your Hotmail account. If you feel that it can be a cause of the same, you should clear your inbox and create some space to accommodate new incoming emails.
For this, you need to clear your Junk email folder by right-clicking on the Junk Email option and by choosing the delete option. One more option you have is that you can delete unwanted emails from your Inbox folder. These two options can help you to create space in your inbox.
5. Check the Inbox Filter and Configure Settings
If your inbox is configured to filter messages according to the category, and if you choose any other way of shorting email except the default one, You can see some incoming emails, so you should follow these steps:
For filtering, go to Filter > All
For sorting, go to Filter > Sort by
To check the recent message, select the date option.
6. Check the Other Tab
On the off chance that you have a Focused Inbox, it divides your inbox into two tabs. Also, on the off chance that you have Focused and Other, it permits you to focus on the important messages. Thus, if you have a Focused Inbox, the email you are searching for could be in another tab. If you discover the email in the other tab, you can right-click on it and select Move to Focused inbox or Always move to Focused inbox. This way, Focused Inbox will get prepared concerning which messages should be consistently conveyed to the Focused tab.
7. Make a check on Blocked senders and Safe senders lists
Please move to the Settings option, where you find the View option, and select that.
After doing this, select the mail option and then the junk mail.
If the sender's email address is found in the Blocked list, choose that particular email address, select remove, and then save.
8. Check the Email Rules, if Hotmail is not receiving emails
Select the View full settings option in the setting menu.
As a next step, you need to select mail and then choose rule options.
In case there are some rules to prevent you from seeing your emails, then follow the instructions.
Choose the Rule that needs to be deleted and click the Delete option.
Select the rule and then click on the Edit option to change the rule settings to find the emails more easily next time. After that, click on Save.
Click the X icon on the right corner of the settings to back to the inbox.
9. Check Email forwarding is Enabled or Not
Go to settings and click on the forwarded settings option.
The checkbox must be checked if you want to enable the forwarding option.
10. Allow Some Accounts to Get Disconnected
Outlook.com allows only 20 other email accounts to get connected. Therefore, if you have connected more than 20 accounts, they might create problems in sending or receiving some emails from any account. To resolve this, remove some of the connected accounts and make them less than 20.
Also Know, Why:- Hotmail not sending emails
11. How do I Fix Hotmail Not Receiving Emails by Clear Cookies
Try to log in to Hotmail using a different browser if you're experiencing problems. Using your new browser, check your mailbox to see if any new emails have arrived. You'll need to take the following steps in your default browser if your Hotmail account not receiving emails: Delete all cookies and cache data from your web browser. This method is only applicable to Chrome users for fixing Hotmail is not receiving emails.
Click on the three-dot icon from the top left corner of the browser.
Now, click on the More Tools option.
From the above list, Click on Clear browsing data.
New Window opens here; click on the Clear browsing data.
Check the options (see fig.) and hit the Clear data button.
Wrapping UP
Here we have discussed all the possible conditions that may restrict Hotmail not receiving emails and how to resolve this issue. I hope it will be helpful to you to understand your issue and would be able to resolve the same issue. Hotmail comes with some restrictions, and we need to figure out the right one which is creating a problem for you and resolve it as soon as possible. It makes your life simpler and lets you receive your mail without any restrictions. For any query related to Hotmail, you can also contact Hotmail support 24×7.