Hotmail Not Sending Emails? Here is How to Fix!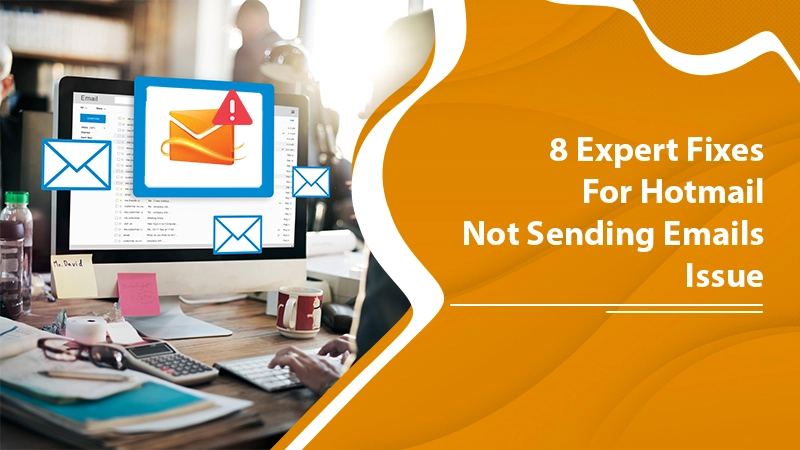 The Hotmail email service usually does not give its users anything much to complain about. Emails can be exchanged pretty much effortlessly most of the time. However, sometimes, you can find an interruption in this process. Generally, people complain of Hotmail not sending emails. It's not a light issue, especially if you use Hotmail for work-related purposes. It can happen due to reasons like incorrect recipient address, email files attachments problems to exceeding the email sending limit set by Hotmail. Thankfully, by checking all these things, you can send emails efficiently again. Let's explore these fixes in some more detail. 
Also Check: How to Block Emails on Hotmail
Fixes for Hotmail Not Sending Emails Problem
Based on the causes mentioned above, there are various measures you can implement. Give these troubleshooting techniques a try and see which one works for you.
1. Ensure that You have a Good Internet Connection
You will definitely find your Hotmail not sending emails if your internet connectivity is poor. So, inspect connectivity and ensure that the signal strength is strong. If your wireless signal is weak, reposition the router. Reset the modem and router. These actions will fix the slow network connection. 
2. Compose the Email Properly
It may seem insignificant, but it's essential for you to properly compose and send emails from this email service. The 'Sign In' page of Hotmail allows the user to log in to this service with a username and password key. After inputting your credentials, you can view your 'Inbox', which contains the list of email messages. 
To compose a new email, you can click on the link present in the Hotmail toolbar. When you want to begin writing a new message, tap on the 'New' link that's present in the Hotmail toolbar. The online email composition form consists of three fields. They are 'To,' 'Subject,' and 'Message Content.' It is in the 'To' field that you'll specify the recipient's email address. When you are done composing the email, send it to your recipient by tapping on the 'Send' link, which is present on the top. 
3. Check Recipient's Email Address Again
Sometimes, you may find Hotmail not sending emails because of the incorrect email address that you have entered of the recipient. So, make it a point to see that you have not made any spelling errors or typos. You can also double-check by contacting the recipient. If you send messages to non-existent accounts, you will get the message back in your inbox. 
4. Check Your Email Attachments Size
You can send email attachments of up to 25 MB to your recipients. If you are trying to send a file that's over this size, you'll face problems in sending your emails. So, check the size of the file you are sending, and if it's too large, you know why you cannot send it. However, if you have to attach a large file urgently, you can 'zip' it and compress it. 
You can also attempt to split the file into smaller file sizes. If you are not able to compress the file below the size limit of the attachment. But keep in mind that the small files you create are less than the size limit of the email attachment of your and the recipient's email service.
5. Use a Different Browser 
Many users find that their email composition window doesn't open, and they can't send emails from their Hotmail account. It can happen when you are using a browser that Hotmail does not support.
In such a scenario, the best course of action is to use a different web browser. There are dozens of browsers that you can download and use for free. Hotmail may not work properly with old browsers. 
If you're using Google Chrome, update it to its latest version. It'll allow you to use your account and will also resolve various problems with your browser. For updating your Chrome browser, just click on the menu on the top-right part. Then update it to its latest version.
After doing it, refresh your device and try sending mail from your Hotmail account.
6. Do not Exceed the Limit Set 
Another reason why you may encounter problems in sending emails is that you have exceeded the outgoing message limit set by this email service. Hotmail only permits a maximum of 300 emails per day. It has set this limit so that people don't abuse the system.
Every email service is plagued with spammers. A spammer is a term used for those who send hundreds of unsolicited email messages. Hotmail comes with an automatic check, and in case your email account triggers it, you won't be able to dispatch emails. 
7. An Issue in Sending an Email from a New Account
Hotmail has set a lower limit on sending emails from a new account. So if you don't know about this limit and have sent lots of emails from your new Hotmail account, it's going to make Hotmail think that you are abusing the service. It will consider your emails as spam. 
If you are a new user, you should also complete the Windows Live Hotmail email verification procedure. It ensures that your account isn't being operated by a spam bot. You'll see the verification message when you are about to send an email message. Go through these steps to know what to do when you are asked for your Windows Live email account verification. 
Tap the '

Verify your account

' link in the verification message. 

A new window will open. Here, you'll view a CAPTCHA puzzle. 

You need to correctly decipher the alphabet or numbers and type them in the field below. This process will complete after you successfully decipher the characters. 

After that, tap '

Close

' in the message and go back to the earlier screen to send the email. 
8. Check Whether Account is Blocked from Sending Emails
If the Hotmail system believes that you have behaved like a spammer, it blocks your account, and you cannot send emails. To avoid such an issue on Hotmail, its essential to ensure the following:
All contacts in your list are active.

All your recipients are getting your messages.

Recipients don't mark your email as spam.
To ensure all this, minimize how many emails you send to large groups. Don't keep forwarding chain messages that the recipient's filter can identify as junk. Also, check that your contact information is right.
Final Words
Now, whenever you find your Hotmail not sending emails, you know precisely what to do. The troubleshooting techniques are very easy to follow. But if you still find yourself unable to send messages to your recipients, get professional Hotmail customer support. The technicians will solve your every Hotmail concern, and you will be able to use it smoothly again.