5 Methods To Recover an Old Hotmail Account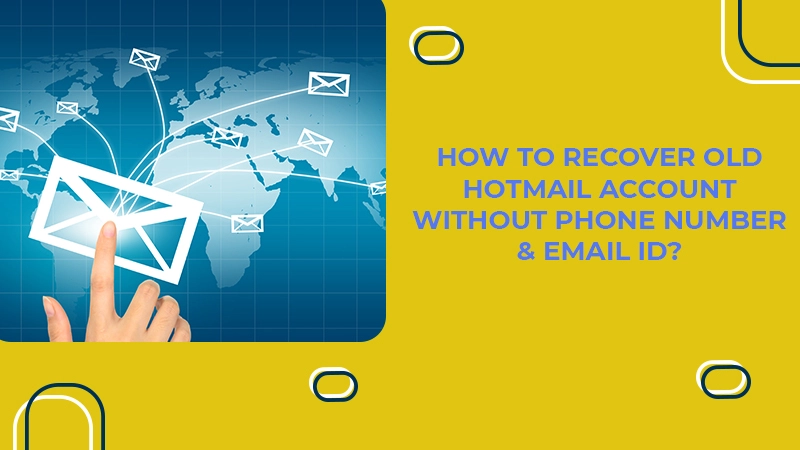 Hotmail and Outlook are highly popular email services. They are also the children of their parent company Microsoft. The official email client of Microsoft is Outlook. The company stopped supporting Hotmail long ago but many users still access their old Hotmail accounts. If you want to gain access to your prior account, you must know how to recover an old Hotmail account.
The process to do so is almost similar to that of recovering a Microsoft account. In this article, you'll find precisely how you can access or retrieve your old Hotmail account.
Also Check:- How to Block Unwanted Emails on Hotmail
Methods to Recover an Old Hotmail Account?
There are various methods through which you can recover your Hotmail account and access your contacts effectively. All of them are mentioned in detail below.
1. Use Microsoft's Account Recovery Form
It is the easiest way to access your old Hotmail account. You just need to make use of Microsoft's account recovery form for this purpose. However, it's important to note that you can implement this method only if you've enabled the two-step verification. If the option is disabled, you cannot use the recovery form.
To know how to recover old email accounts Hotmail via the account recovery form of Microsoft, you require an email address that you can access. Any email account will do. It doesn't need to be your personal one. Now follow these points.
Navigate to account.live.com/acsr. 

Once there, input the Hotmail address you wish to recover.

After that, enter the email ID through which Microsoft can contact you.

In the next step, confirm the email address, see the security code, and follow the onscreen steps to finish the process. Microsoft won't take more than 24 hours to get back to you.
Note that Microsoft automatically deactivates an account if the user doesn't log into their email account at least once per year. The emails that are transmitted to the respective accounts bounce.
But it's possible to reactivate the account if you are aware of the password. After that, the new emails arrive in your inbox without any issues. However, Microsoft automatically deletes the Hotmail account after five years of inactivity. In this case, you cannot recover it.
2. Recover Hotmail Account Without Mobile No. or Recovery Email
In the previous case, it was easy to recover an old Hotmail account because you had a mobile phone or an email associated with your prior account. However, there is another situation that may be possible. It is likely that you haven't associated your Hotmail account with either your mobile phone or email. It may also be possible that the mobile number or email that you associated with your account is very old, and you don't have them anymore. 
If this is the scenario, you can follow the steps below to retrieve your account. 
Navigate to the Microsoft email recovery page. Type in your Hotmail email. 

Tick the option that says, 'I don't have any of these tests.'

Microsoft will prompt you for another recovery email address. It wants it so that it can send you the code. You will also be prompted to fill in the CAPTCHA correctly so that Microsoft knows you are human. 

When all this is done, you'll see a form. In it, you need to enter all your personal data that you utilized in the previous Hotmail account. It includes data like your date of birth, province, name, and the like. 

Through this data, Microsoft will know that you are the real owner of the account and not the one who wants to steal the account. 

It's also essential that you use the same mobile or computer and the place (location or IP address) where you utilized Hotmail. 

The data you provide and how it matches what earlier data Microsoft has will permit you to type a new password. It does so for you to continue using Hotmail. 
Note: If your given data does not match what Microsoft has and they are unable to know if you are the real owner, you'll be unable to access the account. 
3. Create a New Account by Using an Old Hotmail ID
It is another effective way that has been working out for many users. You can make a new Outlook account by using the old Hotmail ID. Follow these points to do so.
Open the browser on your system.

Next, open a new Incognito Mode tab.

Navigate to

http://outlook.live.com/owa & Tap "Create a free account" and follow the instructions on the screen. 
4. Connect the Old Hotmail Account to the New Email Client
You can also connect your old Hotmail account of yours to the new email client and then see if you can access the Mailbox. It's recommended that you use a non-Microsoft email client for doing this job. To know how to retrieve an old Hotmail account through this method, follow these steps.
Navigate to Outlook settings. 

Tap on 'Sync email.'
Then select 'Other email accounts.'

Input your Hotmail address and password and connect to your account.

If you use Gmail, navigate to 'Settings' and choose 'Accounts' and 'Import.' Then go to 'Check mail from other accounts.' There, add your Hotmail account and see the result.
5. Contact Microsoft Technical Service
If you haven't had any success in following the various techniques mentioned till now, you have the last option with you. If you're tired of wondering how to access old Hotmail accounts even after implementing the methods above, it's best to connect with Microsoft technical service. They will provide you with personalized attention, and you can also prove to them that you are the account's real owner. So, your old account will be returned to you.
Final Words
Follow the various techniques in this article, and you'll find the answer to your question of how to recover an old Hotmail account. If you don't see any of the methods working, it's best to seek our Hotmail customer support experts. The professionals will answer your queries regarding your old Hotmail account and whether it can be retrieved or not.