Hotmail Not Working? Try These Working Solutions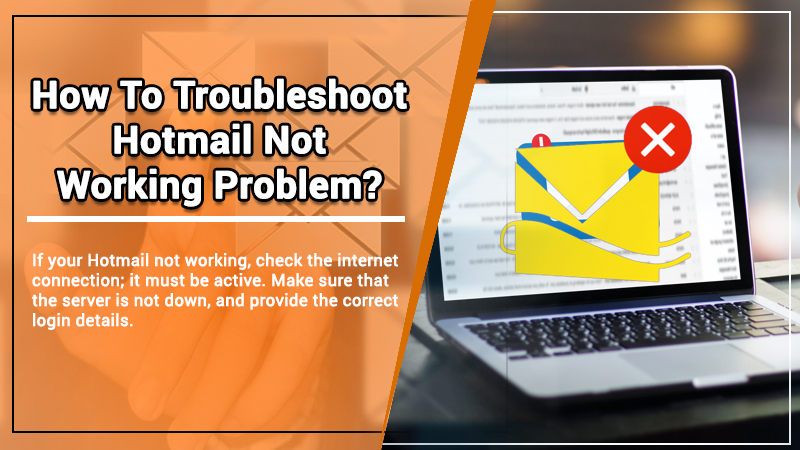 Summary: The issue can arise due to software problems, account setting problems, a virus, or problematic add-ins. But there are ways to overcome it on various devices and operating systems. In this long guide, you'll find comprehensive instructions on resolving the functioning of Hotmail. Using them, you'll be able to send and receive emails and use your account effectively.
Hotmail has been a trusted email service provider for millions of people since it was launched. Although this email does not exist today, many people have their @hotmail.com email address. But sometimes, you may find Hotmail not working on your Android or Apple device, Outlook on the web, or web browser.
Why Is Hotmail Not Working?
Add the following reasons to the existing ones.
Particular email addresses are under the blocked recipient's list, preventing you from getting emails from them.
The filters are incorrect, moving the needed emails reach another folder.
You have enabled email forwarding and are experiencing issues in receiving and sending.
You are using an obsolete version of Outlook.
An issue with your computer, Android, or iOS device that you are using to access Hotmail.
The presence of a virus can also lead to Hotmail not loading.
How to Troubleshoot the Hotmail Not Working Issue
To resolve the Hotmail not working issue, you can proceed with the guidelines mentioned below. These are some simple troubleshooting steps that can help you get rid of the problem:
Troubleshoot web browser
Outdated or corrupted web browsers can be the reason that your Hotmail is not working. To fix it, you need to troubleshoot the web browsers. Below are some easy instructions to fix browser-related problems:
Delete the browsing history.
Clear the cookies and cache.
Reset the web browser.
Delete the browsing history
Removing the browsing history is a good method if you find Hotmail not working on Chrome.
Launch Chrome and tap the three horizontal dots icon.
Tap the 'History' option followed by clicking it again.
Tap 'Clear browsing data' option on the left.
Choose the amount of history you wish to delete. If you desire to clear everything, choose 'All time.'
Tick the boxes for the data you want the browser to clear.
Finally, tap 'Clear data.'
Reset the web browser
Open Chrome and click the three horizontal dot icon of 'More.'
Choose 'Settings' followed by 'Advanced.'
Windows users should tap the 'Reset and cleanup' option followed by 'Reset settings to their original defaults.'
Finally, tap 'Reset Settings.'
Eliminate suspicious browser extensions
Browser add-ons or extensions are useful because they make the surfing experience easier. However, they sometimes give certain permissions to access your information from the sites you visit. In such a case, they can create problems.
It's possible that you've added an extension that's acquiring and giving out your information without you knowing about it. These extensions try to get your data from applications like Hotmail. When such a violation of security happens, your Hotmail account faces problems. One of them includes email malfunctioning.
Also Read:- Hotmail Not Receiving Emails But Can Send
Disable the extensions on Chrome through these points.
Launch Chrome and tap the three horizontal dots.
From here, tap 'More tools,' followed by 'Extensions.'
On a specific extension, tap 'Remove.'
Click 'Remove' again to remove the extension.
Examine the server settings of Hotmail.
You can find Hotmail not working on Chrome whereby it cannot send and receive messages due to wrong server settings. Hot mail server settings are essential for the email's functioning. It's thus wise to review the settings and ensure they are correct.
IMAP or Incoming Mail Server
outlook.office365.com is the name of the server.
993 is the port number.
SSL/TLS is the encryption.
POP or Incoming Mail Server
outlook.office365.com is the name of the server.
995 is the port number.
SSL/TLS is the type of encryption.
SMTP or Outgoing Mail Server
smtp.office365.com is the outgoing mail server name.
587 is the port number.
STARTTLS is the encryption type.
Also Read: Outlook Email Not Working Issue
Re-add your Hotmail account
This resolution is particularly helpful for those complaining that 'my Hotmail email is not working' and not sending emails. This error arises because Windows Live Mail cannot sync emails in your Hotmail account.
So, to sync messages, you need to remove and re-add your Hotmail account. Before removing the account, check if there are any emails in the outbox folder. The whole resetting process will eliminate technical problems and improper settings.
If you use Hotmail, Outlook, or a third-party email service provider, delete your account and re-add it.
Re-adding Hotmail account on iPhone.
Go to the Mail app.
Head to the 'Menu' and choose 'Accounts.'
Now, choose the Hotmail account having issues.
Tap 'Remove.'
Open the Mail app.
Tap 'Mail' followed by 'Add account.'
Pick Outlook.
After that, enter your email address and password to sign in. You will not find Hotmail not working on iPhone now.
Re-adding Hotmail account on Android mobile
Open the Outlook application on your phone and tap 'Account.'
Click the 'Gear' at the bottom to launch 'Settings.'
Hit the 'Hotmail' account in the accounts list.
Scroll down and tap the 'Delete' button.
Now, go to the main screen of the application.
Hit the 'Account' icon.
Then navigate to the envelope symbol with the '+' sign.
Click 'Add New Account' in the popup that shows.
Now, add your account details and sign back in.
Re-adding Hotmail account on Outlook for Windows and Mac
Go to the 'File' in your Outlook application.
This option is on the top-right part.
Now, choose 'Info.'
Click 'Account Settings.'
Next, tap 'Manage profiles.'
After that, select 'Email Accounts.'
Now, choose the problematic Hotmail account.
Hit the 'Remove' button.
To re-add this account, launch Outlook again.
Then tap 'Files.'
Now, click the 'Add Account' button below 'Info.'
Enter your credentials for signing into the account.
After that, sign out and sign into your Hotmail account on your web browser.
Also Read: Hotmail Email Login Issue
Update Outlook to its latest release
You can either turn on automatic updates or update Outlook manually. Here is how to get the latest version with these methods.
Launch Outlook and tap 'File.'
Next, tap the 'Office Account' option in the navigation pane.
Choose 'Update Options.'
If you see the 'Automatic updates' option disabled, tap the 'Enable updates' option in the drop-down menu.
After that, Outlook will get updated automatically.
In Outlook tap 'File.'
Now click the 'Office Account' option in the navigation pane.
Tap 'Update Options' followed by 'Update Now.'
Disable antivirus temporarily or permanently.
An antivirus program can interfere with your Hotmail application. If you find Hotmail not working on a PC, it's best to rule out the antivirus program as its cause. To do so, temporarily disable the security program. If it resolves the problem, you can permanently disable it and install another one.
Disable the antivirus on Windows 10 temporarily.
Launch Windows settings by hitting Windows + I keys.
Tap 'Update & Security' followed by 'Windows Security.'
Now choose the 'Virus & Threat Protection' option.
In the right window, tap 'Virus & Threat Protection Settings.'
Now tap 'Manage Settings.'
Switch off the option saying 'Real-time protection if off, leaving your device vulnerable.'
Disable the antivirus on Windows 10 permanently.
Open the 'Run' box, and input 'control panel' on it.
Hit enter to go to 'Control Panel.'
After that, tap 'Programs and Features.'
Here, locate the antivirus program and right-tap it.
Tap 'Uninstall' to permanently delete it from your system.
Also Know, Why:-Hotmail not sending emails
Make changes in iPhone settings
Sometimes, simple tweaks in the settings of a device can resolve a technical glitch. So, if you notice Hotmail not working on iPhone, you can follow these tips to make it work.
Firstly, switch off iCloud.
Now, navigate to your mail account.
Reset the account password.
After that, enable and disable the Airplane mode in settings.
Now, delete your account and create a new one. You might find that after creating a new Hotmail account, it works like before.
If not, modify the 'Mail Days to Sync' field. Change it to 'No Limit.'
Now, head to 'Settings' and choose 'General' followed by 'Reset.'
Pick the option to 'Reset network settings.'
But remember that doing this will reset all the network configurations. You will have to re-enter the network credentials afterward.
Troubleshoot Hotmail not working on Outlook on the web
When you find Hotmail not functioning on Outlook on the web. The cause is a password problem. Use these steps to fix it.
Head over to outlook.live.com.
Now, use your Hotmail email ID and password to log into it.
If you cannot recall your password, navigate to the Recovery page of Microsoft.
Here use the link to change your password.
Also, check that you have a good internet connection.
Fix Hotmail not working on Gmail
Gmail is widely used to send emails from a Hotmail account. If it doesn't work, you need to set it up again on Gmail.
Go to your Gmail account.
Tap on 'Settings' followed by 'See all settings.'
Now, click 'Accounts and import.'
Look for your Hotmail account in the option, 'Send mail as list.'
Tap 'Delete.'
Tap on 'Add another email address.'
Use your Hotmail account credentials to use your account again.
The Last Words
Hopefully, after following the above-mentioned steps, you will be able to fix Hotmail not working on your device. Once your problem is resolved, you can continue sending or receiving emails on your Hotmail account.
But, if you are still having trouble using Hotmail services, contact experts. The Hotmail support team is available to help you with the best solution to fix the problem. Your problem will be resolved by qualified and certified experts working hard day and night to make sure that customers have the best mailing experience with Hotmail.
So, contact the professionals today and find the best possible solution to fix the problem instantly. You can call the professionals at a toll-free number, or connect through live chat and email for instant help.