Hotmail Account Hacked? Here's What To Do!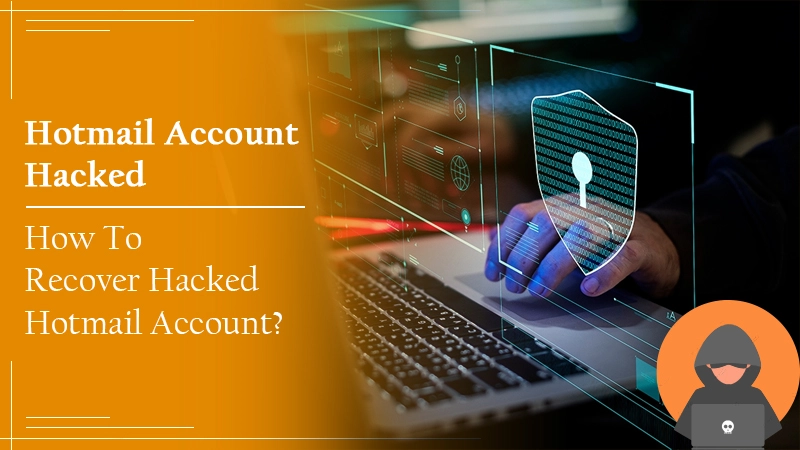 Millions of people made use of the Hotmail email service years ago. But when it merged with Microsoft's Outlook, most Hotmail users found that their accounts had been compromised. They also observed suspicious behavior like unfamiliar emails sent from their address in its wake. A lot of people were also locked out of their accounts. If you found your Hotmail account hacked and cannot access your account, you must know how to regain control of all your important emails.
There are various methods you can apply in such a scenario. In this article, you'll find stepwise instructions for using these methods and recovering your Hotmail account.
Also Check:- How to Block Emails on Hotmail
How to Recover Hacked Hotmail Account? 
You can either change your password or navigate to Microsoft's account login page to regain access to your account. Both these methods are discussed in detail below. 
1. Change Your Password 
It is for those users whose account was hacked, but they can still access their account. To know how to recover a hacked Hotmail account by changing the password, follow the steps below.
Hit the gear icon for accessing settings. You'll find this icon present in the upper-right corner beside your account name.

From the menu, choose 'More Mail Settings.' It's the fourth option under the color swatches. You'll be redirected to an 'Options' page. 
To access the language menu, tap 'Account Details.' You can see this button below the 'Managing Your Account' header.
Tap 'Change Password.' it will open the password form.
Input your new and old passwords into the relevant text fields. Then, hit 'Save.'

Note that you will need to type in your new password two times. Passwords should be up to 8 characters minimum. It's recommended to set a strong password consisting of lower and capital case letters, symbols, and numbers. 

Sign in to your account for verifying the changes. At this time, you can also let all of your contacts know that you have now gained control of your Hotmail account.
2. Retrieve Access to Your Account
There's a built-in feature in Microsoft that locks suspicious accounts on an automatic basis. Users can be unaware of someone using their email accounts. But if Microsoft detects unusual activity, the account gets locked temporarily. Here is the process of hacked Hotmail account recovery using Microsoft's Account Login page.
Steps to Recover Account Using MS Account Login Page
Navigate to the Account Login page. 
Once there, choose 'Forgot My Password' present below the username and password text fields. You will get redirected to the password recovery page.

Next, choose 'I think someone else is using my Microsoft account' and then click 'Next.' You will then get redirected to the account recovery page.

Now type in the email ID that you think is compromised. 

Input the CAPTCHA characters in the respective text fields. If you face any issues identifying the characters, hit 'New.' It will bring a fresh set of characters.

Now choose a method to get a security code. If you have a recovery email or a contact number related to your account, choose it. You'll find a code sent to either your email address or contact number. 

Now tap 'Next.' You must input the code into the page so as to get redirected to reset the password.
Input an email ID on the page of 'Recover your Microsoft Account' and then tap 'Next.' The email ID you enter should be the one you can access. 

Finish the form and enter the correct information. Then, tap 'Submit.'

After you submit the form, you'll need to wait for a day or 24 hours to get a response.

After 24 hours, you'll get a link to reset your email account password. But if the information you entered was not accurate or sufficient, you'll get an email that will inform you about it. 

Now reset your password. Tap the password reset link, and you'll be taken to a page where you can make a new password. Here you'll need to type your new password two times to make no mistakes.
Also Check, Why:- Hotmail Not Syncing
Recover Language of Your Recovered Account If It has been Changed
If your Hotmail got hacked and upon recovering it, you find that its language is changed to a different one, you can reset it. Follow the steps as follows and reset the language of your account. 
Sign in to the account you've retrieved and hit the gear icon to access settings. 

From the menu, choose the option of 'More Mail Settings.' Now you'll be redirected to the Options page. 
Tap 'Language' for accessing the language menu. You can find this button below the header of 'Customizing Outlook.'
Choose the language you want from the list and tap 'Save.' You will find that every language listing will be in its native alphabet. 
Also Know, Why:- Hotmail not sending emails
Bonus Tips to Keep Your Hotmail Account Safe
Now that you know all about how to get a hacked Hotmail account back, you must become more aware of the safety of your account. It should be your priority when sending and getting emails. You must prioritize safety more if you are using your Hotmail account for business purposes or making online purchases.
If it gets hacked, it can be a very costly problem, and you'll have to face many issues with your credit card numbers and other sensitive data.
One of the most significant ways to keep your account safe is by creating a strong password. Ensure that it includes a good mix of capital letters, symbols, and numbers. You should also have an alternate email ID that you can utilize whenever your original account gets hacked.
Final Words
Hopefully, you must now have full knowledge of what to do when you find your Hotmail account hacked. The steps are not very difficult to implement but are essential for your account's safety.
If you find yourself unable to execute the instructions in this post, it's best to seek professional Hotmail customer support service. The technicians will help you recover your account effectively.