Hotmail Not Showing Images? – Here's What To Do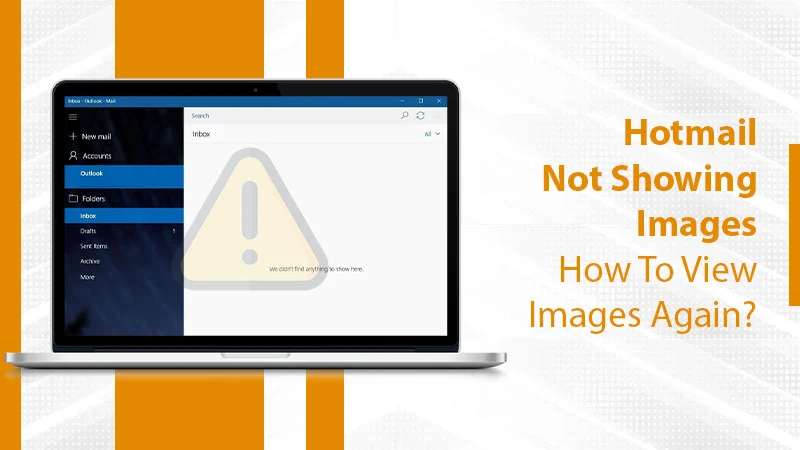 Hotmail is a premier email service provider. It came into existence when the technology was just at its initial phase. The year is 2022 now, and it is still going strong. Moreover, they have a user base that trusts the email service. However, the same people also have a common complaint. It is about Hotmail not showing images in an email. However, don't let this undermine the utility of the service since Hotmail is pretty reliable. Moreover, it is also one of the midst secure email clients out there. In fact, one of the main reasons this issue exists is because of the sound security features. We will cover that later.
However, the application has now been rebranded to Outlook.com. This is major because of corporate decisions, and not quality. Hence, do not confuse yourself while reading further.
In this blog, we cover the issue of images not loading in Hotmail and the various ways to bypass it. This is what happens when there is an attachment in a mail, but you aren't able to open it. This will most probably be a file with png or jpg/jpeg as an extension. We will cover it all in detail. However, before we proceed to the fixes, we would like to provide an overview.
Related Post:- How to Set up Hotmail on iPhone
Why is Hotmail Not Showing Images?
Sometimes there is a problem with images not showing in email programs. This includes modern players as well like Microsoft Outlook, Gmail, Outlook Mail, and Apple Mail. This is basically related to a security setting. Hence, it is not something you need to panic about. As a matter of fact, this problem can be easily solved.
Images can be fetched from remote servers and included in email messages. Spammers often use this feature to get feedback on whether someone has opened the email or not. This might be a possible reason behind pictures not showing in Hotmail. That is not where the story ends. With the help of feedback, spammers identify which email addresses are real and which ones are not. This in turn allows them to target real email addresses with their spam messages.
To counter this problem, Hotmail does not automatically download pictures in an email. Rather, Hotmail not loading images from remote servers has been a calculated step of security.
Let us sum up the causes of Hotmail not showing images in three simple points for you:
Hotmail is blocking the externally hosted image present in the mail because of security purposes.

The background image present in the email is beyond what the client supports.

A firewall or any other security setting is blocking access, hence causing the issue.
Now that you know why you are unable to see the image, we will help you bypass it. However, please be careful that you do this with emails only from trustworthy sources.
Related Post:- Why Hotmail Not Sending Emails
Resolving the Issue of Hotmail Not Showing Images
In this section, we cover multiple scenarios. We have also tried labeling them as clearly as possible so that you can choose the one that is apt for you. Let us proceed to the fixes.
When Hotmail did Not Download an Image
A reason behind Hotmail not showing pictures in an email is that the image did not downloaded. To fix this, you need to make the following changes in the Outlook application:
Launch Hotmail or the Outlook application.

After that, you need to navigate to

File

. After that, navigate to

Options

.

Now you need to go to the

Trust Center

. After that, look for

Trust Center Settings

.

You will find a section that reads Automatic Download.

Here you will find a checkbox with the label "

Don't download pictures automatically in HTML e-mail messages or RSS items

".

All you need to do is remove the tick from the box. This will now download the images automatically.
With this, the issue of Hotmail not showing images will fix on the application.
When Images do Not Load in HTML
If you use the browser instead of the application, then this step is for you. The images in the browser open in the HTML format, hence do the following to fix it.
The first thing you can do is check the

src

path of the attachment. This will also help you ensure whether the attachment is secure or not.

The other alternative is that you can clear the

cache

of the browser. This will in turn empty up some space for the image to load.
Fixing the Issue of Pictures not Displaying Correctly
Here is another side of the issue. Sometimes, the images download but they do not reflect on the system. To fix this, here are the options:
You can try a different web browser. This might help you bypass it since all browsers do not support everything.

Also, you can try putting a tick on the

Show All Images

option.

Give a try on checking the JavaScript settings of the browser. This is a slightly advanced step, so proceed only if you are comfortable.

Try switching to incognito mode. This will turn off the

extensions

temporarily which can be a cause behind the issue.

Also, do ensure that you have the most recent updates on the browser. Also, clear the

cache and cookies

for a better experience.

Try

resetting

the browser completely. You can also reinstall it.
Fixing the Issue where Linked Images are not Getting Displayed
In this instance, the images that are present as links do not display on the browser. It has the following ways to bypass
First, you need to check the settings of the anti-virus. It might be a hindering function because of security concerns.

You can also try to modify the registry. However, this should be done with utmost caution.

Another method is relocating the

temporary internet files

to another folder.

There is also an option that

automatically disables the setting

of encrypted pages.

You can give a try to

repairing

the Outlook application. This sorts out the majority of the basic issues.

Another step that you can take is that you can add the sender to the list of Safe Senders.

Finally, you can also try

reinstalling

the application.
Related Post:- Why Hotmail Not Receiving Emails
To put it in a nutshell, the issue of Hotmail not showing images is majorly due to security concerns. Hence it should be handled with care. However, it should be easy to bypass. We recommend that you carry out the procedures only when you are sure that it is absolutely safe to do so.