How to Export Yahoo Mail? | Step-By-Step Guide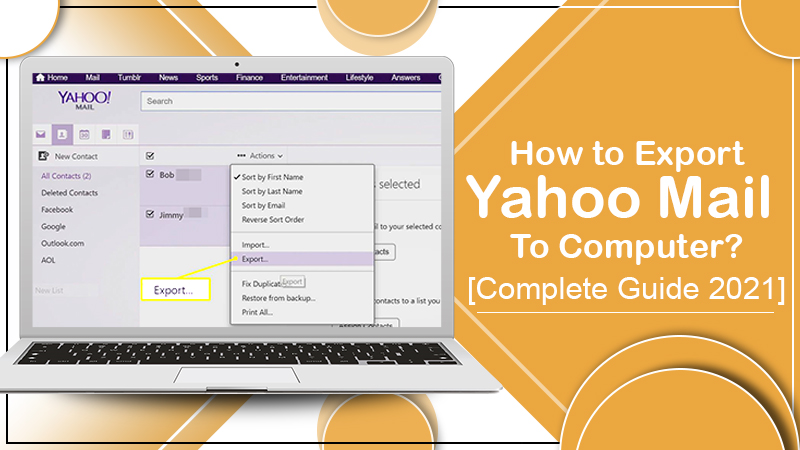 As recently as September 2016, Yahoo found that almost 500 of its mail accounts were compromised. In such a scenario, the thought of migrating to another email client which is more secure can undoubtedly cross the minds of many individuals. However, Yahoo has not been the target of security breaches just once. It has witnessed hacker activity for the past ten years. Despite this, a great majority of people still utilize the mail service. Irrespective of the reason you're a Yahoo Mail user, it's imperative for you to know how to export yahoo mail to your computer. In this long post, you will discover several effective ways to backup your Yahoo emails to your system. 
Also Check: How to Reactivate Yahoo Account
How to Export Yahoo Mail to Your Computer?
Given below are some straightforward yet highly efficient methods to export yahoo mails. To implement them, you first are required to download the Yahoo Mails in your computer's local folder. Yahoo gives you the option of IMAP access. Through it, you can access your emails via a third-party application. Two basic methods of backing up Yahoo mails are given below.
1. Export via MS Outlook
Before you add the Yahoo email account to the Microsoft Outlook Desktop client, you are required to prepare your Yahoo account. 
⏩ Prepare Your Yahoo Account
Go through the steps below for it. 
Tap on your account picture and then tap on 'Account info.'

From the left pane, choose 'Account Security.' Choose the 'Manage app passwords.'

You will see a pop-up window opening up. Choose 'Outlook desktop' and tap on 'Generate.'

The app password will be generated. It will be used later when you add your Yahoo email account to the Outlook Desktop client. Copy this password and then click 'Done.'
⏩ Configure Yahoo Mail in MS Outlook 2016, 2019, Or Office 365
You can configure your Yahoo Mail in Outlook to Export Yahoo Emails to your Computer. Follow the steps mentioned here.
Navigate to the 'File' in Outlook.

Tap the button of 'Add Account.'

Type in the Yahoo email account and then tap 'Connect.'

Type in the app password generated earlier in the password section. Now, tap on 'Connect.'

Click 'Done.'

Launch the Outlook Desktop client. You will be able to view Yahoo Mail in Outlook successfully configured. 
⏩ Start Exporting Your Yahoo Mail Information to Your System
Now you can export yahoo mails to your PC. Follow these points for it.
Navigate to 'File,' then 'Open & Export' and then 'Import & Export.'

Choose 'Export to a file.' Press' Next.'

Now choose 'Outlook Data File (.pst).' Hit' Next.'

Choose the folders that you wish to export from and then press 'Next.'

Browse or look for the place to save the file that has been exported. Alternatively, you can also make use of the default location.

Enter 'Finish.'

Now paste the prior copied file path in your file explorer. You will be able to notice the newly exported email information file. It will be in the .pst format.
⏩ Are There Any Drawbacks to Exporting Yahoo Email Data through MS Outlook?
Although it is entirely possible to Export Yahoo Emails to a Computer using this method, it also gives much inconvenience. You need to configure your account in Outlook, and you can back only one mailbox at a specific time. It also requires much technical know-how, which average users do not possess. The method also does not eliminate any scope for loss of your data integrity. So, it's better to know how to backup Yahoo Emails using the Kernel IMAP backup method.
2. Export Yahoo Mail via Kernel IMAP Backup?
Exporting Yahoo email information via MS Outlook is quite lengthy and requires much patience from the user. Thus, it's easy to make use of a third-party tool to save time. A great tool for this purpose is Kernel for IMAP backup. The tool can easily backup not one but various server mailboxes. You can backup IMAP data to PST, MSG, HTML, PDF, DOCX, and MHT formats. It also supports Microsoft Office 365, Novell Groupwise, Lotus Notes, and Exchange Accounts. It provides various options like data range filter, excluding a folder, folder selection, and the like. You can use the different options for backing up your mailbox information selectively. Here is How to backup Yahoo Emails through the KerneI MAP backup method.
You will see prompts in the welcome screen to add mailboxes for data backup. 

Input your account credentials. Tap 'Add.'

Choose 'Set Filter' and then the option of 'Migrate.'

Choose the filters you desire. After that, tap 'I am Ok, Start Migration.'

Now choose the file output type for saving your desired IMAP server information. 

Give the file path so that the backed-up IMAP mailbox can be saved. 

After the process draws to an end, you will notice a pop-up window appearing. You will also find a CSV file consisting of the credentials of all the backed-up IMAP mailboxes being generated.
Also Check: Yahoo Email Not working | How Can I Fix It? [Fixed]
Significance of Exporting Yahoo Mails to Your PC
It is the responsibility of every Yahoo Mail user to export their emails to their system for the backing up of their data. The fact that the credentials of most Yahoo Mail accounts have been at some point or the other compromised is not hidden. In such a scenario, you cannot be sure that your account data is always safe. 
Suppose a ransomware attacker happens to get access to your Yahoo Mail data and hinder you from recovering it. In that case, the price would be quite heavy. To safeguard yourself from such a situation, it is best to know how to back up your mail data.
Final Words
Now you are aware of the immense importance of knowing how to export yahoo mail. You can either choose the manual method for this purpose or the Kernal IMAP backup. The former is quite lengthy but free. The latter is much convenient to be used by the majority of people. Still, you are facing this issue, you can contact our Yahoo support experts. The experts are available 24×7 to help, so you can call them anytime you want.