Yahoo Mail Not Working? Top 7 Ways to Fix Yahoo Mail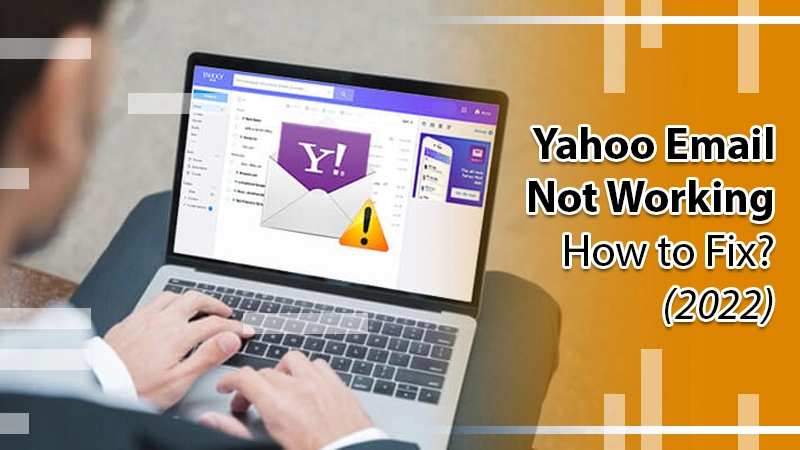 Yahoo Mail is one of the world's leading web-based email service providers. But, users encounter various issues with yahoo. One of the most common errors the users face is Yahoo mail not working. It can be a serious error if your email suddenly becomes unavailable and you can no longer communicate with others on your email list. However, at this point, you can try several fixes to resolve the problem.
Related Post:- How to Block Unwanted Emails on Yahoo
Why is My Yahoo Mail Not Working?
Your Yahoo Mail stopped working due to many reasons. The most common ones are as follows.
A poor internet connection from your service provider.
The old register number of your Yahoo account is causing problems in its functioning.
An excessive amount of caches and cookies in your web browser.
An ad-blocker software is blocking the website from loading.
Security programs
Related Post:- How to Create Folders in Yahoo Mail
Troubleshoot Yahoo Mail Not Working Problem
You don't have to feel annoyed if your Yahoo mail is not working. Just understand and follow these and see your email work again.
Method 1: Switch Off the Ad-Blocker
It's the first step you should take whenever your Yahoo Mail stops responding. Ad-blocker extensions can conflict with your Yahoo Mail. So, turn off the software for blocking ads and use your email.
Method 2: Inspect Internet Problems
Do you notice your browser loading websites at a snail's pace? If yes, then you'll naturally find your Yahoo Mail not working. You need to fix internet connection issues to see your mail work efficiently. Execute a speed test by going over to a site like http://www.speedtest.net/.
Apart from this, you can also open different websites and check if they load quickly.
Method 3: Remove Cache
Often, excessive cache and cookies prevent Yahoo Mail from responding optimally. So, clearing the cache and cookies is a simple way to fix this problem. Moreover, when there are no cookies and caches, you'll find your Yahoo webmail performing better than before.
Method 4: Re-add Yahoo Mail Account
You can also try re-adding your mail account when this problem occurs. Follow these points to do so.
Launch the mail application and tap the Settings icon.
After that, choose Manage Account followed by Add Account.
Pick Yahoo from the service provider's list on this window,
Input your email ID and hit Next.
Give your account password and click Sign in.
Tap Agree followed by Done.
Now access your account and see if it's working.
Method 5: Disable Security Programs Temporarily
In some cases, you'll find Yahoo Mail not responding due to anti-virus or firewall programs. These security programs block features that are important to certain Yahoo pages. So, temporarily disabling these programs will help you resolve the issue. You can go to the help pages of the security software in your system to find instructions on the right way of disabling them.
After disabling it, see if your Yahoo email works properly. If it does, you might need to disable the security software till the time you work with it.
Method 6: Check the Correct Server Address
If you place the wrong Yahoo mail server address in your email settings. There is a possibility of a Yahoo email not working error occurring. So, make sure that the following code should be like this:
POP3 incoming mail server: pop.mail.yahoo.com (port 995 and SSL is required).
IMAP incoming mail server: imap.mail.yahoo.com (port 993 and SSL are required).
SMTP outgoing mail server: smtp.mail.yahoo.com (port 465or 587 SSL is required).
NEWS server: news.yahoo.com.
Method 7: Yahoo Mail Not Working on iPhone – Configure the SMTP Server
Yahoo Mail is not working on iPhone because the SMTP server is not sending an email to the receiver. You can set up the SMTP server through these steps:
Launch Settings and go to the Accounts and Passwords option.
Tap the icon of Yahoo followed by Account. Afterward, go to the Outgoing Mail Server (SMTP) option.
Tap on the icon of the SMTP Server.
Then, go to Settings. smtp.mail.yahoo.com is the hostname.
Enter your username and password.
Now, configure the port to 587 or 465.
Select the SSL option and then toggle it to Yes. After that, tap Done.
This option is in the top-right section of the screen.
Lastly, reboot your iPhone.
Final Words
It's easy to fix the Yahoo email not working issue when you know the proper techniques. Follow the ones explained in this article to benefit from an optimally working Yahoo email. I hope your query has been resolved regarding how do I fix yahoo mail problems. If you need a quick solution to this problem, don't hesitate to connect with expert Yahoo support services.