Gmail Not Working? Use These Expert Resolutions Now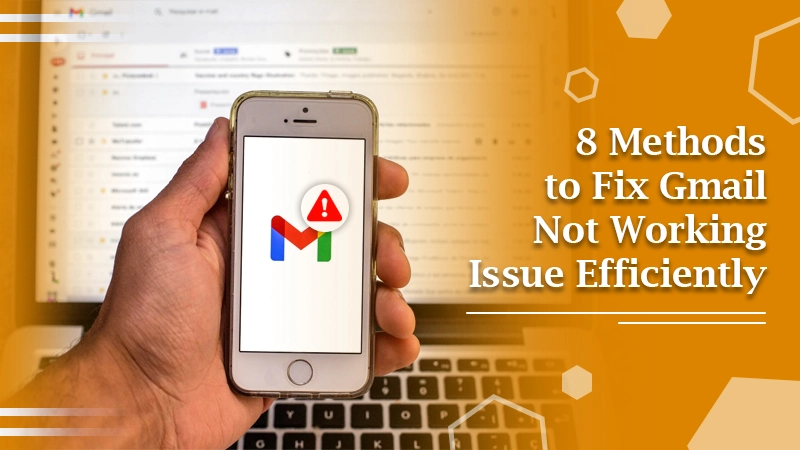 Gmail is an extensively used mail service that both students and working professionals use. People use it to exchange work-related email messages daily. In such a case, if you find Gmail not working, you won't be able to access or send any important emails. It can come across as a serious problem for many people. Thankfully, there are many fixes for this issue.
In this article, you'll find the various techniques you can use to make your Gmail start working again.
Also Check:- How to free up space in Gmail
Ways to Fix Gmail Not Working Problem
Sometimes the problem may not be at your end but on Google's end. At such times, you cannot do anything other than wait. However, for all other times, you can start applying the troubleshooting techniques explained below.
1. Find Whether Your Internet Connection is Working
If you don't have a good internet connection, you will find that Gmail is not working on both the web browser and the app. To check if this is the real case, open other websites or internet-dependent apps on your phone and see if they are working properly. If they aren't, you'll need to troubleshoot the connection.
Update the router's firmware or move your system or device nearer to the router to access the internet.
2. Use a Browser that Gmail Supports
If your browser isn't optimized for Gmail email service, you'll definitely face issues in its working. You must use the browsers that Google recommends. These browsers also have JavaScript and cookies enabled so that Gmail can load efficiently.
These browsers include Google Chrome, Safari, Microsoft Edge, and Mozilla Firefox.
3. Correct the Date and Time Settings
When the date or time configuration is incorrect, your system cannot connect with Gmail's servers. As a result, you may notice Gmail not responding. To fix it, follow these points.
Navigate to 'Settings' on your device, followed by 'System' and then 'Date & Time.'
Toggle 'Use network-provided time zone' and 'Use network-provided time.'
4. Enable IMAP
The Internet Message Access Protocol (IMAP) is the name of an email application that enables the user to access their Gmail inbox from other email apps or clients.
If you find that Gmail stopped working, you need to ensure that you have enabled IMAP in the Gmail account settings.
Open Gmail and choose the gear icon. Now, choose 'See all settings.'
Navigate to the tab 'Forwarding and POP/IMAP.'
From the 'IMAP Access section, select 'Enabled IMAP.'
Choose 'Save changes' on the page's bottom.
5. Disable Chrome Extension 
Sometimes, browser extensions can interrupt Gmail's work. To inspect if this is the actual cause, open Gmail in Incognito mode. If it works well there, you'll need to disable the browser extension. You can disable a Chrome extension by following these steps.
Launch Chrome and tap the three-dot menu button present on the top-right.
Navigate to 'Settings' and choose 'Extensions' in the left column.
Locate the extension to disable and turn off the toggle.
You can also delete the extension by tapping 'Remove.' Then click 'Remove' again to confirm your action.
6. Clear Cache 
It is one of the easiest troubleshooting tips to use on finding Gmail not working with chrome. Excessive browser cache prevents Gmail from responding properly. Follow these points to clear the cache in Chrome.
Launch Google Chrome and tap the three vertical dots in the upper-right.
Now hover your mouse on 'More Tools.' Then tap 'Clear browsing data…'
You will notice many options for data clearing on your screen. Tap 'Advanced' to clear all stored data. Check the box beside every option.
Pick an option in the dropdown of 'Time range.' To clear everything, choose 'All-time.'
Lastly, click 'Clear data.'
7. Modify Gmail Notifications Settings
It's possible that your notification settings are not enabled. That's why your Gmail is not working. Follow these points to change notification settings on the web.
Choose the 'Gear' icon beside the search bar and opt for 'See all settings.'
Scroll to the section 'Desktop notifications' in the 'General' tab. Choose 'Click here to enable desktop notifications for Gmail.'
On the Show Notifications prompt, choose 'Allow.'
Now select 'New mail notifications' and then choose a specific notification alert in the dropdown of 'Mail Notifications Sounds.'
8. Force Close Gmail and Open It
To fix temporary glitches like 'Gmail not responding,' you can force close Gmail on your mobile and then reopen it. iPhone users can do it by following these steps.
Launch the iOS App Switcher. Swipe up to the middle of your screen.
Find Gmail and swipe up on its preview. It will force close it.
Reopen it by going to the home screen of your device.
Android users can follow these steps to force closing and opening Gmail.
Navigate to the home screen. Press and hold the icon of Gmail. Then choose 'Info.'
Hit 'Force Stop' and select 'OK' for its confirmation.
Click 'Open' to reopen Gmail.
Final Words
You can implement these simple fixes when you notice your Gmail not working or loading. Finding internet connectivity, correcting date and time settings and clearing caches are all very simple measures. But if your Gmail doesn't work even after these fixes, it's best to talk to a Gmail support professional. They will diagnose and fix the root cause of the problem.