Yahoo Mail Search Not Working? – Top 5 Verified Fixes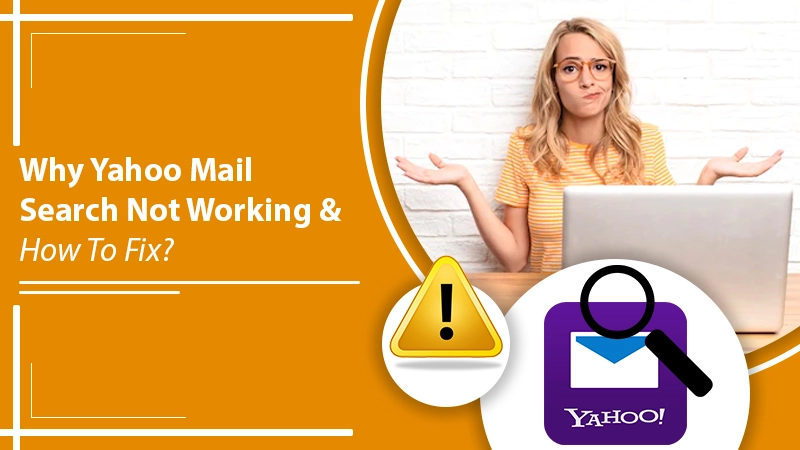 Yahoo, founded in 1994, is a global internet service provider. It provides various features like an email service directory, search engines, and the like. It also is a famous destination for those who want to get current news and entertainment. However, it is not free from various technical issues that may arise from time to time. Yahoo Mail search not working is one such problem. 
The mail search in Yahoo works only in the mailbox. It's a helpful feature and works well when the mailbox contains numerous messages, and the user needs to find a specific one. The search feature present at the mailbox's top can efficiently search for the message you are looking for. In this article, you'll find the various fixes to use when Yahoo's search is not working. 
Related Post:- What is Yahoo Account Key
Why Is Yahoo Mail Search Not Working?
You may find Yahoo search not working due to many common reasons. The most prominent ones are listed below. 
You are working on an obsolete or old browser. It cannot process the JavaScript employed in the webpage, and so the mail search function doesn't work. 

Some extensions can obstruct the connection. 

Pop-up settings are configured to disallow browsers.

Adobe Flash player problem is also another cause for this issue. 

The app cache is preventing the Yahoo search from functioning well. 
Related Post:- How to Block Unwanted Emails on Yahoo
How to Resolve the Yahoo Mail Search Not Working Issue?
Now that you know why the search functionality in your Yahoo Mail isn't working, you can proceed to troubleshoot it. Here are the main resolutions you can employ.
Remove the Cookies
When you find the Yahoo Mail search function not working, you should instantly clear the cookies. In the presence of excessive cache and cookies, the browser cannot download the mailbox fully. So the search in Yahoo doesn't work. Follow the instructions to remove cookies for different browsers below.
Chrome 
Open the browser and input '

Chrome://settings/clearBrowserData

' on the address bar.

Hit '

Enter

.'

Choose '

All Options

' and tap '

Clear Data

.'
Microsoft Edge
Open your Edge browser and enter '

Edge://settings/siteData

' on the address bar.

Press '

Enter

.'

Tap '

Remove All

' and then '

Clear

.'
Safari 
Open the browser and hit '

Preferences

.'

Now click '

Site Data

' followed by the button of '

Clear Data

.'
That's it. Optimizing your browser by clearing the cache is quite a simple process. After removing cookies from your respective browser, see if the Yahoo Mail search functions appropriately. If not, follow the troubleshooting techniques listed below.
Related Post:- Yahoo Email Not Working | How to Fix?
Update Your Browser
Another fix to use when you find the search in Yahoo mail not working is to search for any pending browser update. It's recommended to navigate to the settings of your browser and tap the 'About' section. You can then install the new updates. Here are stepwise instructions for updating different browsers. 
Chrome 
Look at the upper-right corner of Chrome and tap the Chrome menu icon. You can see it in the form of here vertical dots. 

From here, choose '

Help

,' followed by clicking on '

About Google Chrome

.'

Chrome will begin checking for updates and automatically install them if there are any. 

Then '

Restart

' for applying the installed updates. 

You can also choose the '

Set Up Automatic Updates for All Users

.' It will enable Chrome to remain up-to-date always. 
Edge
Navigate to the browser, and go to '

Settings

.'

Navigate to '

More

' and choose '

Help and Feedback

.'

Now, select '

About Microsoft Edge

.'

If you see the About page showing that your browser is updated, there's no need to do anything.

But if it shows an update, choose '

Download

' and install to update.
Safari 
Go to the Apple menu. Now, select '

System Preferences

.'

In its window, tap '

Software Update

.'

If your System Preferences window doesn't have this option, go to the App Store to get the updates. Then, install any updates that are showing. 
I hope the above methods for yahoo search mail not working for different browsers are working for you.
Enable the JavaScript
You cannot use the search button if the JavaScript isn't functioning. When it is disabled, you'll notice the Yahoo Mail search not working. Enable the JavaScript on your browser by following these points.
Open the browser and go to its settings.

Once there, tap '

Site settings

.' After that, hit '

JavaScript

.'

Now click on sites that can utilize the option of JavaScript.

Now you can add a button in the section of '

Allow Site

.' 

Here, input the Yahoo URL and tap the '

OK

' button.

Next, navigate to '

Site settings

' again and tap the option, '

Pop-ups and redirects

.'

Lastly, click '

Allow All Cookies

.'
Related Post:- Yahoo Mail Keeps Crashing | Why & How To Fix?
Reinstall Your Browser
Is your Yahoo Mail search not working even after the measures above? It's time to reinstall or factory reset the browser. You can reset the settings to default by following these steps.
Open your browser and go to the '

Advanced

' settings.

Mac users can tap '

Reset settings

' followed by '

Restore settings to their original defaults

 and then '

Reset Settings

.' Windows users can tap '

Reset and cleanup

', followed by '

Reset settings to their original defaults

 and then '

Reset Settings

.'
Disable Antivirus
If you find the mail search function not working in Yahoo Mail, it's also wise to think about disabling the antivirus. Just turn off the antivirus program from your system. See if this mail search is working. You can install the antivirus program again afterward. 
Fix Yahoo search not working on your iPhone or Android 
Like browsers, Yahoo Mail can also stop giving results on users' mobile devices. But irrespective of the kind of device you use, you can fix the search not working issue by checking for these things. 
Ensure that you have a robust internet connection on your mobile device. 

Delete the data of the Yahoo Mail app and also its cache. Now, reload the app. 

Search for the app update on App Store or Play Store. 

Uninstall the Yahoo Mail app and reboot your device. Then, install the app again. 
The above steps can easily fix the yahoo email search not working error.
Final Thoughts
These measures will become quite helpful when you find your Yahoo Mail search not working. Moreover, Android and iPhone users can also use the tips given to prevent any issues using the search function on their devices. If you find the search function not working after implementing these measures, seek expert Yahoo email support help.