[Fixed] Yahoo Mail Not Working on Chrome or Computer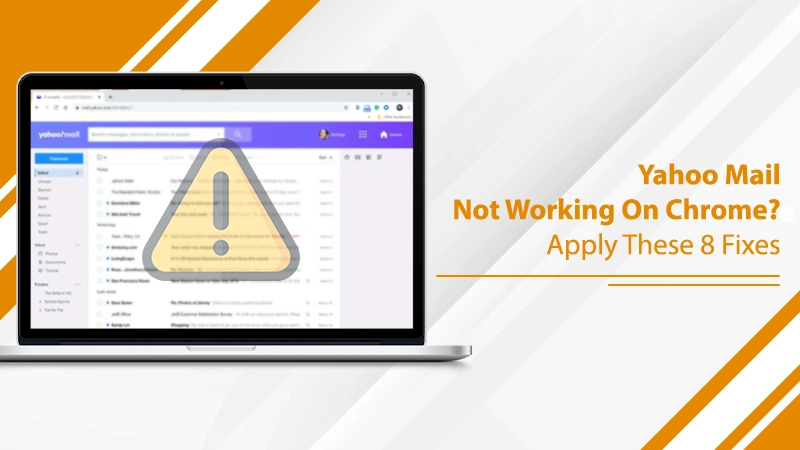 The Yahoo Mail service is undoubtedly convenient and feature-rich. Still, you cannot call it glitch-free. Many users repeatedly find their Yahoo Mail not working on Chrome. It mainly happens if you use older features of this email service. Although Google Chrome offers excellent support to Yahoo yet, many people are unable to use the email service on this browser. 
Thankfully, the problem isn't too complex to tackle. There are various workarounds for it. In this post, you'll read about the causes for Yahoo turning non-functional in Chrome and different ways to make it function effectively. 
Why Is Yahoo Mail Not Working on Chrome?
There are a few reasons for this issue occur. You may find Yahoo not working on Chrome due to the following factors. 
Your internet connection is not stable. 

There's a minor technical glitch in your system which is preventing Yahoo from working on Google Chrome. 

The JavaScript is not enabled, which is preventing Yahoo from working.

Antivirus is blocking the plugins and features crucial for Yahoo Mail to function. 

There are excessive cache and cookies in your browser. 

The Yahoo Mai servers are down. 

It is likely that Google Chrome is not updated and is leading to compatibility issues. 

You have installed a number of unnecessary extensions on Google Chrome that are interfering with the working of Yahoo. 
Ways to Fix Yahoo Email Not Working on Chrome
Now that you know the reasons, just start fixing them one by one. Here are some of the effective measures to use. Before using them, ensure that your internet connection is fine. Also, try to restart your computer and use Yahoo on Chrome. If the problem still remains, use the following measures. 
1. Enable JavaScript 
Yahoo Mail won't work on a computer if the JavaScript isn't turned on. So, it's crucial for you to enable it. 
Open the Google Chrome browser. 

Now, tap '

More

.' It is there at the top-right part of the screen. 

Next, click '

Settings

', and after that, scroll at the bottom. 

Tap '

Advanced

.'

Locate '

Privacy and Security

.' Under it, select '

Content Settings

' followed by '

JavaScript

.'

Now, switch on '

Allowed

.'
2. Disable Antivirus in Your System
It is commonly observed that an antivirus or antispyware program blocks the scripts that Yahoo needs to run smoothly. So, try disabling antivirus whenever you notice Yahoo Mail not working on the computer. It will make Yahoo Mail pages load quickly without any interruption. 
It is wise to disable the security software temporarily by going to their specific pages. As the software is essential to keep your system safe and secure, don't keep it disabled for a long time. 
Related Post:- Why Yahoo Mail is Slow
3. Reconfigure Your Browser to its Default Settings
When you reset your Google Chrome browser to its initial default settings, it opens without any extensions or add-ins. This action also removes temporary web files as well as bookmarks. It is a good way to make Yahoo Mail work on this browser again. You can reset Chrome to the default configuration by adhering to these steps. 
Firstly, launch your Chrome browser. 

After that, locate '

Customize and control Google Chrome

.' This option is present in the top-right section of the page. 

Now, navigate to '

Settings

.' After that, tap '

Advanced

.'

If you use Mac, Linus, or Chromebook, tap '

Restore settings to their original defaults

.' After that, tap '

Reset Settings

.'

If you use Windows operating system, click '

Reset Settings

.' Click the same option again below '

Reset and Cleanup

.'
4. Remove Cache and Cookies
Clearing cookies on finding Yahoo Mail not working on Chrome is a wise decision. Use these simple steps to delete them. 
Tap '

More

' on your Chrome browser. 

Now, choose '

More Tools

.' Then choose '

Clear browsing data

.'

You can set the time range. We would recommend you to select '

All Time

.'

Place a checkmark on the field of '

Cookies and site data

.' Also, check the option of '

Cached images and files

.'

Now hit '

Clear data

.' Try working on Yahoo Mail on Chrome after that. Hopefully, it'll work without any issues. 
5. Install the Latest Version of Google Chrome
You may be utilizing an outdated version of Google Chrome. If so, try to find if there are any updates pending. It's essential to work on the latest Google Chrome version. 
Tap '

More

' in Chrome. 

Now, click '

Update Google Chrome

.' If you don't find this option, it implies that your browser is updated.

If you see the option to update, tap '

Relaunch

.'
6. Find If You are Logging in to Yahoo Mail Correctly
Are you using the two-step verification or Yahoo account key to log into your Yahoo Mail on Chrome? If so, you must ensure that you are following the proper procedure. Otherwise, you won't be able to use Yahoo. 
If you use the account key, you need to tap it on your smartphone to sign in. You don't need to input the password. But suppose you are using the two-step verification process. In that case, you must enter a passcode apart from a password for logging in. 
7. Deactivate Google Chrome's Enhancements
Unwanted enhancements often lead to Yahoo Mail not working on Chrome. So, you can deactivate them quickly and see if you can use the email service properly. 
Tap the three vertical dots. They are on the top-right part of the screen. 

Choose '

More Tools

' followed by '

Extensions

.'

Find the extensions you want to deactivate. After that, tap the '

Remove

' option beside them. 

That particular extension will be deleted from your Chrome browser.
8. Find If Yahoo Works Appropriately on Another Device
Sometimes the problem can be with your system. In that case, you can use Yahoo Mail on another smartphone or PC. If it works on Google Chrome on another system, it means your system has an issue. You must address the glitch in your computer. 
Summing Up
Now you know the troubleshooting to do when you find Yahoo Mail not working on Chrome. All the techniques are straightforward. That means it won't take long to fix the glitch. If you need more assistance with the problem, connect with a Yahoo email support service.