Yahoo Mail is So Slow? – Apply These Expert Fixes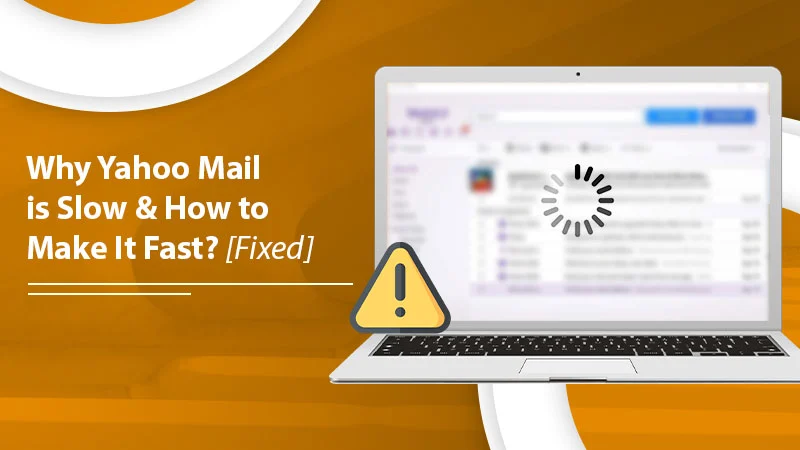 A properly functioning email is crucial for every Yahoo Mail user. But what if you find the email loading at a snail's speed every single time you open it? Many Yahoo users report that their Yahoo Mail is slow or doesn't load quickly. Poor internet connectivity is one of the prime causes of this issue on different operating systems and web browsers. Apart from that, a non-updated Yahoo Mail app on iPhone and Android phones can also lead to this problem. 
So if you are facing this problem repeatedly, you must ensure that you've got both these things right. Let's look at the measures you can take to quicken the loading speed of your Yahoo mail. 
Related Post:- How to Create Folders in Yahoo
Steps to Take When Yahoo Mail is Slow
You can use many troubleshooting measures like clearing excessive files or making sure that caching is enabled. Read on to learn about these measures in more detail. 
1. Remove Excessive Browser Cache and Cookies
A major reason why Yahoo Mail starts loading slowly is the buildup of excessive browser cache and cookies. Even if you have an updated browser, but it has an excessive accumulation of cache and cookies, Yahoo Mail will still load slowly. So, it's imperative that you remove it. Here's how you can do so on the Chrome web browser.
Open Google Chrome on your computer.

Tap the three-dot icon present in the upper-right part of the window.

From the dropdown list, choose '

Settings

.'

Now, tap '

Privacy and Security

 from the panel on the left.

Tap '

Clear browsing data

' present below the '

Privacy and Security

 tab.

Choose a time range and tick all three boxes.

Now tap '

Clear data

.
After doing this, go back to Yahoo Mail and see how it's loading. Most probably, it won't take much time to load now.
2. Turn on JavaScript
If JavaScript is switched off in your web browser, you'll definitely find Yahoo Mail slow. Follow these points to enable it on Google Chrome, Edge, and Safari, follow these points. 
Chrome
Tap the '

More

' menu present in the upper-right part of the Google Chrome browser. 

Choose '

Settings

' from the dropdown that appears. 

At the bottom of it will be the '

Advanced

' section. Navigate to this section.

Then, head over to the '

Privacy and security

 section. 

Click '

Content Settings

.'

Now, tap the '

JavaScript

' option. To enable it, turn on '

Allowed (recommended)

.'
Edge
Open the browser and tap '

More Menu

.' 

Now choose the option '

Open with Internet Explorer

.'

Head over to '

Tools

' and then to '

Internet Options

.'

Choose the '

Custom Level

' option in this section below '

Security

.'

In the '

Scripting

' section, tap '

Enable

.'

Then tap '

Yes

' in the box that appears on your screen.
Safari
Open the Apple Safari web browser on your system.

Navigate to '

Security Preferences

.'

Below this section, switch off the security warnings.

Now enable the JavaScript.
3. Enable Caching
Yahoo! itself recommends you enable caching in order to avoid facing email problems. When you allow it, you will find that your mail runs faster.
Open Internet Explorer.

Next, click '

Tools

.'

After that, tap '

Internet Options

.'

Hit the '

Advanced

' tab.

Now, remove the check beside the box that says, '

Empty Temporary Internet Files folder when the browser is closed

.'

It is below the '

Security

' section.

Hit the '

General

' tab and then click '

Settings

.'

This option will be below the '

Browsing History

' section.

Tap the radial button for '

Automatically

.' It will be below the section '

Check for newer versions of stored pages

.'

Now modify the number you see in the '

Amount of disc space to use

.' Change it to 50.

Tap '

OK

' followed by '

Apply

.'

Click '

OK

' again.
4. Update Your Web Browser
Is your browser operating with the latest updates? If not, it can be a major cause of loading issues. We firmly recommend you examine if you are using the latest version of Google Chrome, Microsoft Edge, or Apple Safari. You must always access your Yahoo Mail account with a browser that's well updated.
Related Post:- Why Yahoo Email Not Working
Yahoo Mail So Slow on Android and iPhone? How to Fix It?
If you are wondering why is Yahoo Mail so slow on your Android or iPhone, it is mainly because of caching issues. Here's how to fix this problem on both these devices. 
Android
You can fix caching issues in your phone by clearing cached data. Here are the steps to perform.
On your Android phone, go to the '

Settings

' option. 

Now, tap the '

Manage Apps

' option.

In the search box, locate '

Yahoo Mail

.'

At the bottom, you'll see the '

Cache data

' option. Tap it, followed by the '

Clear cache

 option.

Now, press '

OK

.'

Next, tap the '

About phone

 settings.

Click on '

Storage data

' followed by '

Cached data

.'

Then, hit '

OK

.'

Now, launch Google Play Store. Search for Yahoo Mail. 

Install it on your phone again. 

Now, reboot your phone. 
iPhone
Poor or no internet connection, the airplane mode settings, and a problem in the iPhone settings all result in Yahoo Mail being slow. Here are the most effective fixes to make it faster on your iPhone.
Swipe the screen up on your iPhone and pause when you reach the middle. You'll find a list of apps you've recently closed.

Wipe these apps. 

Now, launch the Yahoo Mail app.

Examine your internet connection. Try to switch to Wi-Fi if you don't trust the cellular connection.

Check if you've enabled the airplane mode settings on your iPhone. Turn it off and check if Yahoo Mail is working properly.

If not, reset the settings. 

Open the Settings app. Go to '

General

.'

Then scroll to '

Reset

' and tap it.

Tap '

Reset All Settings

' and select it again to confirm. 

Wait for some time till your iPhone starts again.

Now, connect it to the internet and open Yahoo Mail. See if it's working faster.
Related Post:- How to Export Yahoo Mail
Final Thoughts
We really hope that after going through this guide, you can find out why your Yahoo Mail is slow. After determining the reason, you can troubleshoot the issue with suitable fixes. If you still find that your Yahoo Mail is not working optimally, it's best to speak with Yahoo support professionals.