Solutions To Use When Yahoo Images Not Showing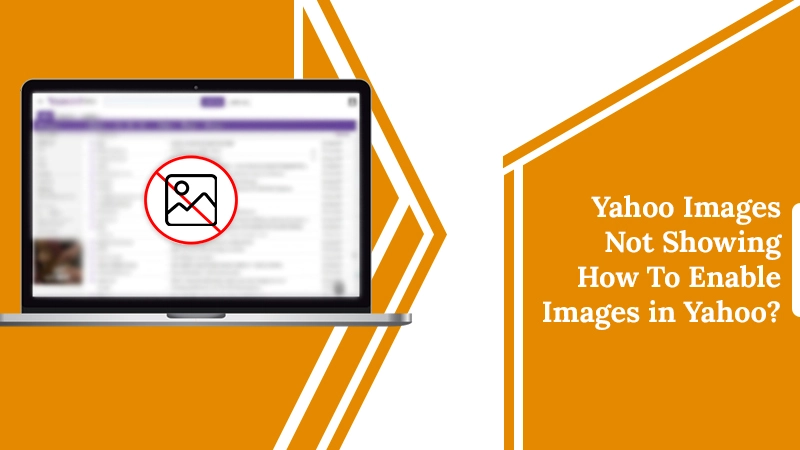 Yahoo Mail is feature-rich, which is what accounts for its popularity. But sometimes, technical glitches prevent it from working smoothly. Many emails that people receive contain images and media. These pieces of content have crucial information that needs to be read. So, if you notice Yahoo images not showing, it can turn into a frustrating situation. 
People report that they cannot access images in their Yahoo emails even though they haven't made any changes in the settings. Moreover, even after setting the 'Images' option on in the settings, they find no improvement in the situation. But there's no need to feel annoyed. Read this article to discover some effective resolutions.
Related Post:- Why Yahoo Toolbar Missing
Causes for Yahoo Images Not Showing
You may be unable to access images in Yahoo Mail due to minor glitches. All of them are fixable, so there's no cause for worry. But you must know about the reasons in order to resolve them properly.
You haven't enabled images in your Yahoo Mail.

Your browser isn't updated.

There are image display issues in your specific browser.

Excess cache and cookies are causing this issue.

The pictures are in a format that Yahoo does not support.

You have categorized Yahoo as one of the Restricted Sites.
Related Post:- Why Yahoo Mail Not Showing Contacts
Resolve Images Not Showing on Yahoo Issue
You must start by enabling images on emails. If that doesn't make the images show up, move on to other methods.  
1. Enable Images on Emails
You have the option to view pictures in a single email. Yahoo also allows you to set up preferences so that pictures appear in every message. Here's how to enable images in Yahoo Mail.
Log in to your Yahoo Mail. 

In the email body, tap the '

Show images

' option for displaying pictures. 

You can also click the '

Always show images

' option to make Yahoo immediately display all images. 

After that, tap the '

Settings

' option. You will locate it at the top-right part.

Now, choose the option of '

More settings

.' It is present in the lower part of the settings page. 

From the menu panel on the left, choose '

Viewing email

.'

Now select '

Always, expect in the spam folder

' below the '

Show images in messages

' section. 

Save your changes by refreshing the page. 
2. Modify the Picture Display Settings of Your Browser
You can also make changes in the display settings of your browser to fix the slow loading of images. Use these pointers to modify settings in the Google Chrome browser. It will help you to view pictures easily in your messages. 
Open Chrome and hit '

More

.'

Now choose '

Settings

.'

Tap '

Privacy and security

 and after that '

Site Settings

.'

Now, choose the setting you desire to update. 

If you need to modify settings for a particular site, head to the website in Chrome. 

Tap the icon you want present on the left of the website address. They include '

Lock

,' '

Info

,' and '

Dangerous

.'

Hit '

Site Settings

.'

Now you can modify a permission setting.
3. Remove All Browser Cache
You can also find Yahoo Mail not showing images if there are excessive caches in your browser. So, to maximize the performance of your browser and find your emails loading smoothly with images, remove the excessive cache. Follow these points to clear the cache in Chrome and Safari browsers. 
Remove Cache in Chrome
Begin by launching Chrome on your system. 

Now, tap '

More

' on the right part of the screen. 

Hit '

More tools

' and then '

Clear browsing data

.'

Select a time period to delete the cache and cookies. 

Choose the boxes of '

Cookies and other site data

' as well as '

Cached images and files

.'

Hit '

Clear data

.'
Remove Cache in Safari
In the Safari app, tap '

History

.'

Now, choose the '

Clear history

' option.

After that, tap the pop-up menu. 

Here you can adjust how far back you wish to delete the browsing history. 
4. Add Yahoo as a Trusted Site
If Yahoo is a restricted site, you will naturally face problems accessing your emails and images. To fix it, you must add Yahoo as a trusted site. Here is the process to do it on Google Chrome.
On the right part of the address bar, locate the icon of three horizontal lines and tap it.

Click '

Settings

.'

Go to the bottom and tap the link of '

Show Advanced Settings

.'

Tap '

Change proxy settings

.'

Tap the tab '

Security

.'

After that, click the icon of '

Trusted Sites

.'

Now, tap '

Sites

.'

Input the URL of the trusted site. In this case, it will be that of Yahoo.

Now, tap '

Add

.'

Lastly, tap '

Close

' followed by '

OK

.'
5. Check the Format of the Image
Another reason why you may find images not showing up on Yahoo relates to their format. If your image is in a format that Yahoo doesn't support, you won't be able to access it. Yahoo Mail is compatible with images and media in .PNG, JPG, and .JPEG formats. Images in any other format aren't supported by Yahoo Mail. 
So, you must ensure that your contact is sending you emails with pictures in one of these formats. Request them to change the format of the images in their emails so you can access them properly. 
6. Unblock the Yahoo Website in AdBlock
adBlockers work by putting a certain code into your web browser. This code blocks ads and adversely affects the performance of websites. It can also result in hiding various email messages in your Yahoo Mail. It's highly recommended that you unblock the Yahoo website if you face image display issues. 
Locate the AdBlock icon on your browser. It is present on the top-right portion. 

Now, tap '

Don't run on pages on this site

.'

Employ the site slider to turn it off on Yahoo websites.

Tap '

Exclude

' followed by '

Done

.'

Lastly, refresh the page.

Now take a look at an email with images. You won't encounter any difficulties. 
Related Post:- How to Block Ads from Yahoo Mail
Summing Up
You may find Yahoo images not showing from time to time. But now that you are familiar with the needed troubleshooting, you can take care of the situation. The fixes are all quite simple to understand and use. But if you require extra assistance, talk to a yahoo support service.