How to Reactivate an Deactivated Yahoo Mail Account?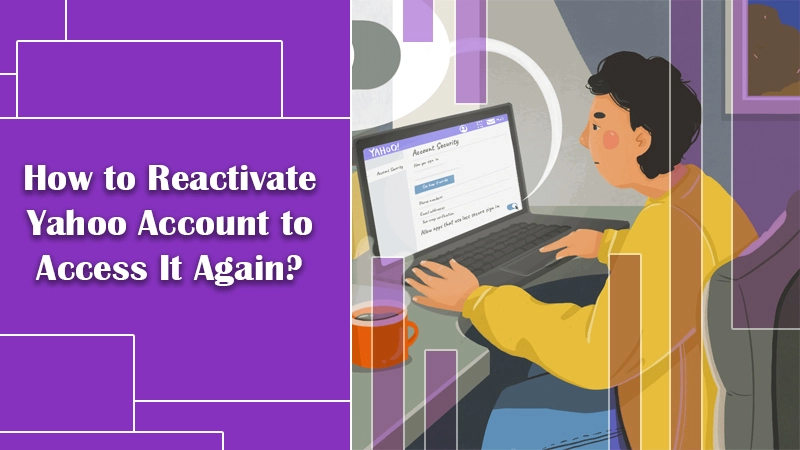 The Yahoo Mail service has over 225 million active users. Thus, you can easily say that it's the most extensively used email platform. Users can not only send and receive emails and manage contacts, but they can also do various other things like reading news and chatting with one another.
However, sometimes you may need to stop using the Yahoo account altogether and leave it unused for over a year. When you don't use it for a prolonged period, it may become deactivated.
In this case, to access it again, you might want to know how to reactivate your Yahoo account. Deactivated accounts can be recovered in some simple steps. In this article, you'll find the exact process of doing so.
Also Check: How to Stop Spam Emails on Yahoo
Methods to Reactivate Yahoo Mail Account
There are two ways to reactivate your account. You can do it through the sign-in helper and home page. But you need to ensure that your account can be reactivated. Yahoo will deactivate the account after 90 days of inactivity.
But all deactivated accounts can be recovered as long as they are used within the previous twelve months. If you haven't logged into your Yahoo account in more than a year, you'll have to make a new account. 
1. Reactive Yahoo Account Through the Sign-In Helper
It is the first method to reactivate your Yahoo account. To know how to reactivate the Yahoo account due to inactivity via the sign-in helper, follow these instructions. 
Launch the Yahoo Sign-In page. 

You can locate it by tapping the 'Sign-In' button located on the top-right part of the Yahoo Home page. Alternatively, you can navigate to

https://login.yahoo.com

.

Sign in to your account. Even though the account is deactivated, Yahoo will retain your credentials. So you can sign in and recover your Yahoo account.

When you sign in to your account, you'll be given some recovery methods. Yahoo will verify your identity by connecting with you through your mobile or another email address. Input the confirmation code that Yahoo sends to you on your phone on the computer. 

After verifying your identity, tap 'Continue' to sign into your account and confirm the reactivation. Yahoo will also provide you with an option to change your password. You can choose it if you want.
2. Reactivate Account Via Home Page
It's the second method to reactivate the Yahoo account. You can do it through your Yahoo home page. The steps for it are as follows.
Launch a web browser. Then go to the Yahoo home page. 

You'll see the sign-in window. Here input your Yahoo email ID and choose 'Next.'
If the account can be recovered, you will see 'Select an option.'

Now you can choose any of the recovery methods. They include either email or text.

Now type in your verification code. You would have received it in your email or through text.

Enter the verification code correctly. After that, you'll have to set a new password for your account.

Tap the button 'Continue' and change your password.
After you have set the password, tap 'Continue.'
You will also be asked to confirm your Yahoo account recovery settings. Choose the Pencil icon to modify or choose 'Add email or mobile number' to add more information to the Yahoo Mail account.
If you don't want to follow these steps or change any information, tap 'Looks good to continue.'
Recover Yahoo Account When You've Forgotten Your Password                               
Suppose you face a situation where you want to know how to recover a disabled Yahoo account, but you've forgotten the password. In that instance, you must go over to the Yahoo account Password Recovery page. Here you can make a new password and access your Yahoo mail. 
Launch a web browser and go to the Yahoo Sign-In page. 

Input your Yahoo username in the username section and choose 'Next.'
To continue, tap on the link 'Forgot Password.'

You'll be asked to input either your phone number linked with your Yahoo account or an alternate email ID. 

In the subsequent screen, input the verification code you've received either in your email ID or on your phone number. 

If you've entered the code correctly, you'll be asked to create another password. 
Final Words
After reading this article, you'll know exactly how to reactivate your Yahoo account. An extended period of inactivity will cause your Yahoo account to get permanently disabled. But you can recover it again by following the stepwise instructions given in this article.
If you cannot complete the process as described or have some queries in your mind, please contact professional Yahoo support services. The experienced technical experts will help you troubleshoot all kinds of Yahoo email problems.