How To Recover A Hacked Yahoo Mail Account?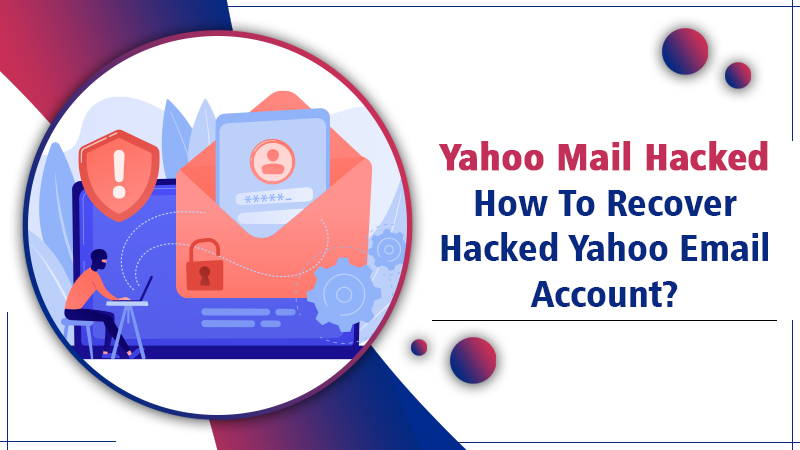 Having your Yahoo mail hacked, whether you're a Yahoo Small Professional subscriber or a user of Yahoo's basic free Web-based email service, can have serious consequences for your business and personal life. Especially if you have additional accounts linked to your Yahoo email address (such as social media accounts, logins for websites, and services such as PayPal, or an eBay storefront). It's critical to act as soon as you believe your Yahoo account has been compromised.
Related Post:- How to Block Unwanted Emails on Yahoo
Warning Signs of a Hacked Yahoo Mail Account
Because your Yahoo Mail account contains sensitive email messages, financial information, files, and images, you should never give anybody else access to it. There can be many reasons for your yahoo account being hacked such as a weak password (simple to guess), accessing your account from an untrusted device or browser, or mistakenly clicking on a phishing link. 
Your Yahoo email account isn't receiving emails anymore.

Your Yahoo contacts are complaining about spam messages they've received from your email account.

And, your email account has been accessed from places you didn't expect, such as foreign countries. In the "Recent Activity" area, you can keep track of this.

Without your knowledge, your Yahoo Account information or Mail Settings, such as a reply-to address, email filters, and so on, have been modified.

Your Yahoo mail login password or recovery information has been changed by someone.
Drawbacks Responsible for Yahoo Email Being Hacked
Hackers have an easier time breaking into your Yahoo Mail account for a variety of reasons. The following are some of the most common reasons:
You're using the same password for your Yahoo Mail account as you do for another one.

You've used a password that's simple to guess, such as password1234, Yah00, or passw0rd.

Or, you used an untrusted device or a public computer to access your Yahoo mail account.

You shared your password with an unknown individual, a coworker, or a family by accident.

Or, you were the victim of an email phishing scam. (You accidentally clicked on a phishing link) You used an insecure Wi-Fi network to access your Yahoo account.

Your email address has been inundated with spam.
Steps to Recover Hacked Yahoo Mail Account
Resetting your password allows you to recover a hacked Yahoo mail account while also preventing the other person (who hacked your account) from gaining control. Simply follow the procedures outlined below to reset the password for your hacked Yahoo account.
Make sure you have access to one of your account's account recovery methods before proceeding with the instructions below. Account recovery methods include providing a phone number or email address to prove your identity as the account's legitimate owner.
Go to the Yahoo sign-in page using a compatible browser on your computer. In the supplied space, type your Yahoo email address, username, or cellphone number, and then click on the Next button.
Click the "Forgotten Password" link underneath the "Following" button on the next screen, where you'll be asked to enter your account password.

You will now be asked to choose an account recovery option (phone number or email address) for your account. To gain access to the option you identified, click on it.

When you choose one of the recovery options, Yahoo will send you a six-digit verification code to the phone number or email address you provided. Now, in the appropriate field, type the 6-character verification code and click "Verify."

Your account has been restored, and you may now access it using your new password.

Click "I need additional alternatives" if you don't have access to the provided recovery phone number or email address.
You now have two choices for regaining access to your hacked Yahoo account using Yahoo Mail –
Call premium customer service – This is a Yahoo-provided paid customer service.

Visit our free help site – We provide free support in the form of help articles. (There is no free phone assistance)
How to Make Yahoo Mail Un-Hackable
Several email clients have been targeted by face phishing attempts or have been compromised by an incursion that would eventually steal all of your data. So, to protect your data, you must make your Yahoo Mail account secure enough to avoid invasions and harmful entities.
1. Disable the Email Address First
When you receive messages from persons you don't want to hear from, you may easily prevent them from receiving more than one email from them. Keep in mind, though, that you can't block undesirable email addresses on Yahoo Mail's mobile version. So far, this is only applicable to the desktop version.
To restrict email from certain people in Yahoo Mail, click the 'Settings' Gear symbol.
From the drop-down menu, choose 'more settings, then go to the 'Security' and Privacy tab.
After clicking the + Add key, go to the Address field and type the email address you wish to block.

It's over after you've tapped Save.
Also Read: Yahoo Verification Code Not Working
2. For Yahoo Mail Security, Always Use a Strong Password
Setting a strong password to encrypt your Yahoo Mail account is one of the most critical measures you can do to keep your account safe. A combination of upper and lower case letters, numbers, and symbols is the best method to create a secure password. Make certain that you never use your personal information as a password. Now you may use the instructions below to safeguard your Yahoo mail account by creating a password.
To begin, log in to your Yahoo account and go to Profile in the top-right corner, then tap on 'Account Info' to access settings.
Then, from the left pane, pick 'Account security. Once you've selected Account security, you'll see a Change password option in the left corner.

After that, you may change your Yahoo account password.
3. Two-Factor Authentication should be Enabled
Enabling two-factor verification is a fantastic approach to secure your account after picking a strong password. To sign in again after activation, you'll need to input a code delivered to your phone in addition to your password. It assures that even if your password is stolen, no one can access your account without your phone's authorization.
To begin, sign in to your Yahoo mail account.

Navigate to the 'Account Info' page under the Account Security tab.

On the Two-Step Verification switch, turn it on.

Yahoo will then ask for your phone number.

Enter it, then choose whether you want a text message or a phone call with your code.

Enter the code and click 'Verify' when you receive it.
Final Words
The purpose of this post is to explain how to safeguard your Yahoo email account from hackers and how to recover hacked Yahoo mail account. To safeguard your Yahoo Mail account and keep it safe from hackers, take these steps. In addition to attempting these approaches, you should make a backup of your Yahoo mail data to do data recovery in the event of a data loss. I hope this information aids you in securing your Yahoo account. For any assistance, you can contact our Yahoo support team 24×7.