How to Forward AOL Mail to Gmail? | Step-By-Step Guide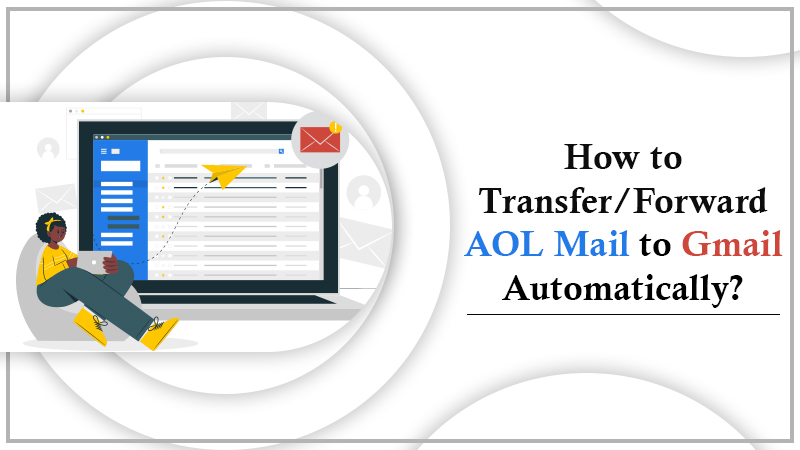 Having many email addresses might be inconvenient, but it doesn't mean you have to check all of them every day to stay on top of things. You can automatically Forward AOL mail to Gmail. If you were looking for a way to do so, you have arrived at the right place. After this tutorial, you will be able to settle the issue 'How to Forward AOL Mail to Gmail'.
The below are the reasons you should forward AOL Mail to Gmail:
It allows you to relocate all of your emails for a month, including contacts, calendars, and new emails.

It will be easier to view all of the emails if they are forwarded to Gmail.

Important emails aren't lost since they're still in your Gmail account if you lose them from your AOL account.
Also Check, How to:- Recover Missing AOL Contacts
A Brief of Gmail and AOL
AOL:
AOL Mail is AOL's free online email service. Both America Online (AOL) and Delphi began using the Internet to connect their private email services in 1993. AOL Mail had over 9 million subscribers by 1997, making it the world's largest email service provider.
Gmail:
Google launched Gmail, a free webmail service. A person can use a professional program to synchronize email material using POP or IMAP protocols simply, or they can use the web to reroute to Gmail. Gmail was launched on April 1, 2004, with one gigabit (GB) of additional storage, which was a significant increase above the competition at the time.
Also Check: How to Block Emails on AOL App and Web Browser?
Forward Emails from AOL to Gmail
This guide will show you how to forward AOL mail to Gmail, but the process is similar for most other email accounts. The processes for forwarding any email into Gmail are the same; you only need to change the source email account data. The rest of it should be the same.
Go to Gmail and sign in.

Select the Accounts and Import option.

Add an email account and check email from other accounts.

Enter your AOL email address and click next when prompted.

Check the email server information and, if requested, enter your AOL password.

To maintain copies with AOL, choose 'Leave a copy of retrieved messages on the server.'

Select the Add Account option.
You can also set this process to Conveyor belt to be done automatically by following the below-given process.
To begin, go to the Settings tab and select the Accounts and Import option.

Now select Add A Mail Account from the drop-down menu.

Then, to continue, enter a valid AOL email address and click Next.

Next, select Link Account with Gmail from the drop-down menu.

To provide access to Gmail, sign in using your AOL account in the following pop-up window.

After reading the agreement, click OK.
You can also check your mail directly on Gmail.
Go to "accounts and import" and select "Add POP3 mail account to your account." This technique allows you to forward emails indefinitely.

Adding a POP3 account –

Gmail may be used to check AOL emails.

Fill up your AOL email address and password.

Then click the box "Label Incoming Messages," which will let you forward all of your AOL emails to Gmail while also separating them from regular emails.

Before selecting "add an account," choose "leave a copy," which allows you to save a copy of the email in your AOL account as well.
Conclusion
We have answered the question 'how to forward AOL Mail to Gmail' in this blog. Who wouldn't be able to learn after following the most effective procedures with simple-to-follow steps? If you're still having trouble in the process of forwarding AOL emails to Gmail, don't worry! You can contact our AOL desktop support 24×7 for any help or support.