How to Block Emails on AOL? – A Complete Guide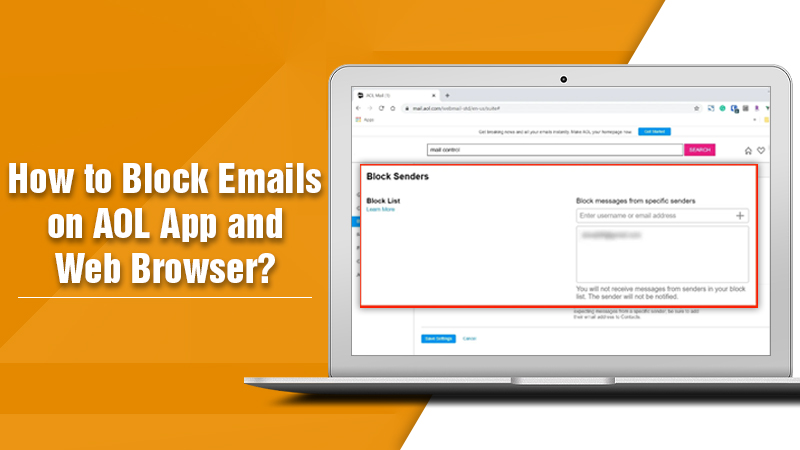 Millions of people widely use the AOL email service. But like any other mail, users often face the problem of having their inboxes filled with unnecessary emails. So, it's essential to know how to block emails on AOL. When you don't take the time to do away with unwanted emails effectively, your inbox can become cluttered and unorganized. You will then face a lot of problems in finding an important mail when the need arises. Sorting unnecessary emails manually is indeed a difficult task. In this post, you'll discover exactly how you can block irrelevant emails on AOL. 
Also Check, How to:- Recover Missing AOL Contacts
How to Block Emails on AOL on Desktop?
The AOL email provides you with a spam filter. It cuts all the unnecessary emails, and thus you receive messages that are relevant. Follow these steps to block emails on AOL effectively. 
Sign in to your AOL mail account via the AOL desktop application or the web browser.
On the toolbar, tap on 'Options.' Then choose 'AOL Mail Settings.' Now choose 'Spam Setting.' 
Choose 'Spam Controls' from the menu of 'Settings.' Then tap 'Edit Spam Controls.'
Change the setting of 'Sender Filter' to 'Block Mails From Addresses I specify' if you wish to block messages from specific domain names or addresses. 
In the first field, put email addresses. Place '+' after you input the first addresses. If you utilize a web browser, you are required to place the entire email address. 
How to Block Emails on AOL on Smartphone App?
It's very easy to block emails in the mobile app of AOL. Here's how to block emails on AOL on Android and iOS. 
Start the app on your tablet or smartphone.

Press a specific email from someone whose mail messages you desire to block.

Now tap the menu of hamburgers. It is present at the bottom-right part of the screen.

Choose the option of 'Mark as Spam.' 

Repeat this procedure for all those senders whose emails you want to block. 
It's essential to mark every unwanted mail message as spam whenever you receive it. Otherwise, they tend to pile in your inbox. If you want to know how to block unwanted emails on AOL, do it by blocking all mails from the existing email provider. If you desire to block all the email messages from your prior employer, then input their domain name in the required field. 
How to Block Emails from Everyone Except Your Contacts?
Many users of the AOL email service use their mails to exchange messages with a few of their close contacts, like family members, friends, or work buddies. If you're one of them, you can think of blocking emails from every sender except your contacts. In AOL, this procedure is quite simple. Follow the steps below for doing it.
Open your preferred web browser and navigate to 

https://mail.aol.com/

. 

Sign in with your credentials, namely email address and password, when you are asked for it.

Navigate to 'Options' and then to 'Mail Settings.' Now go to 'Block Senders.' Check the option of 'Only accept messages from people in your contacts.' 
Tap 'Save Settings.'
Also Check:- How to Recover Old AOL Emails
Steps to Block Images in Emails
There are various benefits to blocking emails on AOL that contain images. It allows you to save a lot of storage space. You also shield yourself from various email threats, like those that have malicious links in them. These links are often in the form of harmless background images. Follow the steps given below for blocking images in your AOL emails.
On your preferred web browser, navigate to 

https://mail.aol.com/

. 

Sign in to the AOL mail with your email address and password.

Navigate to 'Options.' Then go to 'Mail Settings.'
After that, select 'General.'
Choose the 'Hide images' in the option of messages from unknown senders. You will find it in the Reading section.
Now tap 'Save Settings.'
How to Block Email Address on AOL Desktop Version Before 10.1?
If you have an AOL desktop version before 10.1, then also you can block an email address. The steps for it are very straightforward. Follow them carefully.
Log in to your email account.

On the search box, input 'Mail Controls.' Now press 'Enter.'
You will notice a pop-up box appearing, which says 'Block mail from addresses I specify.' Here, fill in the email addresses of those persons or businesses whom you desire to block. Note that you need to input a comma if you are entering multiple email addresses. 
Now tap 'Save' to enable the setting.
Read Also, Why: AOL Mail Not Working On iPhone
Techniques to Block Unnecessary Emails on AOL
Many users want to know how to block unwanted emails on AOL as they get tired of getting a number of newsletters and emails from businesses that they don't want to interact with. If you are also facing a similar situation, then you can implement certain techniques to protect your AOL from unwanted emails. They are mentioned below.
Be alert when you share your email address. Suppose you have shared your email address on various online platforms numerous times. In that case, you'll have a greater chance of getting unwanted emails. Your inbox will likely be filled with spam, promotions, and newsletters.

Be cautious when you respond to unnecessary emails. If you receive an email that is spam, don't respond to them. These emails are unwanted, and you should delete them as soon as you receive them. 

Always make it a point to scan all the attachments that you have downloaded through good anti-malware software.
Wrapping Up
Now you know the answer to how to block emails on AOL. You can block emails on your web browser and your smartphone app. You can also block email from everyone except your contacts by checking the needed options on your mail settings. Blocking images and emails is also very simple. Finally, implement various techniques to protect your AOL email account from unwanted and possibly malicious emails. Connect with the AOL customer support team if you still find yourself struggling with unwanted emails.