If you want to download email, IMAP is meant to be the best option for any email client. Now in case any user wants to access AOL Mail and work with any compatible email client, IMAP is necessary. First, mention specific details about AOL Mail and then work upon the IMAP server settings. All your messages can be accessed with the AOL Mail IMAP server. Thus, you need to AOL Email settings to retrieve the notifications.
Why AOL prefer IMAP server settings?
AOL suggests using IMAP setting over POP3 and SMTP. Although both these protocols are supported by AOL. However, there are a few points that IMAP beats in terms of features.
Like: IMAP has the potential to sync the particular service with AOL Mail account. Thus, whatever actions you perform on email service or app also shows in AOL Mail interface at AOL. But, POP fails to do so. Instead POP makes a copy of the email.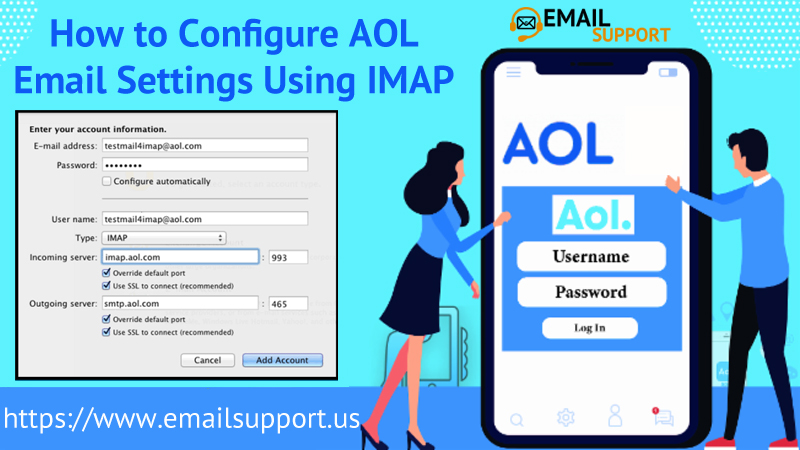 What are the AOL IMAP Settings?
At the time when you set AOL email providers to various other email providers,  you will enter specific details. This allows other providers to use your AOL Mail. Below are some IMAP Settings to receive AOL Mail:
AOL Mail IMAP server address: imap.aol.com
AOL Mail IMAP username: AOL Mail email address
AOL Mail IMAP password: AOL Mail password
AOL Mail IMAP port: 993
AOL Mail IMAP TLS/SSL required: Yes
 Which features are unavailable on other Mail Applications?
Below this article includes what other apps fail to have the feature over AOL email settings:
Message status: Unable to access unread messages and the user cannot see the status of sent messages. AOL mail allows that.
Spam: Users do not get permission to use the Report button. Whereas, AOL Mails gives access to report spam any messages that are harmful.
Delete Mail: Different email applications have different settings. Some allow seeing the deleted emails and some do not show the deleted emails.
Note: In some mobile app when you try to setup AOL Mail, there is no need to enable IMAP settings. For example: If we talk about the iPhone Mail app, you simply need to open iPhone's setting>Accounts section>select AOL icon. This phone is preconfigured with IMAP settings. You only need to mention the username and password.
AOL SMTP Settings
If you want to send a new email from your AOL Account, fill the SMTP settings details during the account setup to send the outgoing emails from your AOL Mail account. Below given are the details you need to fill in the required space:
SMTP Outgoing server address: smtp.aol.com
SMTP port: 465
SMTP security: TLS/SSL
SMTP username: AOL email address
SMTP password: AOL password
Technical Helpdesk
Did you follow the above-given steps for AOL Email IMAP Settings? If in case you could not receive the final result then there must be some technical issue. However, it's not any giant issue that cannot be resolved. To rectify the issue, get in touch will the technical expert email support team and acknowledge them about the persisting problem. They are highly-skilled and will not take much time to share the solution. Availability is 24*7. Thus, you can connect with the group anytime.
Frequently Asked Questions (FAQs)
Is AOL a POP or IMAP server?
POP and IMAP are two different types of protocol that you can use while setting up a third-party email app in order to download a copy of AOL email or to send or receive mails.
POP downloads a copy of your emails from your account to the app. Therefore, if you delete an email from your account post download, you will still have a copy in the app.
On the other hand, IMAP constantly syncs the app and your account to keep the data in both places alike. This means that if you take an action in the folder then the changes will apply to your account at AOL Mail as well.
How to set up AOL email on Android?
If you are having a hard time figuring out AOL email setting in your android device then you are at the right place. Firstly, open Gmail app settings and select 'Add Account' then click on 'Exchange and Microsoft 365'. You will be asked to enter the ID and password in the next step. Once you do that, change your server to outlook.office365.com on the incoming server settings screen. You might be prompted to confirm 'Remote security administration' and approve additional security measures. Click on 'Ok' once you are done.
You might not be able to sync initially as for that you need to grant access and you are all set to use AOL email on Android.
Why does my AOL email not work?
If your AOL email is not working then there could be a number of reasons behind it. There might be an issue with the mail server and this backend problem could take some time to get rectified. It could also be because of an increase in traffic or some routing problems. The best solution is to wait patiently but if your AOL email still doesn't work then you can try getting in touch with the customer care. They will be able to tell you whether it's a backend problem or it has something to do with your browser.
How do I set up AOL in Outlook?
If you want to setup AOL in Outlook then open Outlook in your system. Then go to 'File' and select 'Add an Account'. Enter your mail ID on the next screen. You will come across the option of 'Advanced settings'. Click on it and select 'Let me set up my account manually' and then select 'Connect' once you are done. You can select the account type and enter incoming and outgoing server settings then click on 'Next'. Once you are done, enter your password and select 'Connect' and you will be able to use your AOL Email in Outlook.
How do I reset my AOL mail settings?
AOL email comes with a number of benefits. One benefit that appeals to everyone is the high level of customization. You can personalize the way you write emails, the general layout of your mailbox and so much more. In order to reset your AOL mail settings, you are required to sign in to AOL Mail. You will see a list of options under your name. Click on 'Mail settings' and click on the tab for which you would like to reset the settings. You will see General, Compose, Filter, Calendar, and Ads under the settings tab. Select the one that you want to reset and follow the on-screen instructions to pick the option as per your convenience.
What are the pop settings for AOL Mail?
To configure pop settings for AOL mail, click on mail settings and select 'General'. Make sure that all the settings in the general tab are accurate. Make changes, if any, and then click on 'Ok' to exit the menu. Click on 'Incoming server' and then select 'POP mail server'. Check the user secure connection and click on 'Verify Certificate'. Enter Port 995 and Port Settings as POP3-995-SSL. These are the pop settings for AOL mail.
Is there an app for AOL email?
If you are wondering whether there is an app for AOL email then the answer is Yes. With the help of AOL app, you can stay updated on the latest news around politics, entertainment, US and world news, finance, sports, lifestyle, and weather.
You can manage your AOL mail from literally anywhere and access fast-loading email. You can have all your AOL mail and contacts at a single place. Delete emails, move, and mark or flag them just at a swipe.
You can see daily weather just with a single tap and get customized notifications too.
Enjoy videos and stream live NFL games from any place.
In order to install it in an android device, go to Google play store and search for 'AOL'. Install 'AOL- News, Mail and Video' and enjoy the experience.
For IOS, search for 'AOL' in the app store and tap 'Get' next to 'AOL: News Email Weather Video'.
What is the AOL mail server?
The incoming AOL mail server is POP and outgoing mail server is SMTP. You can use IMAP protocol as well. Use the following details to configure-
POP server:
Incoming server- POP mail server
Port Setting- POP3-995-SSL
SMTP server settings:
SMTP server address- smtp.aim.com
SMTP username- Your email ID (Make sure you fill in the complete mail address)
SMTP Password- Your AIM mail password
SMTP port- 587 or 465
SMTP TLS Required- Yes
SMTP SSL Required- Yes
IMAP server settings:
IMAP server address: imap.aim.com
IMAP username: Your email ID (kindly fill in the complete mail address)
IMAP password: Your AIM mail password
IMAP Port: 993 or 143
IMAP TLS required: Yes
IMAP SSL required- Yes
Is AOL email going away?
AOL messenger was shut down by the company back in 2019 and people confused it with AOL email. However, AOL email still exists and has a huge database and active users as well.
AOL launched a separate app for AIM in May of 1997. The app competed with various other instant messaging services including ICQ and Microsoft's MSN Messenger but became the most popular messaging app in the U.S in no time.
Some of the features that contributed to its popularity were a buddy list that was structured to keep track of dozens of contacts, a profile page, and an away status message. You can still use AOL email though.
How do I reset my AOL IMAP password?
First of all, don't get confused with the usage of the word 'IMAP password'. It is the same as your AOL email password. If you want to reset your password then you are at the right place.
If you already know your existing password and wish to reset it then open AOL mail in the web browser and sign in. Click on your profile picture which is located at the top right corner and you will see your account page. After that, go to 'Account Security' and select 'Change Password'. Enter the new password and click on 'Continue' to save changes.
If you have forgotten your password then open the sign-in page on the browser, enter your username and click on next. When you will be asked to enter the password, click on 'Forgot password?' Follow the on-screen instructions at it will be different for different users based on the desired recovery method. You will be able to create a new password after entering the code.
Can't connect to AOL?
If you can't connect to AOL then you don't have to worry as we are here to save the day. For the starters, clear the browser's cache and cookies. Try to close and then restart your web browser to see if you can still access or not.
If it doesn't work then try accessing AOL is a different web browser. You can also try to log in their different sign-in page.
If you can't connect because you have forgotten the password then reset it by going to the login page and following the on screen instructions.
How do I forward AOL Mail to Gmail?
If you don't want to check your Gmail and AOL mail separately then you can access it easily via Gmail. First of all, login to your Gmail account. Select the cog icon which is located on the right side and then click on 'Accounts and Import'. You will come across an option 'Check emails from another account', select it and then add the account. Enter your AOL email in the pop up window and click on 'Next'. Inspect the email server details and enter your AOL password when asked. Make sure to select 'Leave a copy of retrieved messages on the server' so that you have mails in the AOL email as well just in case you want it. Finally, select 'Add Account' and you can now access AOL email in Gmail as well.
How can I access my old AOL email account?
If you have forgotten the username of an old AOL email account and want to access it then you surely can get your old account back. For that, go to the sign in helper. Enter the recovery email address or phone number, whichever you still have access to. Click on continue and you will see an option to get a verification code, select it to receive the code on either your mail id or number.
Enter the code in the next window and you will have access to your old AOL email account. Please note that only accounts associated with the phone number or email address will come up. If the username you are looking for isn't displayed then it means that the phone number or email address you provided isn't linked with the account.
Can I have two AOL email accounts?
Yes, you can have as many AOL email accounts as you want. In order to have another email, go to the sign in page and click on 'Get a free AOL screen name now'. This will navigate you to the registration page. Follow the instructions displayed on the screen and fill out all the required information. This contains your name, email address, and password, recovery questions and answers, ZIP code, birthdate and a CAPTCHA code. Once you are done, cross check and submit the details. Start organizing your new email address by selecting the option "Access Email Now." You will be asked to import contact lists. You can also click the "Settings" link to make any changes to account security and notification.
What are AOL IMAP settings?
You can use your AOL Mail and respond to it in any compatible email app by entering precise information about AOL Mail and your account. Input the AOL Mail IMAP server settings to access AOL Mail messages and folders in Outlook, Mac Mail, Windows 10 Mail, Thunderbird, or in an email app for a compatible provider.
AOL IMAP settings are as follows-
IMAP server address: imap.aim.com
IMAP username: Your email ID (kindly fill in the complete mail address)
IMAP password: Your AIM mail password
IMAP Port: 993 or 143
IMAP TLS required: Yes
IMAP SSL required- Yes
How do I fix IMAP AOL not responding on my iPhone?
You have nothing to worry about if AOL is not responding on your iPhone as it can be fixed quickly. First of all you are required to unlock Google Captcha if you haven't done that already. Visit https://www.google.com/a/domainname.com/UnlockCaptcha and change the domain name. Enter your Gmail account's id and password. You will see a captcha phrase on the screen. Enter it carefully and follow the on screen instructions in order to complete the process. Once you are done, click on 'Unlock' and this should pretty much solve the problem for you.
At times, the incoming and outgoing server info of your email account might no longer be acknowledged by the email server. In this case, try to eliminate the email account and reinstall it so that the Mail app easily auto-configures the correct settings to restore your mailbox.
Why is my IMAP server not responding?
If your IMAP server is not responding then it could be because of a number of reasons. It could be because of issues in the internet connection or because of some technical backend issues.
It stops responding due to a large number of incoming and outgoing emails. Please check if you have entered the correct password or not.
To fix it, try uninstalling and then reinstalling our AOL account. See if the account details have been updated or not and check the login credentials as well just to be sure. You can also manually configure the IMAP connection and restart the system and it will be as good as new.
You can also check for an app update because if you are running an older version then you are bound to come across the issue of the IMAP server not responding.