Top 5 Techniques To Fix AOL Mail Not Working On iPhone Issue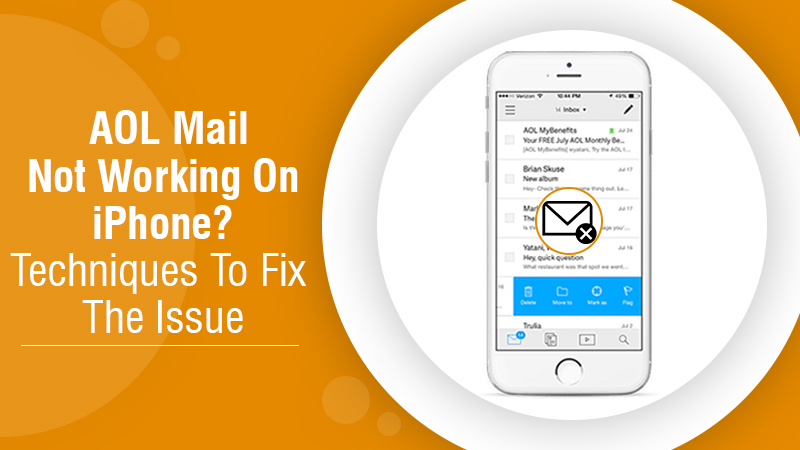 AOL is a high-performing service offered by Verizon Communication. Although it provides many web services, the email service it offers has highly appealed to the audience. People usually add AOL to various devices, like iPads, iPhones, and mobile phones, for availing smooth access to their AOL email information. However, AOL mail not working on iPhone is a problem that many people have reported. It is not a small problem, as the damage created by it can long. In this guide, you'll find effective ways by which you can troubleshoot all your AOL email issues on your iPhone. 
Read Also: AOL Mail Not Receiving Emails? Here's How To Fix This Problem!
Troubleshooting Techniques To Fix AOL Mail Not Working on iPhone Problem
Whenever users find AOL email not working on iPhone, they feel panicked if they will ever be able to use this mail service again. But you don't need to be afraid of this situation. Given below are various solutions to fix AOL email on your iOS device and get it working again.
1. Resolve Network Issues
AOL is a web-based service. In the absence of smooth internet connectivity, it won't work. If you've connected your iPhone to Wi-Fi, turn off your router and start again. If you use your mobile data to access AOL webmail, try the Airplane mode to resolve your network issues. You shouldn't enable Airplane mode all the time. But for fixing this issue, you can enable it for some time and then disable it again. Do the following.
Navigate to the 'Settings' and tap the 'Airplane mode.'

Toggle it to enable.

Now, toggle it one more time to disable.
2. Reconfigure Your Network Settings
Another method to fix network issues is to reset your network settings. This method will help you, especially if you find your AOL mail not responding on iPhone. Do the following.
Navigate to the 'Settings' of the iPhone. 

Choose the option of 'General settings.'

Now, from this setting, choose the option of 'Reset.'

Choose 'Network Reset.' It will reconfigure your iPhone's network settings.

Now you can connect your iPhone back to the network. Your issue will be resolved. 
3. Use 'App Password' Rather than Login Password
This notice was dispatched to a majority of AOL users for updating the security settings of their accounts. AOL now asks its users to log in through more secure methods. As part of it, AOL has asked all iPhone users to create and use an app password rather than their AOL account password. You can now make an app-specific password on AOL. Go through the steps below to create this password.
From your browser, log in to your AOL mail account.

Tap on options drop-won and choose 'Account Info.'

In the succeeding screen, choose the option of 'Account Security.'

You can also access the account security page of AOL by tapping on

AOL

link.

Now you are required to log in again to your AOL mail account.

Choose the option of 'Generate App Password.'

Now you need to choose your app. Select 'iPhone Mail.' Now tap 'Generate.'

You'll now see the app on the screen. Copy and paste it to a place from where you can safely use it later. Tap 'Done.'
After creating the app password, you should remove the AOL email account from the iPhone and add it again by using the app password. 
Read Also: How To Reset AOL Mail Password If You Have Forgotten It?
4. Remove and Then Re-add Your AOL Account on Your iPhone
This step follows from the prior solution to troubleshoot the AOL email not working on iPhone problem. You need to remove and re-add your AOL account from your iPhone. For removing the AOL account, follow these steps.
Tap the 'Settings' icon on your home screen.

Now tap the 'Mail' option. 

Choose your AOL account from all those that you have added. Click 'Delete Account' for removing the AOL account from your iPhone. 

Tap 'Delete from My iPhone.' It will confirm the deletion of your account.
For re-adding the AOL account, follow these steps.
Launch 'Settings' and then select 'Password' or 'Account.'

Choose 'Add Account' in the account section.

Choose the AOL email service name on your screen. Select 'Other' if you don't find it.

Input your AOL email address and password and tap 'Next.' Your account will get set up. Alternatively, you can also set up the AOL email account manually by inputting the mail server settings.
How to Setup Your AOL Email Account Manually?
For doing this, you need to add IMAP and POP settings correctly. Follow these steps.
Open the tab of IMAP and enter the following:
Imap.aol.com is the hostname.

Type your AOL email address in front of the username.

Type your password.
Select 'Next' and add in the POP settings.

After your iPhone matches the settings with the server, click 'Done.'

After the matching settings are found, click 'Done.'
5. Inspect the AOL Server Status
The problem of AOL mail stopped working on iPhone may lead users to think that there's something wrong with their device's settings. However, it may also be that the issue is with AOL itself. If you feel that the issue is on their end, it is highly suggested that you visit Downdetecter.com. Here you can find the status of AOL. If there's some problem, the screen will show you a message in yellow saying 'Possible problems at AOL.' 
If the problem is with AOL, then it's likely that you'll face problems with your email during the morning time. The AOL team operates consistently to eliminate all hindrances. More often than not, the problem will resolve by the evening.
Summing Up
Now you don't need to worry whenever you encounter the problem of AOL mail not working on iPhone. There are various troubleshooting techniques you can implement. From resolving network issues to reconfiguring the network settings, there's much you can do. iPhone users can also use the app password rather than the login password to fix this problem. Don't forget that you can contact expert AOL email support whenever you desire for resolving all your email problems.