How to Recover Deleted AOL Emails? – Let's Recover!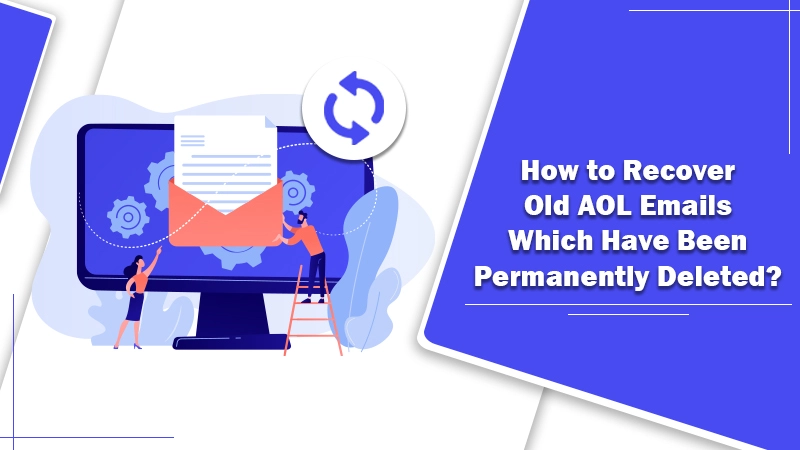 AOL is a free email service that people have been using for decades. Although the email service helps users send and receive emails seamlessly, sometimes they can accidentally delete AOL email messages while working. It can become a worrying situation if a person does not know how to recover old AOL emails or those that got deleted by them mistakenly. If you are facing such a problem, there's no need to panic. Follow this guide to know the steps to recover your AOL emails that are a week old. You'll also learn how to recover emails that are even older than that.
Also Check, How to:- Recover Missing AOL Contacts
How to Recover Old AOL Emails That are Up to 7 Days Old?
It is possible for you to unknowingly delete AOL emails and later find that they were important ones. In this case, you need to take steps to retrieve them. You can do it from the trash folder. But note that it shouldn't be more than seven days since you deleted them. AOL emails get stored in the trash folder after the user deletes them. They stay in this folder for seven days before being permanently removed. Here's how you can restore your emails from the trash folder.
Launch AOL and log in to your account.

Choose the icon that showcases the 'Trash' folder. You can find it on the left part of the web interface.

Now you'll notice the list of all those AOL emails that you have deleted within seven days. Choose those that you want to recover and then choose 'Action.'

Proceeding forward, tap 'More' or 'Action.'

Next, scroll down to 'Move to.' You'll notice a dropdown menu appearing. Select 'Inbox.' That's it. You will find the deleted emails back in your inbox.
 Also Read: Recover Deleted Emails on Mac
Process to Recover Deleted AOL Mails Which are More Than 7 Days Old
Many AOL users have a burning question in their minds. They want to know how to recover deleted emails from AOL that are more than a week old. You can certainly recover permanently deleted emails. However, the chances of recovery will be based on where the emails are stored. Below are two cases for retrieving permanently deleted emails from AOL. 
Retrieving Emails that are Permanently Deleted from the AOL Server
A user's email data is not stored on their system if they use the web AOL Mail. It gets saved in the AOL server. So, in case the user mistakenly deleted an email message online, they can connect with the email server administrator for email recovery. When you contact the administrator, you will get all the details. You need to ensure that you understand all the information you are provided with. It is the only method through which the user can retrieve deleted emails. 
However, a point to note is that retrieving your email through a mailbox server is not free. You need to pay a certain amount for it. For many people, the service can be costly. 
Retrieving Permanently Deleted Emails Through an Email Recovery Software

 
Another option to recover deleted emails from AOL is to use email recovery software. You can rely on such software for recovering deleted emails from AOL. For users who use AOL Mail in Outlook, the mail data is stored on the local database. A good email recovery software proves helpful in this situation, and you can retrieve the deleted emails through it. 
To find how to recover deleted emails from AOL from recovery software, all you need to do is download a suitable one from the web. Install and run it on your system. You will find all the instructions for using it on the screen. Follow them, and in a short time, you will find all the emails that you deleted long ago fully recovered.
Also Check: How to Transfer/Forward AOL Mail to Gmail Automatically?
Can You Recover Deleted AOL Emails from a Non-Active Account?
No, you cannot recover old AOL emails from an account that's not active for a long time. The AOL mail also freezes and gets purged if the user does not log in for over seven days. After the purge completes, it is not possible for you to retrieve your emails. You'll get a popup message, which will inform you about it after you try logging in. You'll be asked to sign up again and begin afresh. AOL will also prompt you to be more active.
Final Words
By now, there might be no doubt in your mind about how to recover old AOL emails. Follow the methods outlined above to retrieve the lost messages. You can also get in touch with an AOL customer support service if you need extra assistance. The support personnel will help you troubleshoot all big and small problems related to this web-based email service.