Described: How to Recover Permanently Deleted Emails from Gmail?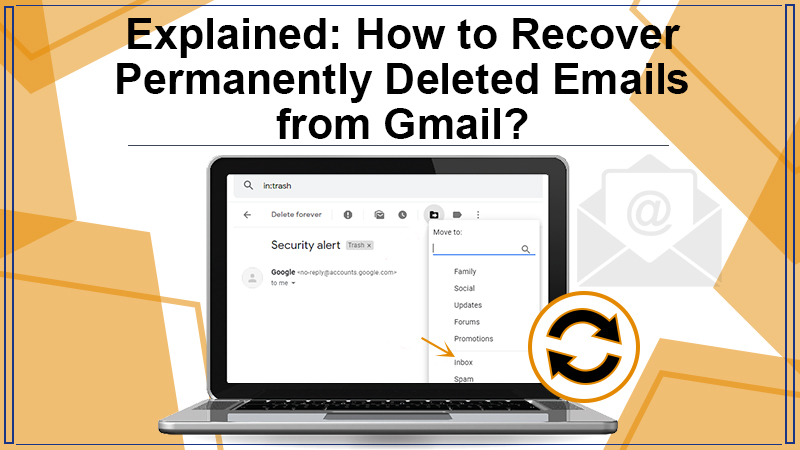 Gmail is one of the service providers designed by Google. You can create an account, send and receive messages and emails. Just login into your account and perform the task. You can use any of the devices to access your account, just remember your credentials always so that you can easily open and handle your Gmail. Like other mail providers, you can face several issues while working on Gmail and you should know how to recover permanently deleted emails from Gmail. To know more, you also can go through this blog post till the end. 
Also Read: How can I Fix the Gmail Not Working Problem?
Different Steps to Recover Permanently Deleted Emails Gmail 
1. By Using Default Method
Open Gmail then go to the list of folders

Click on the Trash or Bin folder and open it

You will find all the unread messages and emails here in this folder. 

After opening the folder, now mark all the messages and emails you want to recover

Then click on Move To and choose a folder where you wish to move all your important emails. 

After performing this step, you can successfully recover your permanently deleted emails in Gmail. 
2. Recover Gmail Trash Folder 
Open Gmail and enter your credentials to log in to your account 

Go to Settings open and select See All Settings

Click on Labels then open the Trash folder and click on Show. 
Note: You cannot recover deleted messages if you permanently delete or erase them. 
How to Handle the Same Process After 30 Days? 
If 30 days have already gone then Google will not allow you to recover emails from the trash folder, you need to apply a different strategy, and the steps are listed below; 
Open to Administrator Account and click on Google Workspace Admin Console 

Enter your credentials and Sign In to your account 

Search for Users Icon and click on More followed by Restore Data option 

Select a date range and click on Restore
Note: You also can choose the Gmail search option and recover all your emails in Gmail. Go to the Search bar and click on the Search options arrow button. Add the start and end date then click on Search to continue the process. This also can be used to recover span Gmail emails. 
3. Additional Step to Recover Permanently Deleted Emails Gmail
Open Gmail, and click on Settings to open this option 

Click on Filters and Blocked Addresses then click on Delete it. 

Click on Edit or Delete then Continue. 

Mark Skip the Index option then Delete it > Update Filter. 

You can delete all the emails by pressing the OK button. 
How to Access Archived Emails in Gmail? 
Open Gmail account and click on All Mail then More

Scroll down and click on the folder where you have archived your mail

After opening the specific folder, mark all the emails you want to archive 

Click on Archive and finish the process. 
By using these above-mentioned steps, you can easily access archived emails in Gmail.
What to Do if Your Gmail is Hacked? 
Gmail account hacking is basic cybercrime activity that can take place when a scammer wants to access your Gmail without your permission. 
You can enter your recovery email or contact number and change your password. You can directly talk to the customer care services through a toll-free number and overcome your issues with a few easy tips.  
Go to https://mail.google.com/ then Settings -> Accounts -> Change Account Settings -> Change Password.
Now we hope that you have gathered all the vital information about general issues and how to recover permanently deleted Gmail emails so from next time, try to recover each kind of error on your own. Just take your time to search for genuine support and tackle the glitches while sitting on your couch. 
Is Gmail Address Case Sensitive? 
No, Gmail addresses aren't case-sensitive. As when you write any mail address; xyz@gmail.com then it automatically changes into 'xyz@gmail.com' only domain part can be case sensitive. You can access it through any kind of device using Yahoo or Google. 
What is Google Ticketing Tool? 
Google ticketing tool performs as a help or support desk for Google and its services. This tool comes with a ticket management function that allows members to assign tasks to other team members inside a company or business. Just generate a ticket and wait for it to be resolved. You also can check the status of your generated ticket anytime. 
In Conclusion
After going through this online journal, you might have gathered new and essential information about how to recover permanently deleted emails from Gmail. You need to follow all these steps which are mentioned above. 
You also can connect to the email adepts and support team through a call by using a toll-free digit or via voice chat. Talk to the professionals and rectify your email and Gmail issues adequately. 
Users also can connect to the members after filling a support form as well which they can find on Google's official site. Just fill your form with the requirements and submit it properly. Wait for some time, one of the technicians will call you soon. 
You can easily access all your deleted and erased emails anytime, so follow the practices and complete the task. For further detailed information, get in touch with the team of Gmail specialists and clear your problems and doubts anytime.